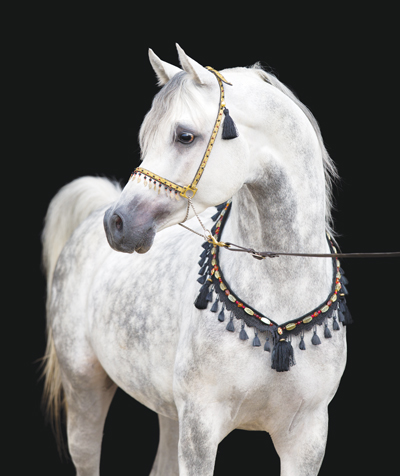 Envision this scene: a glorious black Arabian stallion swims powerfully through the ocean in the aftermath of a shipwreck, pulling you to the safety of a deserted island where you later learn to ride him.
That might happen if you're Alec Ramsey in The Black Stallion movie and book, but even if you're not shipwrecked on an island with a wild stallion, you've probably seen Arabian horses at the stable or at horse shows. The Arabian is a beautiful breed capable of many different jobs.
What Are Arabian Horses Known For?
A light horse breed that stands between 14.1 and 15.3 hands (although 15.1 is more common on the tall end), Arabian horses have been prized for centuries for their stamina and versatility. But Arabians are also famous for their distinctive beauty and presence. What is it about the Arabian's appearance that sets it apart from other breeds?

Part of the reason is surely the Arabian's sculpted head, which sports a heavily dished face and large eyes that are prominently set on the sides of the face. The Arabian's muzzle is small, but the nostrils are flared, which also adds to this breed's dramatic look. There is an unmistakable elegance about the Arabian that contributes to its distinctive type, stemming from its arched neck and graceful body.
You'll find Arabians in four different coat colors: bay, black, chestnut and gray, sometimes with occasional roaning caused by coat patterns like rabicano. Gray is something of a classic Arabian color, and many foundation stallions were gray, including the imported Raffles and Skowronek.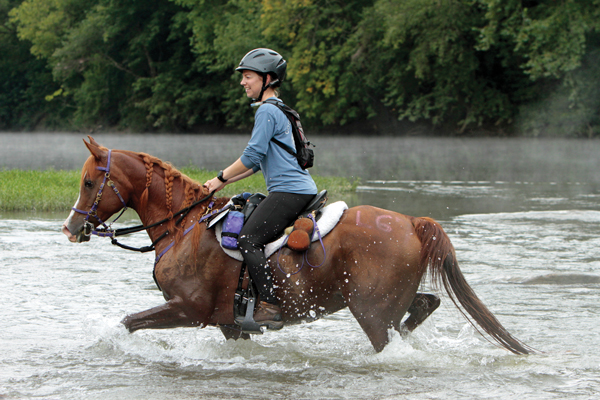 How is an Arabian's Skeleton Different?
If you study the conformation of many horse breeds, you might notice that the Arabian tends to have a shorter back than other breeds, as well as a high-set tail and a level croup. There is a good reason for this: most Arabians actually have a slightly different skeletal structure than other horse breeds.
In addition to having a higher bone density than other breeds, Arabians usually have one less rib and only have five lumbar vertebrae in their backs instead of six, which results in a shorter back. Additionally, their tails are missing two vertebrae, which might contribute to the Arabian's tendency to lift their tails high when excited.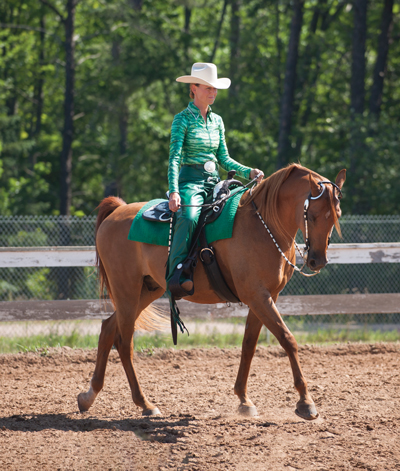 How Versatile is an Arabian Horse?
The spirited Arabian has no shortage of talent when it comes to competing or performing. Arabians are used in racing, and also compete in endurance riding, where horse and rider complete long-distance rides of 50 or 100 miles.
And whether it's a local open show or an Arabian breed show, you'll find Arabians competing in hunters, western pleasure, English pleasure, dressage, jumping, saddle seat, reining, cutting, and many other disciplines, in addition to in-hand conformation and showmanship classes. Even though you might first think of Arabians as riding horses, you'll also find some that compete in pleasure driving.
Arabians excel outside of competition too, whether it's a quiet ride down a trail or a low-key ride around the outdoor arena.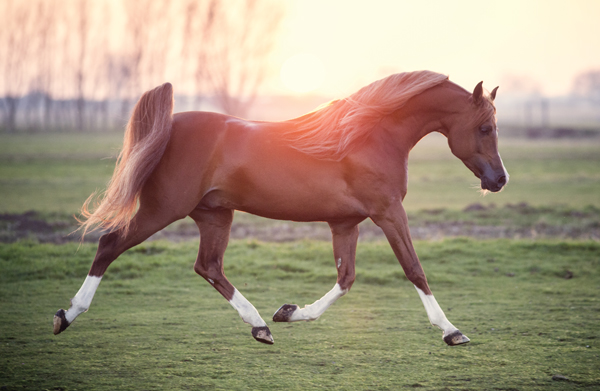 Are Arabian Horses Good for Beginners?
If you're interested in Arabian horses and would like to learn more about them, you might be interested in the Arabian Horse Association's Discovery Farm program. This program is an opportunity for beginning riders to meet Arabian horses and learn from informative farm owners who are willing to share their knowledge of Arabians.
For thousands of years, people have cherished their alliance with the Arabian horse. And when you ride or watch an Arabian, remember that you're participating in that connection and helping to write the latest chapter in the Arabian's story.
Arabians and Scholarships
The Arabian Horse Association
◆ National Arabian Horse Judging Contest scholarships
◆ Arabian Horse Youth Association Board of Directors scholarships
◆ Club and affiliate scholarships
In a convenient one-stop site, the Arabian Horse Foundation allows students to fill out a single application that automatically makes them eligible for all memorial and regional scholarships.
The Foundation awards scholarships to high school students that have represented the Arabian breed in a positive manner, performed well in their studies, and been excellent members of their communities. The research arm of the Foundation is committed to supporting equine research directed toward improving the health of the Arabian breed.
Important Dates in Arabian History
Approx. 2500 B.C.: The ancestors of Arabian horses reside in the deserts of the Middle East and are beloved by the Bedouin people.
1724: The Godolphin Arabian is born. He will later become one of the most influential stallions in Thoroughbred history.
1770s: George Washington rides Blueskin, a half-Arabian, throughout the Revolutionary War.
1888: The first breeding program for purebred Arabians is established in the United States.
1908: The Arabian Horse Club of America (now the Arabian Horse Association) is established, and 71 purebred Arabians are registered. Over one million Arabian horses have been registered as of 2020.
1926: W.K. Kellogg (of Kellogg's cereal fame) imports Arabians and establishes the Kellogg Ranch.
1926: The stallion *Raffles is born at Lady Wentworth's Crabbet Arabian Stud in Sussex, England. He arrives in the United States in the 1930s and begins his influential contribution to Arabian breeding in the United States.
1941: Walter Farley's The Black Stallion is published.
1948: Marguerite Henry's King of the Wind: The Story of the Godolphin Arabian is published, and it wins the Newbery Medal in 1949 for its distinguished contribution to children's literature.
1956: The stallion *Bask++ is born in Poland. He is later imported to the United States, where he subsequently sires more than 1,000 foals.
1993: An Arabian stallion named JB Kobask debuts as "Thunder," an official mascot of the Denver Broncos football team. Two other Arabian geldings have also served as Thunder II and Thunder III, respectively.
2003: The Arabian Horse Association is formed by a merger between the International Arabian Horse Association (IAHA) and the Arabian Horse Registry of America (AHRA). It becomes the official breed registry.
This article about the Arabian horse breed appeared in the Spring 2020 issue of Young Rider magazine. Click here to subscribe!