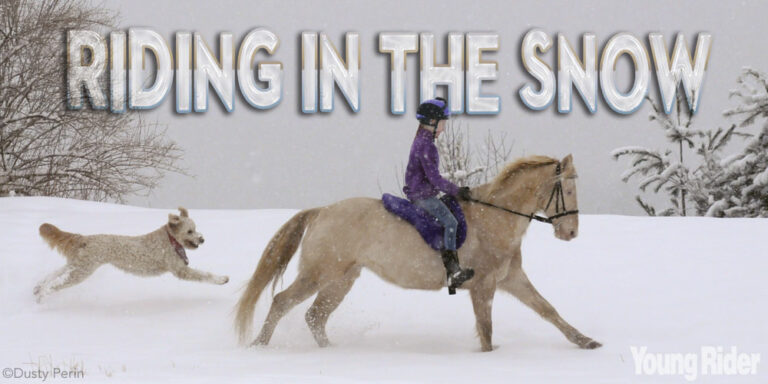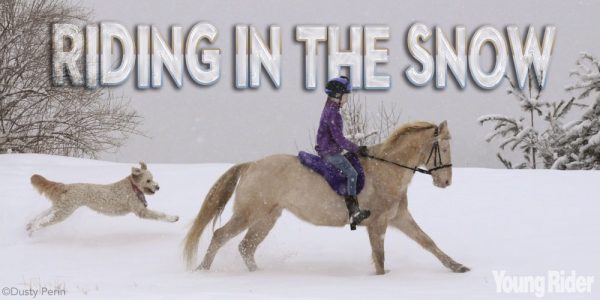 It can be tough to find the time and motivation to ride in cold winters. With temperatures dipping and the sun setting before dinner time, riders without access to an indoor arena may feel hopeless—especially if there's snow on the ground. Fortunately, most horses can be ridden on snow, and it can be fun for you and your favorite horse to try. However, there are a few things you and your horse should do before you ride in the snow.
Test the snow you want to ride on. Make sure it's not too deep and there are no icy areas. When the top layer of snow melts in the sun but then freezes at night, it turns into a sheet of ice that can make even the most careful and sure-footed horse slip. If the snow underneath the ice is light enough, your horse could even break through the ice and hurt himself.
Be prepared for your ride by bringing a hoof pick with you to pick out clumps of mud and snow from your horse's hooves, and a hard brush to get ice clumps off his legs. This makes it safer and easier for him to move around.
Dressing in layers will make your ride more pleasant. Not only does it free you from giant, bulky coats, but if you get too hot under a few layers, you can unzip a jacket or two.
If you're planning on riding in the snow a lot, ask your farrier about snow pads, which give your horse extra traction in the snow and reduce the amount of packed snow in his hooves. Or better yet, if your horse is barefoot, just keep up with his hooves and make sure he gets trimmed every six to eight weeks.
Monitor how hard your horse is working and be careful if he starts sweating. Horses work harder to move through the snow than in an arena or a grassy field, so you may not notice how sweaty your horse is.
In the winter, when horses have thick coats and it's cold and windy outside, it's important to make sure your horse's coat has completely dried after a hard workout. You can brush your horse with a curry comb and then cover him with a cooler and walk him around until the sweat on his coat has dried.
---
This article originally appeared in the November/December 2015 issue of Young Rider magazine. Click here to subscribe!