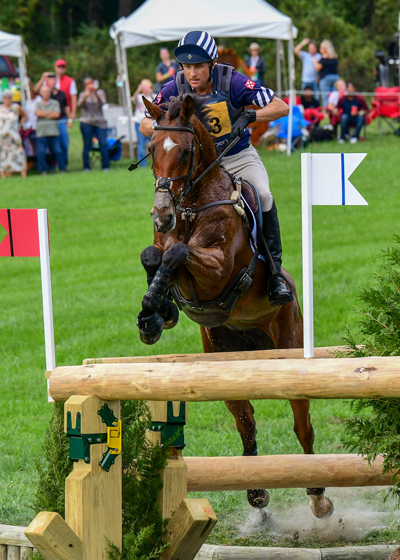 It was a really good week to have the last name Martin at the first-ever Maryland CCI5* at Fair Hill, with multiple eventing championships awarded October 13-18 in Cecil County, Md. The inaugural event hosted both CCI3*-L and CCI5*-L eventing divisions, the United States Equestrian Federation CCI3*-L Eventing National Championship, and the United States Eventing Association Young Event Horse East Coast Championships for four- and five-year-olds.
U.S. Olympian Boyd Martin, of Cochranville, Pa., won his first CCI5*-L riding On Cue to take home $100,000, while Kurt Agardy Martin, of Marshall, Va., captured first in the CCI3*-L division along with the USEF Championship aboard D.A. Lifetime to garner his share of the $25,000 pot. D.A. Lifetime is a 9-year-old Holsteiner mare owned by Debbie Adams.
In addition, Caroline Martin, won the four-year-old division aboard HSH Best Kept Secret and placed second in the five-year-old Young Event Horse competition with Galwaybay Redfield HSH Connor. Chris Talley, of Jeffersonton, Va., won the Young Event Horse Five-Year-Old division with the Hanoverian mare Gina. Gina is owned by Corwin Sport Horse LLC.
Boyd Martin's Win
Eventing star Martin had come close to winning a 5* before Fair Hill when he and Tsetserleg took second at the 2019 Land Rover Kentucky Three-Day Event, but this was his first time to stand atop the podium. Martin's mount, On Cue, is a 15-year-old Selle Francais mare bred in England by Alyse Clancey and owned by Martin and Christine, Thomas and Tommie Turner, of San Antonio, Texas.
The pair finished on their dressage score of 25 for the win. But, to get there, they had to duke it out with Oliver Townend from Great Britain riding the 2019 Land Rover Kentucky 5* winner Cooley Master Class, who led going into show jumping, and Tim Price from New Zealand and Xavier Faer (second-placed finishers from Kentucky in the spring) who were in second going into the show-jumping phase. When Martin and On Cue jumped clear third from last in the order, and then both Price and Townend uncharacteristically dropped a rail each in their turns around the course, the 5* top prize was finally Martin's, who led by only 0.1 points in the final standing.
Martin celebrated with Christine and Tommie Turner, and his sons Nox and Leo joined him on the podium before the victory gallop. Leading up to Maryland, the pair had a good year, finishing fourth at the Land Rover Kentucky CCI5*-L in the spring, then winning the Advanced division at the American Eventing Championships in August, as well as On Cue being named a reserve horse for Martin for the Tokyo Olympics.
Martin was elated with On Cue's performance in Maryland on the final day.
"Lady Luck was on our side," he said. "We bumped and thumped a few poles; I never heard one come down. I couldn't believe it when I got a clear round. Today was On Cue's day, and it's great to win it. She's everything you dream of in a horse. She's got movement, gallop, [she's a] full trier. She's elegant. Coming into this thing, I thought I had a chance just because she's been so good this year."
Kurt Martin's Win
Kurt Martin's winning CCI3*-L mount, D.A. Lifetime, a.k.a. "Clarence," was bred in Germany by Carsten Strehle and is owned by Debbie Adams, of Medford, NJ. Martin and Clarence, who is nicknamed after the famous E Street Band saxophonist Clarence Clemons Jr., led from day one and finished on their dressage score of 23.5 to take the win and the USEF Championship.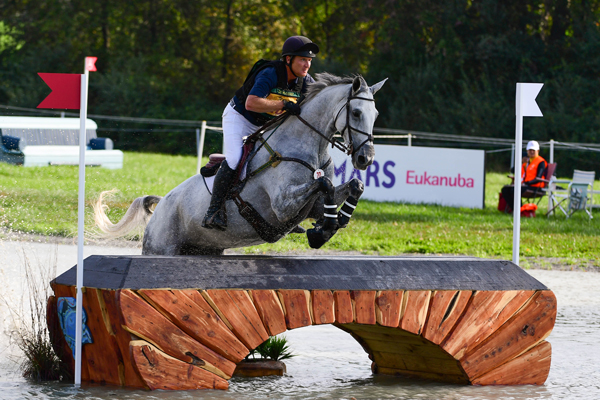 "The cross-country was a great course," said Martin. "I think that Clarence has gained a lot of experience, and I think the jumps didn't hold her yesterday, so maybe there are bigger things to come. She's very kind and laid back. She's definitely a blood horse, and once she's up, that's what you have to ride. We work together; I don't force this horse to do anything."
Second in the CCI3*-L was Hannah Sue Burnett riding Carsonstown, a nine-year-old Irish Sport Horse gelding owned by Christa B. Schmidt. Third went to Meg Pellegrini riding her RF Eloquence, a 16-year-old Holsteiner gelding.
Caroline Martin's Triumphs at Fair Hill in Various Eventing Divisions
Caroline Martin, of Riegelsville, Pa., may well have been the busiest rider of the week since she competed in all four divisions. She ended the weekend with a win in the Four-Year-Old Young Event Horse (YEH) division, placing sixth with HSH Vamonos, and finishing 24th with Redfield Dexter in the CCI3*-L. She also competed Islandwood Captain Jack in the CCI5*. She rode four horses in the Four-Year-Old YEH, taking first with the Irish gelding HSH Best Kept Secret and taking third, fourth and 18th with the others. In the Five-Year-Old YEH, she was second with the Irish gelding Galwaybay Redfield HSH Connor and placed eighth, ninth, 16th and 21st with four others.
The 5,633-acre Fair Hill Natural Resources Management Area is owned by the State of Maryland. Although Fair Hill has hosted eventing competition since 1989 under the auspices of the Fair Hill Founders Committee, this year the new Maryland 5* at Fair Hill was organized by the Maryland Sports Authority. The competition was moved across the street from the old event, and a new cross-country track designed by British Olympian Ian Stark was created thanks to approximately $16 million contributed by the State and to additional funds from the Fair Hill Foundation.
Approximately 20,900 ticket holders attended the event over the five days. Other activities at the Maryland 5* included a trade fair, a children's educational area, a variety of equestrian demos, a Maryland Fresh Food Fest, and the Mars VIPet Experience.