With an enthusiastic cheer from the grandstand, the horses head for the far turn and into the homestretch. Trotting at full speed, one of them puts a head in front as he and his driver cross the wire—the winners! But wait a minute—trotting at full speed? A driver? That's right, because this isn't a Thoroughbred horse race, it's a harness race, and this is a Standardbred.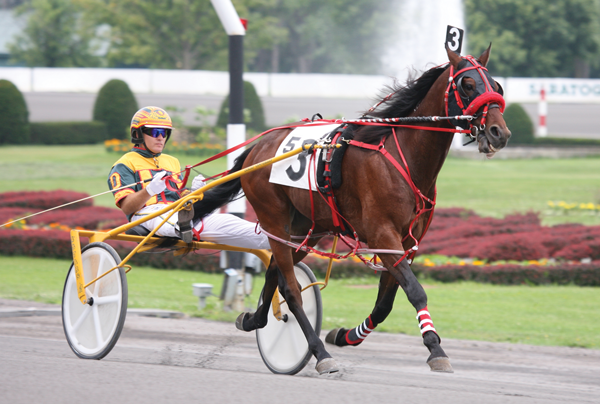 A Different Kind of Racehorse

In harness races, Standardbreds pull very lightweight, speedy two-wheeled carts called sulkies. And unlike Thoroughbred races such as the Kentucky Derby, no cantering or galloping is allowed in harness racing. Instead, Standardbreds race using one of two gaits:
TROTTING: The same gait that you use in an English riding lesson, the highly skilled Standardbreds can trot at a speed far faster than you've ever attempted on horseback—more than 30 miles per hour! Most horses only trot at around 8 to 10 miles per hour. The trot is a two-beat gait; it's also a diagonal gait, meaning that when a left front hoof is in the air, its diagonal right hind hoof is also. Likewise, when the right front hoof is in the air, the diagonal left hind hoof is moving the same way.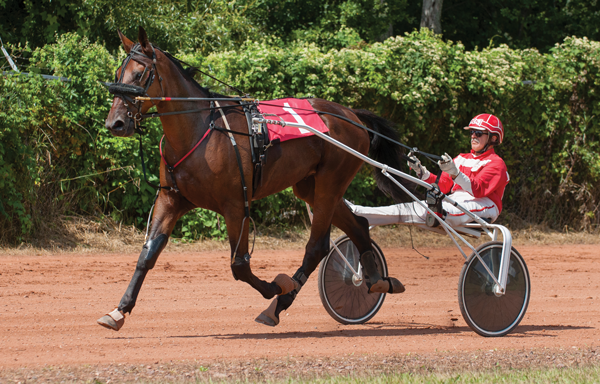 PACING: A pace is a specialty gait that some Standardbreds can perform. Like the trot, it's also a two-beat gait, but this time the legs on each side work together, known as moving laterally. When a horse paces, his left front hoof is in the air at the same time as his left hind (see photo above). The same is true on the right side of the horse. Generally, a pace has the potential to be a bit faster than a trot, and more Standardbreds race at a pace than a trot.
Because some Standardbreds excel at trotting and others at pacing, Standardbred races are divided into specific races just for trotters and others just for pacers.
A Horse with History
You might wonder what the word Standardbred means—where did it come from? Back in the 1870s, horses weren't permitted to be registered in the breed's stud book unless they could travel specific distances in specific "standard" times, like a mile in 2 minutes 30 seconds.
While harness racing has a long history in the United States, it wasn't until about the 1850s that the Standardbred breed as we know it today began to form, combining a mixture of various horse breeds to produce a talented trotting machine, including Thoroughbreds, Hackneys, Morgans, Narragansett Pacers and others.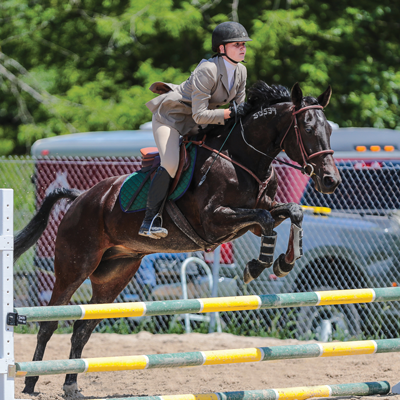 Similar to the Morgan, one particular foundation sire is greatly responsible for making the breed what it is today. The Standardbred breed was impacted quite a bit by a stallion named Hambletonian 10; in fact, the annual Hambletonian Stake harness race is named after him.
Standardbreds are generally a bit shorter than Thoroughbreds, with the average height of about 15.2 hands. The overall body type of the Standardbred is usually a bit longer than the Thoroughbred, and Standardbreds tend to exhibit a sturdy, solid build.
The Standardbred Beyond the Track
But wait a minute—don't assume that Standardbreds are only for racing. Because Standardbreds are often docile and enjoy the company of people, many excel in jobs other than racing.
Standardbreds are also used for riding and compete successfully in shows under saddle, over fences, and in dressage and western pleasure. They've been used for endurance races and also for just taking a quiet ride down the trail. They can be taught to canter instead of trotting fast with a little bit of retraining. You never know, a Standardbred might be just the horse you're looking for!
Standardbred Timeline
1849: Standardbred foundation stallion Hambletonian 10 is born.
1871: The first volume of Wallace's American Trotting Register is published.
1924: The Hambletonian Society, sponsor of the Hambletonian Stake, is formed.
1926: The first Hambletonian Stake is held in Syracuse, N.Y.
1939: The U.S. Trotting Association is formed.
1947: The U.S. Trotting Association awards the first Horse of the Year honors to a trotter named Victory Song.
1964-66: Bret Hanover becomes the first horse to win United States Horse of the Year honors for three consecutive years.
1967-69: Nevele Pride wins Horse of the Year honors for three consecutive years. (These two horses remain the only ones in history to accomplish this feat.) 2009: Muscle Hill sets a stakes record of 1:50 1/5 (trotters) during the mile-long Hambletonian Stake.
2014: Sebastian K sets a world race record (trotters) of one mile in 1:49.
2016: Always B Miki sets a world race record (pacers) of one mile
in 1:46.
2018: Homicide Hunter becomes the fastest trotter in harness racing history with a new world record time of 1:48 4/5 win at The Red Mile in Lexington, Ky.
2019: Lather Up ties the world race record for pacers; one mile in 1:46.

This article about the Standardbred appeared in the January/February 2020 issue of Young Rider magazine. Click here to subscribe!