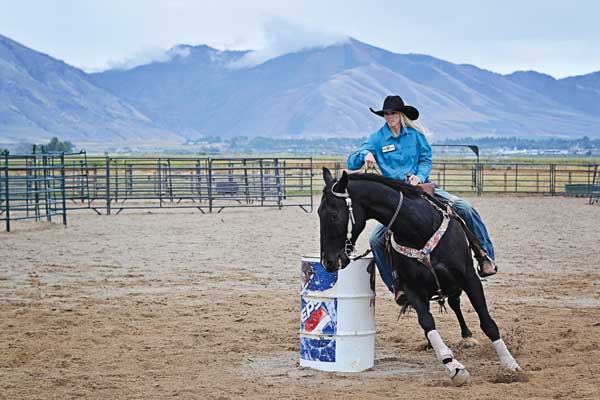 Growing up, Amberley Snyder, star of a rodeo movie on Netflix, competed in barrel racing, pole bending, goat tying and breakaway roping. She won the World All-Around Cowgirl title at the National Little Britches Rodeo Association and qualified for the National High School Finals Rodeo in 2009.
In 2010, at the age of 18, she was driving through Wyoming from her home state of Utah on her way to the National Western Stock Show and Rodeo in Denver when she glanced down to check her map. She had just stopped at a gas station and had forgotten to re-buckle her seat belt.
"As I looked up, I realized I had faded over a lane and was heading towards a metal beam on the side of the road," Amberley recalls. "I tried to correct my truck, but I slid off the road, and my truck turned completely sideways. I was ejected and hit a fence post on the side of the freeway. I knew I must have broken my back, because I did not have any feeling in my legs. I underwent five hours of surgery, which left me with a whole lot of hardware in my back. The doctor's prognosis was that I would not gain any feeling below my waist, nor would I have any chance of regaining the use of my legs."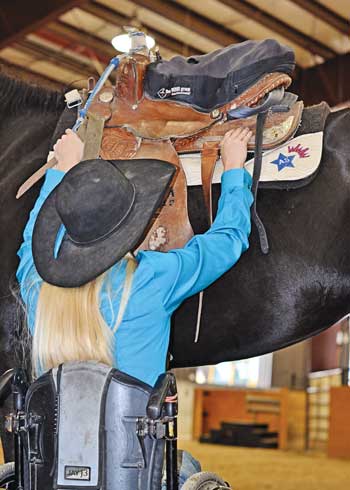 Behind the Scenes of Her Netflix Rodeo Movie
The 2019 rodeo Netflix movie Walk. Ride. Rodeo. is based on Amberley Snyder's life.
"The movie process was eye opening," she says. "It takes a village to make a movie. I was able to be a part of the process from start to finish. There were some things they wanted to be different or bigger for Hollywood, but I feel I was able to keep it 85 percent accurate. My little sister and I were the riding stunt doubles! My favorite part was getting to ride for the film."
After her accident, the doctors told Amberley she wouldn't ride again—not the kind of riding she had in mind, anyhow.
"I've been in love with horses for as long as I can remember," she says. "At 3 years old, I started riding. I feel like it's just been in my blood. It's something I love to do, and it stuck with me from the time I got on a horse to the first time I did a barrel pattern at the age of 7."
She knew she wanted to ride again after her accident, but it took her four months of rehab and a lot of convincing before her mother and the doctors agreed to let her try it. In her mind, she thought the back of a horse was the one place where everything would feel the same. On a horse she would be out of her wheelchair and completely free.
However, once in the saddle, Amberley realized she couldn't feel her legs around the horse and had to learn a new way to balance. She could ride, but it wouldn't be the same.
Despite the heartbreak of that initial ride, Amberley carried on riding throughout that first summer, adding modifications to her saddle.
These included a padded seat, a seatbelt pulled from an old car, and Velcro around her legs and stirrups.
"A lot of it was trial and error since no one had done what I was doing—wanting to not just ride but compete again someday."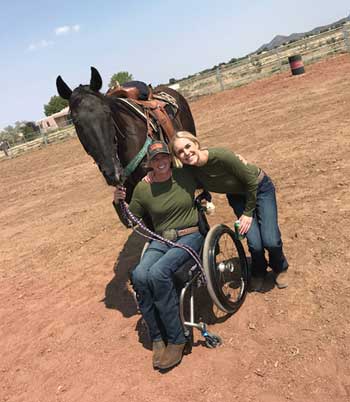 Finding Her Way
It took a while before she was ready to compete—about 18 months.
"It was wonderful competing again," Amberley says. "There are definitely frustrations like not being able to kick, but being back competing was spectacular. It's what I've always loved to do and still love to do. The meaning has grown because it's a time where I don't have to be in my wheelchair. I get to be on my horse, and I get to move around like everyone else. It's a joy I have."
Amberley went on to compete on her college rodeo team in the competitive Rocky Mountain region. Then came an even bigger surprise in March of 2015: As seen in the movie, Amberley was voted in as fan favorite to compete at RFD- TV's The American—the richest one-day rodeo in the sport.
"It was such a blessing from beginning to end, meeting the people who have been my idols and who I've watched for years. Just making a run in the same arena as those people was nothing short of amazing."
Since then, Amberley Snyder earned her pro rodeo card and competes on the Wilderness Circuit, placing at multiple pro rodeos. In 2016, she was a 2D champion and top five in the Rocky Mountain Professional Rodeo Association.
Amberley's horses have adapted to her being in a wheelchair in ways she never imagined, but there are difficulties.
"I have to be careful about the horses that I'm around on the ground," she says. "Obviously height is a challenge, and not being able to reach everything I want to reach. Saddling and doing chores is challenging. Everything you don't think twice about is a whole new ballgame for me."
Amberley graduated from Utah State in 2015 with her bachelor's degree in agricultural education, and earned her master's degree in school counseling in 2018. Currently she's focusing on her health and young horses, as well as motivational speaking.
"I feel like [sharing my story] gives me the opportunity to make a difference in the lives of many people. And this movie has opened the doors to my ability to reach even more people."
This article on Amberley Snyder, star of a rodeo movie on Netflix, originally appeared in the September/October 2019 issue of Young Rider magazine. Click here to subscribe!