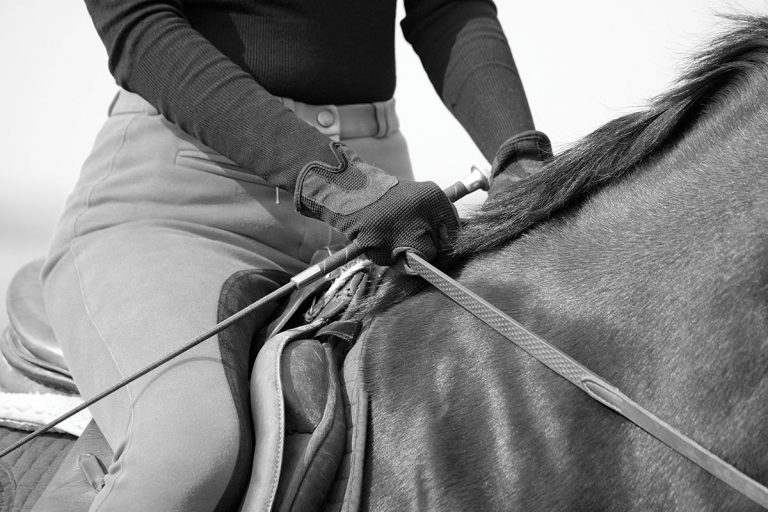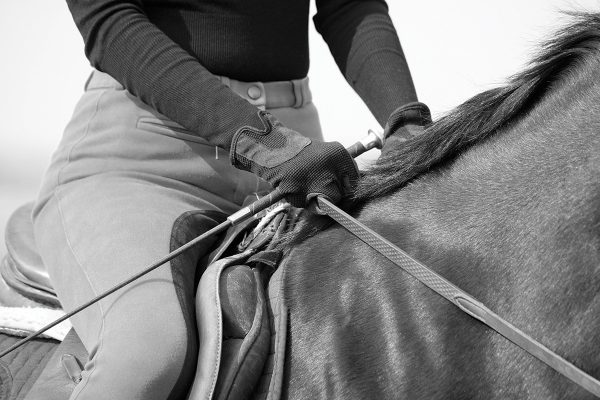 There are several types of English reins, and each style is designed for a specific purpose. Which rein is best for you?
Laced Leather Reins
These classic English reins are the go-to choice for hunt seat riding and hunter competition. Narrow strips of leather are literally laced through the basic rein. The laces not only allow you to keep a steady hold when jumping or galloping, they also add a touch of elegance to English tack.


Laced reins are usually included when you buy an English bridle for hunt seat riding. When buying separately, the price can vary greatly, depending on the quality of the leather. Keep your laced reins looking nice by wiping off sweat and grime with a soft, damp cloth. That will also help them last for years.
Web Reins
Web reins are used by dressage and eventing riders. The area where your hands go is made from heavy-duty, ribbed cotton. It dries quickly if it gets wet, which is important if you're riding through water. Stitched across the cotton material are leather hand stops so you can maintain your grip.

Bridles meant for dressage and eventing often come with web reins. Sometimes the reins already have stops in place for use with a running martingale. They are easy to remove if unwanted. To clean web reins, dunk just the cotton sections in a bucket of water that includes some gentle liquid soap. Rinse with clear water, blot with a towel, and allow the reins dry in the shade.
Rubber Reins
Some sports require extra holding power for the rider. Examples are upper-level dressage, cross-country and show jumping. Beginner riders may also like rubber reins because they're less likely to slip through your fingers. Rubber is added to these reins, usually in the form of tiny raised bumps.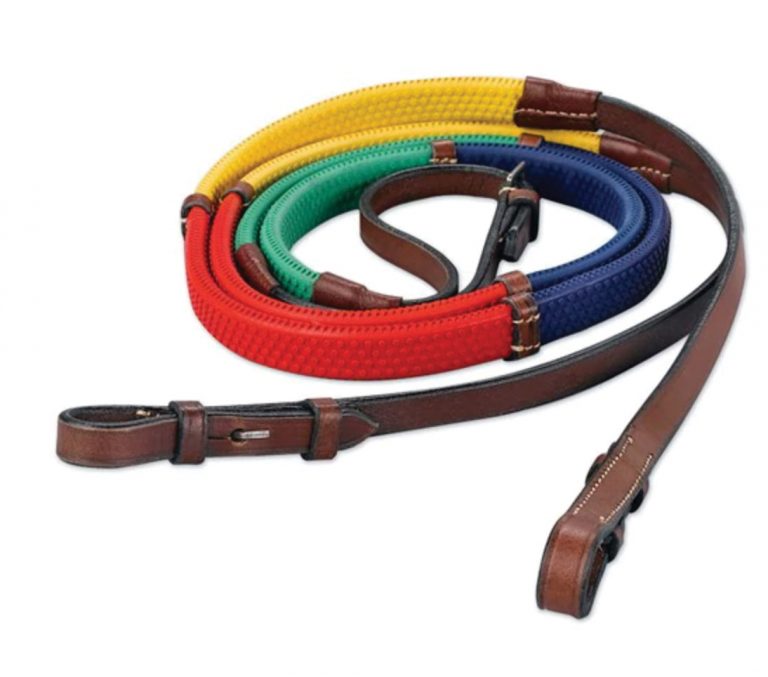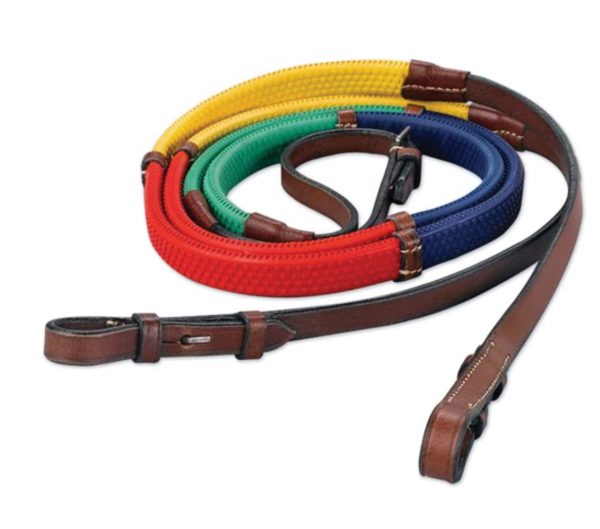 Sometimes the rubber is only on the inside of the reins, where it really isn't visible. You can also buy reins with colored rubber sections, which can add a bit of fun to your riding.
Never use any type of soap or harsh cleaner to clean rubber reins. That can destroy the rubber, turning the reins sticky. Instead, simply use a damp cloth and gently wipe them until clean. If necessary, use an old toothbrush to remove dirt and dried sweat between the bumps.
Plain Leather Reins
These reins lack laces, hand stops or rubber bumps, but they still have an important place in English riding. Plain reins are used on bits that require two sets of reins, like Pelhams and specialized jumping bits, and are attached to the lower (curb) ring of these bits.


Plain reins are also used on the curb bit of a double bridle—a bridle with two bits—in dressage. They come in several widths, and the intended purpose determines which width you need.
Like all leather, plain reins will last a long time if cared for properly. Regularly wipe away sweat with a clean, damp cloth. Use a leather-care product to keep them properly conditioned.
As with any leather reins, cracks, tears and fraying could be signs that it's time for a new pair. Shop wisely and take good care of your reins—the last thing you want is for one to break while you're riding. Good care will make reins last for many years to come!
This article about types of reins appeared in the May 2021 Mini Digital issue of Young Rider magazine. Click here to subscribe!