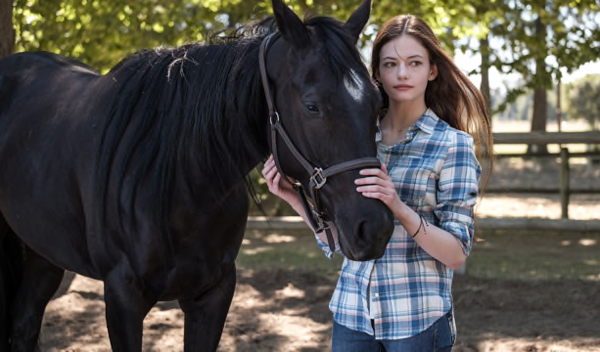 When Anna Sewell wrote the novel Black Beauty in 1877, her goal was to call attention to the desperate plight of London carriage horses. Nearly 150 years later, Black Beauty is still an inspiration to those who care about horses—like Ashley Avis, the writer and director of the new Disney+ film, Black Beauty.
A modern-day reimagining of Sewell's timeless classic, Disney's Black Beauty is the story of a wild horse who is rounded up and separated from her equine family. The horse ends up at a Mustang training ranch, where she meets a teenage girl named Jo Green. The two forge an unbreakable bond that carries Beauty through the different chapters, challenges and adventures of her life.
True to the novel, the film version of Beauty tells her own story (voiced by Kate Winslet). While Sewell wanted readers to understand the plight of carriage horses, Avis wants viewers to grasp the hardships suffered by America's Mustangs. While researching Mustang advocacy groups, such as the American Wild Horse Campaign and Lifesavers World Horse Rescue, Avis came to under how and why wild horse are rounded up on public lands.
"The issue needs to be better illuminated, and I thought that our contemporaneous version could make a difference for wild horses," she says.
The film includes an actual helicopter roundup of Mustangs in Nevada. Avis and her husband, Edward Winters, who is the executive producer on Black Beauty, witnessed a roundup. She says they were shaken and ended up adopting two of the Mustangs from the roundup. They were also inspired to launch their own nonprofit, The Wild Beauty Foundation, which is dedicated to the protection of wild and domestic horses in North America through film, education, rescue and adoption.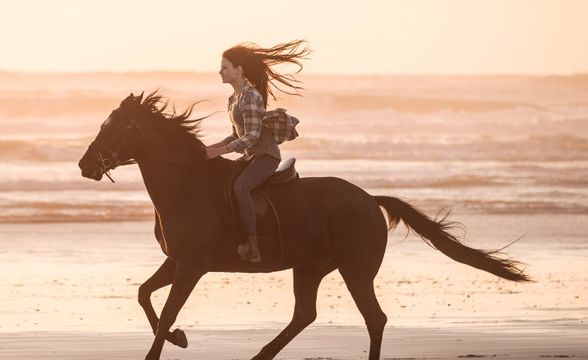 Equine Actors
While the roundup depicted in the film was real, the rest of the horse action was carefully scripted. More than 20 horses were cast to play Beauty at various stages of her life, with four off-the-track Thoroughbreds portraying Beauty at her main age in the film.
Each horse was cast for specific behaviors, which the trainers focused on developing. One mare, Jenny, had a quiet, whimsical nature and is most often seen bonding with the main character of Jo Green in the film.
"Jenny does all the work with the actor," says liberty horse trainer Cody Rawson-Harris, who worked on the film. "She is required to do short calls, lay downs, head nods, looks left and right, pull faces, prick her ears and a bit of a rear."
Spirit, the other horse heavily featured in the film, was often used for scenes with long-distance running.
"Spirit, who is my personal favorite, plays Black Beauty when she's wild," says Avis. "As her name suggests, she's very spirited."
Spirit's temperament created a challenge when attempting to film one scene where Beauty gallops through a canola field filled with vibrant yellow flowers.
"Spirit galloped so fast, the drone [that was filming] literally couldn't keep up with her," says Avis. "It took us a number of takes to get the shot because Spirit was racing at a speed nobody expected."
Casting horses that can perform as expected while also having a similar look can be a challenge. Most of the horses playing Black Beauty were not actually black and had to be painted to look the part. Horse-safe henna dye was used to replicate Beauty's signature black color, and a white star was hand painted onto each horse's forehead.
The makers of Black Beauty are hoping to send an important message with the film that ultimately leads to a better understanding of the plight of wild horses.
"Our movie is not didactic, but there is a message of hope that transcends Beauty's hardships and her journey," says producer Jeremy Bolt. "Our film is not a documentary—it's a piece of emotional entertainment—but there's no harm in shining a light on a very, very valid and important cause."