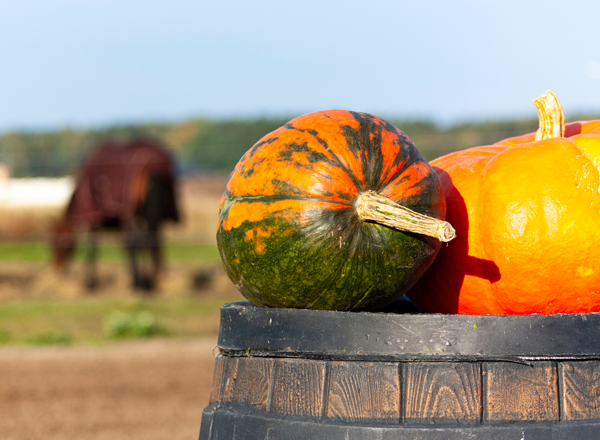 Next time you clean out a pumpkin for a pumpkin pie or to make a jack-o'-lantern, don't throw anything out. Most horses enjoy pumpkin. It's both a healthful treat and safe—even for horses with equine metabolic syndrome (EMS) and pituitary pars intermedia dysfunction (PPID).
Pumpkin pulp is a good source of vitamin A as carotene, which gives it that bright orange color. It contains trace amounts of vitamin C, E and all the B vitamins. Sugar and starch level in the pulp is less than 10 percent, but most of that is starch. When feeding to a horse with insulin issues, include thin slices of the fibrous rind and feed mostly the stringy core with seeds. The rind can be fed to all horses, although they will instinctively go for the softer portions first.
Pumpkin pulp is very low calorie as most of it is water. Protein and fat are also low. The fiber portion is very prebiotic as it is high in soluble fiber.
For a senior with trouble chewing, or to make a taste tempter to mix through feeds, use a blender or food processor. You can also bake slices for 15 to 20 minutes to soften the rind.
While seed are safe to feed along with the pulp, don't feed in large amounts to an EMS or PPID horse as they are high in calories from fat and high omega-6 fatty acids but starch is extremely low, less than 1 percent.
When feeding pumpkin, don't just dump a bowl full of it into your horse's bucket. Use a cup or two as a top dressing on a meal, or feed a few cubes by hand. Like any new ingredient, you need to be conservative with amounts.
This only applies to the edible orange pumpkins. Do not feed other types of ornamental gourds. Edible squash are also OK to feed in general, but their carbohydrate profiles can vary considerably so may not be safe for EMS/PPID horses.
Share the fun and don't throw out any part of that pumpkin. Your horse will appreciate it!
Dr. Eleanor Kellon, staff veterinary specialist for Uckele Health & Nutrition, is an established authority in the field of equine nutrition for over 30 years, and a founding member and leader of the Equine Cushings and Insulin Resistance (ECIR) group, whose mission is to improve the welfare of horses with metabolic disorders via integration of research and real-life clinical experience. Prevention of laminitis is the ultimate goal.
Uckele Health & Nutrition, maker of CocoSoya, is an innovation-driven health company committed to making people and their animals healthier. On the leading edge of nutritional science and technology for over 50 years, Uckele formulates and manufactures a full spectrum of quality nutritional supplements incorporating the latest nutritional advances.