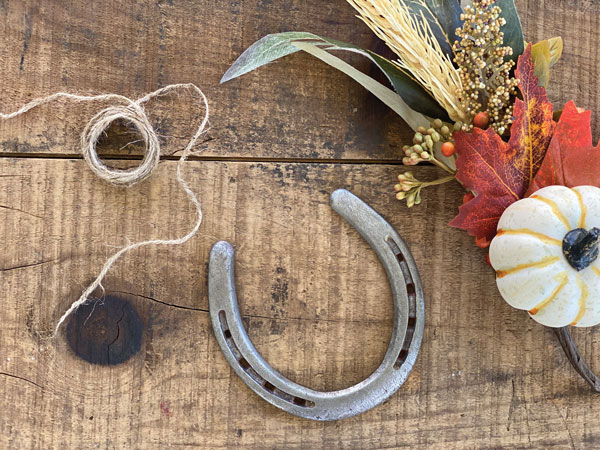 Time to give thanks! The Thanksgiving holiday is coming up, and what better way to get ready than with a horse-related fall DIY craft for your holiday decor? Follow these steps for a decoration that will bring you some luck, and everyone will be thankful for your cute horseshoe décor on Thanksgiving. Happy Horsey Thanksgiving!
STEP 1: Weave twine through the nail holes to create a handle. Start at the bottom and weave until you get to the end of the other side, leaving extra twine at the top so your horseshoe will hang. Don't forget to tie knots on the back so the twine doesn't slip through the holes! You might also need to tape down the twine at the ends of the horseshoe so it hangs evenly.
STEP 2: Tape your fall foliage to one side of the horseshoe.
STEP 3: Tape the end of a long piece of twine to the back of the horseshoe. Wrap the twine over the stem of your fall foliage. This will hide your tape!
STEP 4: Once wrapped, secure your twine to the back of the horse-shoe with tape (or ask an adult to help with a little hot glue).
This article on creating a horse-related fall DIY craft appeared in the Fall 2020 issue of Young Rider magazine. Click here to subscribe!
Further Reading
◆ A Thanksgiving Treat
◆ Happy Horsey Holidays: Throw a Horsey Holiday Party
◆ A Rider's Holiday Wish List
◆ A Horse Owner's Holiday Season Struggles
◆ Have a Very Horsey Holiday with These Equestrian Gift Ideas
◆ That's a Wrap: 11 Fun and Fabulous Holiday Gifts for Horsey Kids
◆ Gift Ideas for Horse-Crazy Kids
◆ Homemade Horsey Gifts
◆ Stable Advice: Holiday Gifts for Horse Professionals
◆ 4 Gift Ideas for the Horse Enthusiast Who Has Everything
◆ Luxury Gifts for Horse Lovers