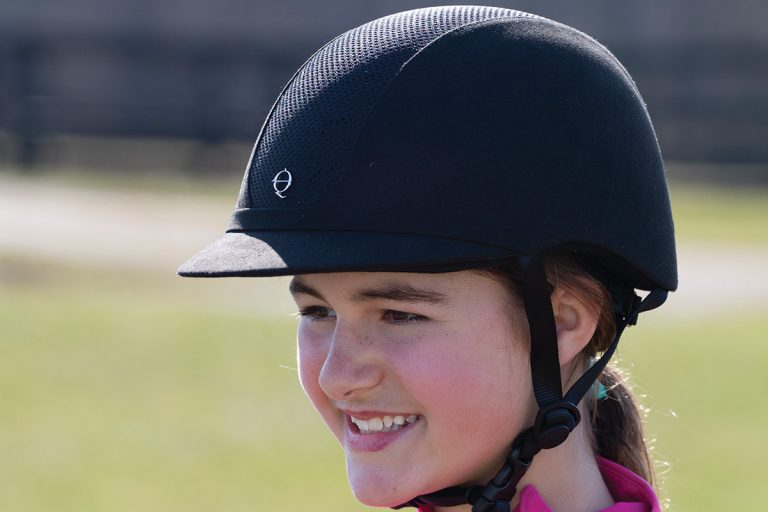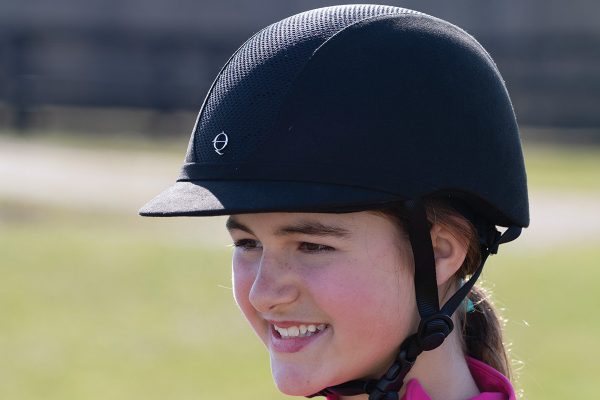 You already know it's smart to wear a helmet every time you ride. Here's some extra information about riding helmet sizing and fit.
For starters, always choose a helmet designed for equestrian use. They are the only ones made specifically to protect your head in case of a fall while riding. Although bicycle helmets might look similar, they aren't appropriate for the safety needs of horseback riders.
Next, be sure to choose the right size. Use a cloth tape measure (the kind used in sewing) and measure around your head. Hold it just above your eyebrows, where the brim of a helmet would sit, and keep the tape level as you measure. The number of inches, to the nearest 1/8th of an inch, is your helmet size.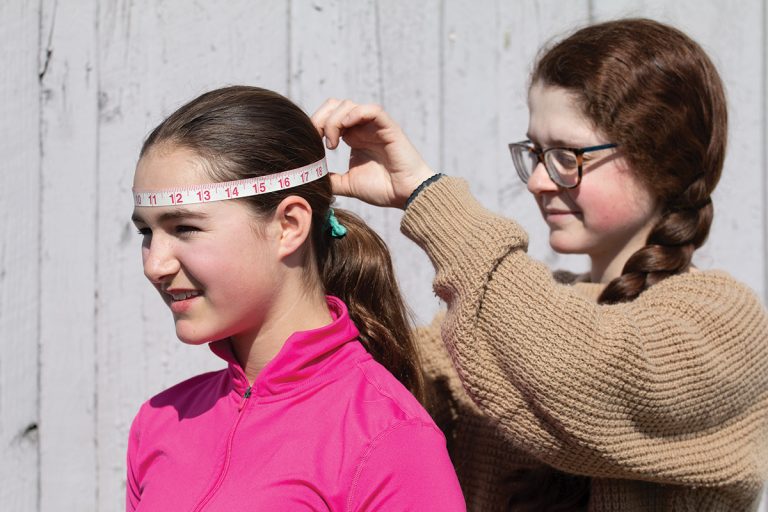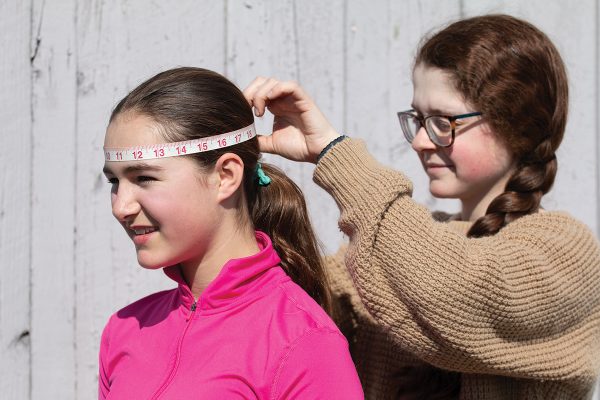 Some helmets come in precise sizes. Others—especially schooling helmets—are sized in small, medium and large. Check to see which of those sizes matches your measurement. Fortunately, those helmets often include an adjustment at the back of the helmet, such as a dial, to create a more precise fit.
Try on several brands of helmets before buying. Helmets, like human heads, come in two basic shapes: round and oval. Sometimes it's hard to tell which brand is which shape. It's even harder to know if your head is round or oval!
In general, if a helmet that should be the correct size seems to press against your forehead, then the helmet is round and your head is oval. In contrast, if the helmet feels okay front and back, but you feel pressure on the sides of your head, then the helmet is oval, and your head is a round shape. This may seem like a minor detail, but if your helmet is uncomfortable, you're less likely to wear it.
Finally, a helmet should feel snug at first. Over time, it will mold to the shape of your skull. That's why it's not a good idea to share helmets with your barn buddies. Your helmet needs to fit the shape of your head, not that of all your friends.
As the finishing touch, always adjust the harness of your helmet. The chin strap should lie flat against the bottom of your chin, not dangle a mile beneath it. You can trim any ends shorter if there are straps hanging down and tuck them into the rubber band or Velcro wrap that keeps the ends tidy.
The "V" shape around your ear should meet just below your earlobe, so be sure to snug up the adjustments, if present (some brands don't adjust at the ears).
A properly fitted helmet, with a securely fastened harness, shows everyone that you're not only a serious rider, but a safe one, too. You can also ask a knowledgeable adult for help, like a riding instructor or a tack store clerk.
Tip
Some helmet manufacturers are now recommending that riders do not put their hair up inside their helmets. Adding an extra layer of thick hair between your skull and the helmet's protective layer can affect the fit. It may also lessen the helmet's safety features. Instead, consider wearing your hair in a neat, tidy bun above your collar. If you have long hair, try a single braid, doubled up and secured at the base of your helmet.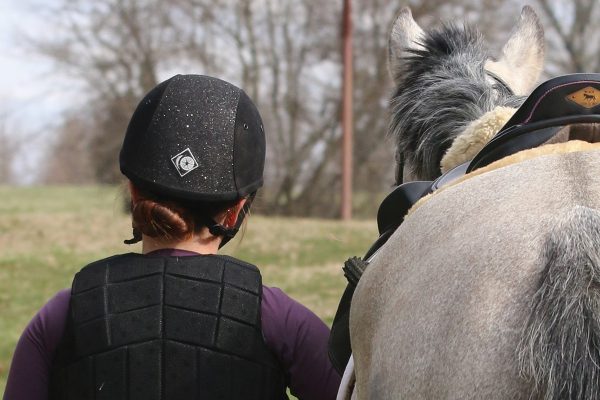 This article about how to fit a riding helmet appeared in the Summer 2020 Digital Mini issue of Young Rider magazine. Click here to subscribe!