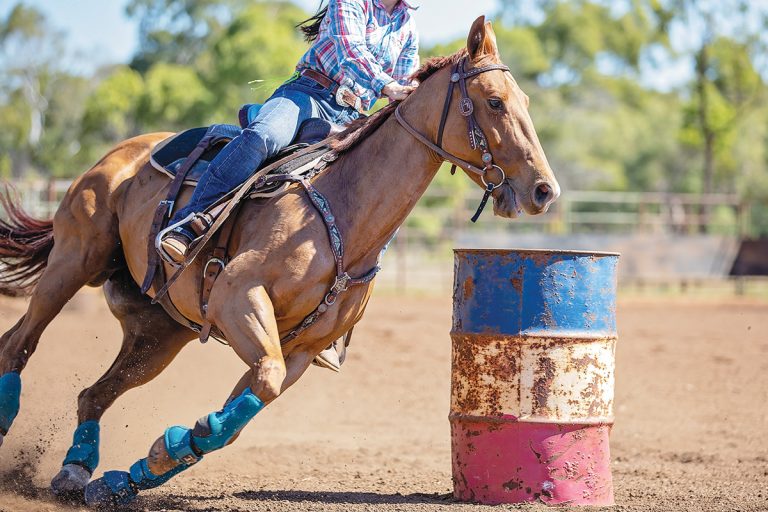 A gymkhana is a collection of timed events on horseback, and the most popular gymkhana game is barrel racing. Three barrels are set in a triangle, and each competitor must complete a cloverleaf pattern as fast as they can. While fancy western tack and stylish clothes aren't necessary, a brave rider and an agile horse are a must. Learn how to get started in barrel racing.
Meet the English Sisters
Sisters Taylar and Breanna English are good examples of what it takes to win. They live in Arizona on their family's small ranch and work almost daily on improving their skills and their relationship with their horses.
"We don't run barrel patterns every day, because the horses would get burned out," says Taylar, 14. "Plus, it's hard on their legs, and we need to keep them sound and comfortable. Instead, we practice drills, where we focus on one part of the barrel pattern at a time and do it slowly to get it right."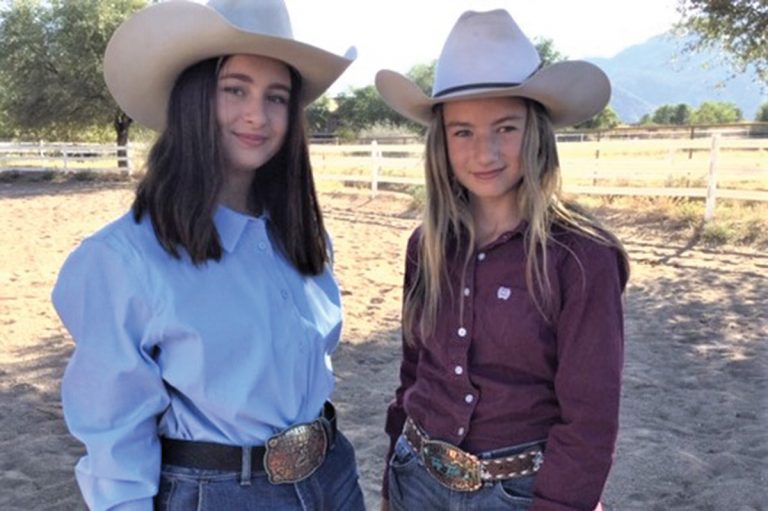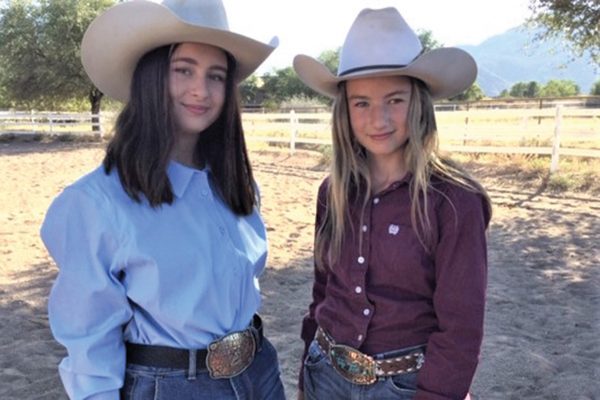 Her sister Breanna, 12, agrees, and adds that between competitions they often simply trail ride so their horses can relax and unwind. They also spend lots of time grooming their horses.
"It's important for us to have a good relationship with our horses on the ground before we hop in the saddle," says Breanna.
The sisters compete on the tough Arizona High School Rodeo Association circuit. Their goal is to qualify for the national finals, where they'll go head-to-head against the top riders from other states. Such a dream is possible due to the girls' dedication and years of experience.
How They Started Off
Taylar began taking riding lessons on a Welsh Pony when she was just 3 years old. She remembers watching a gymkhana at the local riding club and thinking it looked like fun. Her parents encouraged her, and by the time she was 7, she had won her first trophy saddle in barrel racing.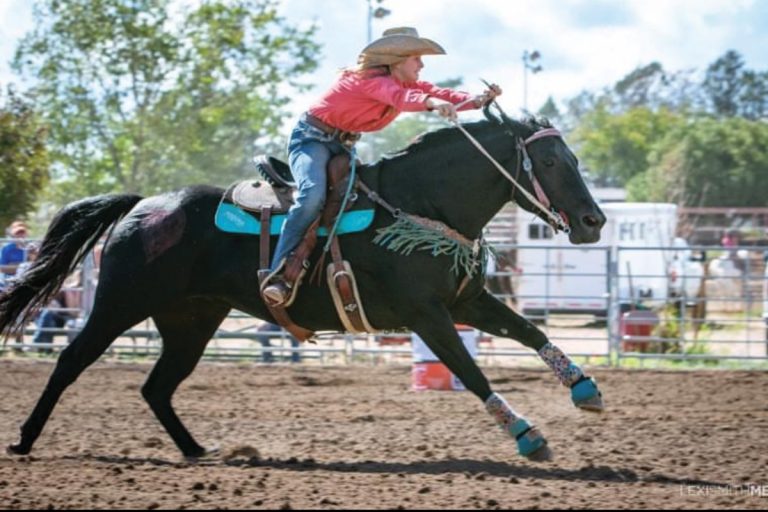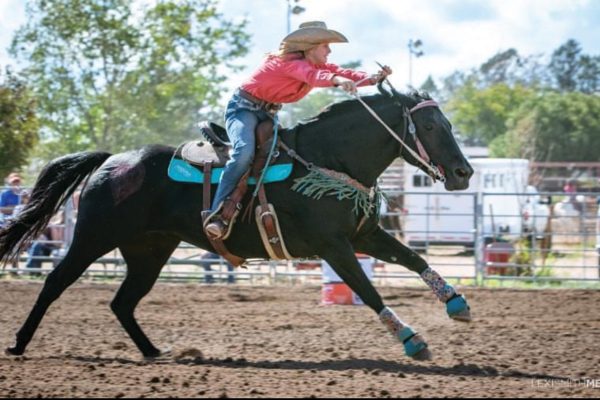 Breanna followed closely behind and won her first saddle when she was 9. Over the years, the sisters have won an impressive collection of ornate belt buckles, engraved bridles, trophy saddles and cash. Yet, it's more than prizes that keep the girls interested.
"All the kids are really friendly," Taylar says. "Wherever we go, we always know that the other riders will cheer us on."
Breanna agrees. "Everyone has a bad day. And I know that if I don't do well, the other riders are really supportive. I always have a lot of friends, and that helps make it fun."
Get Started in Barrel Racing
Are you interested in barrel racing? Taylar and Breanna English suggest starting with lessons on a seasoned barrel horse. That will allow you to develop the skills needed to be safe and accurate.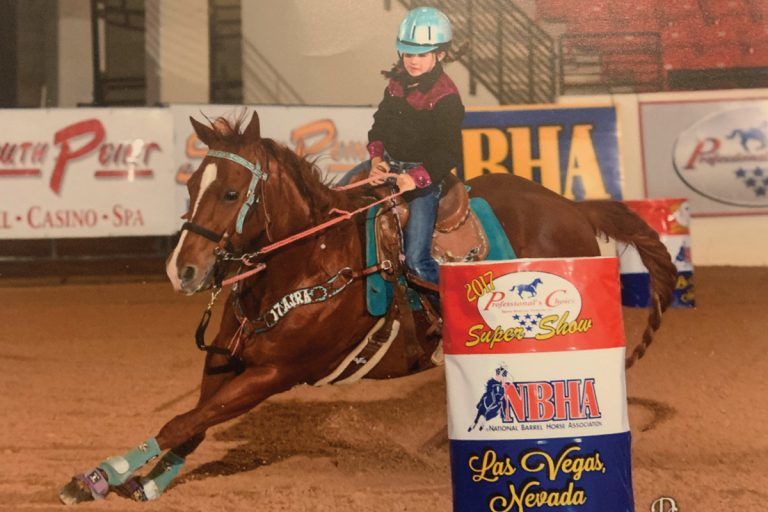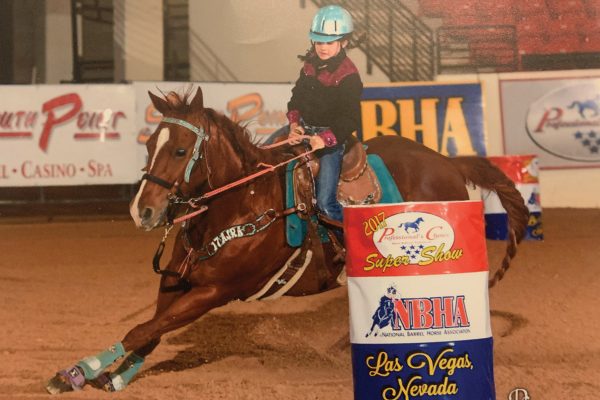 One important skill is knowing how and when to rate your horse.
"That's when you sit down in the saddle and signal to your horse that it's time to turn around the barrel," Breanna explains.
According to Taylar, another important skill is learning how to find the pocket of each barrel. "That's the sweet spot," she says.
"It's that perfect point where you and your horse commit to turning around the barrel."
Knowing when and where to rate, and how to find the pocket, requires excellent horsemanship and a keen sense of timing.
"That's why it's a good idea to learn on a starter horse," Breanna says, explaining that your first barrel horse might be a little older and a little slower than the top mounts. "Then you can graduate to a faster horse," she adds.
This article about getting started in barrel racing appeared in the November 2020 Mini Digital issue of Young Rider magazine. Click here to subscribe!