Trick or treat! What better way to get ready for Halloween than with horse crafts to celebrate the festivities with a DIY pumpkin? Follow these steps, and your pumpkin is sure to be the best in the patch (or barn!) on Halloween. Happy Halloween!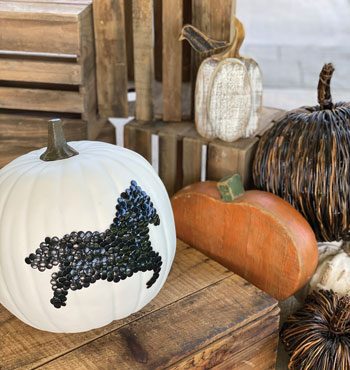 Materials for a DIY Horse Halloween Pumpkin
◆ pumpkin
◆ thumb tacks
◆ horsey picture
◆ pencil
◆ tape
Step by Step
STEP 1: Print and cut out your favorite horsey picture.
STEP 2: Gently tape your picture to the pumpkin and trace it.
STEP 3: Place thumb tacks along the line you traced.
STEP 4: Fill in your outline with thumb tacks. It's OK if they overlap!
This article on creating a horse Halloween DIY pumpkin appeared in the Fall 2020 issue of Young Rider magazine. Click here to subscribe!
Further Reading
◆ Your Horse Can Enjoy Healthy Horse Treats for the Holidays, in Moderation
◆ Featured Video: Mini Horse Carves Pumpkin
◆ Halloween Comes to the Horse World
◆ Halloween on Horseback
◆ Horses in Disguise
◆ Horse Costume Class Tips
◆ Featured Video: Horse vs. Zombies
◆ Are You and Your Horse Ready for Halloween?
◆ Poll: How do you celebrate Halloween with your horse, barn friends, or family?