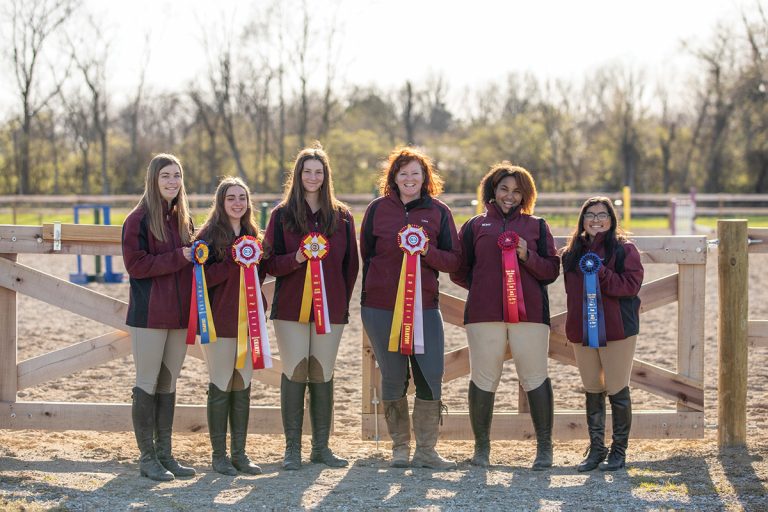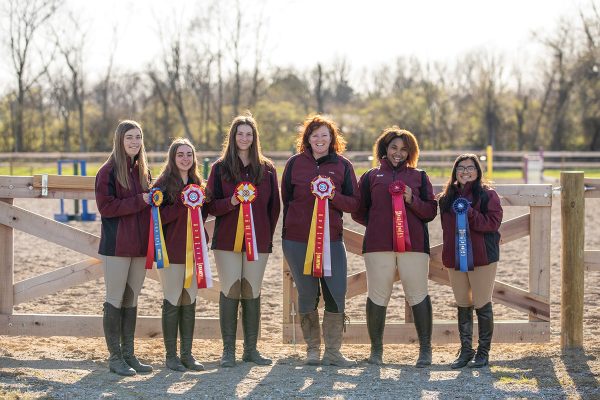 Based out of Cross Creek Equestrian Center in Hamilton, Ohio, the Magna Carta Equestrian Team members are in grades 5 through 10. Part of the Interscholastic Equestrian Association (IEA), riders take hunt seat lessons with coach Laura Kursman. There are currently five riders on the middle school team and five riders on the high school team—and it doesn't matter what school they attend!
The Background
IEA is open to hunt seat, western and dressage riders in grades 4 through 12. You don't need to own your own horse or tack to participate, but you must be a part of a team. The mission of the organization is to provide competitive and educational opportunities to riders through competition, and to build horsemanship skills and friendships through a team atmosphere.
In addition to coaching the Magna Carta IEA team, Laura is a trainer for New Vocations Racehorse Adoption Program, the nation's oldest and largest racehorse rehoming charity. Laura helps Standardbred racehorses develop the skills they need to go on to second careers as show horses or pleasure mounts.
Laura's job is a big one. Standardbred racehorses aren't ridden on the track; they pull a driver in a sulky (cart), so Laura has to teach them how to carry a rider. Also, Standardbreds don't gallop on the track: They race at either a trot or a pace, so teaching them to canter can take time.
A New Lifestyle
When the off-track horses arrive at Cross Creek Equestrian Center, the lesson and boarding barn where Laura is head instructor, they have a lot to learn. She must get them used to the more relaxed atmosphere of life away from the track. Racehorses follow strict schedules, so horses often have to relearn everything­—from turnout time to how to be friends with other horses—once they retire from racing.
Although her Magna Carta IEA students also ride the more experienced lesson-school horses, Laura involves them as often as she can with the Standardbreds, helping the students to learn more about racehorse lifestyle and the retraining process.
"Having the team work with the Standardbreds just made a lot of sense," Laura says. "It gives the horses extra experience, which helps them become overall good citizens and horses that can easily transition into post-racing homes, but it also gives the girls the experience of working with horses that are not typical school horses."
Though school horses are the backbone of lesson programs everywhere, Magna Carta riders who work with New Vocations' Standardbreds gain additional insight into riding and training horses that aren't involved in lesson programs.
"When these horses come off the track, they need a lot of work and a lot of hands-on [training]," Laura explains. "The experience the team gets [while providing this] is fantastic, because it's something completely different than what they usually experience."
Laura typically has the younger or newer riders groom and fuss over the recently retired racehorse. Other teammates do groundwork with the horses, and the experienced riders assist Laura with introducing the horses to having a rider aboard.
"There are so many more aspects to the horse industry than just showing," Laura says. Her goal is to teach the team about all of them, and to pass on the importance of giving back to the industry.
A Younger Student
Emily Tinch, a fifth grader at C.O. Harrison Elementary, is a Magna Carta rider who helps Laura with the Standardbreds. Emily has been riding for four years and loves helping with the New Vocations horses.
"My favorite part of [working with the Standardbreds] is grooming them and getting to sit on them," Emily says. Laura works hard to make sure riders like Emily and her teammates know that retired racehorses have a lot to offer once they retire from racing, but it may take a while to make them comfortable in their new career.
"It takes a lot of time and work to get [the Standardbreds] ready for their new homes," Emily says. "It's so important to give horses the time they need to get ready for their future."
An Older Student
Meaghan Kursman, 16, is a Magna Carta team member as well as Laura's daughter. An experienced rider, Meaghan helps the Standardbreds get used to having someone on their back. She is often the one who gets the harness horses used to a mounting block and having someone stand above them to mount.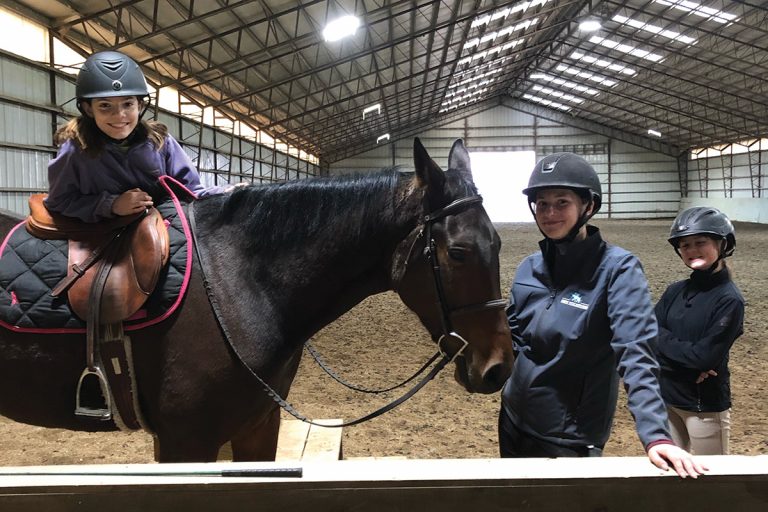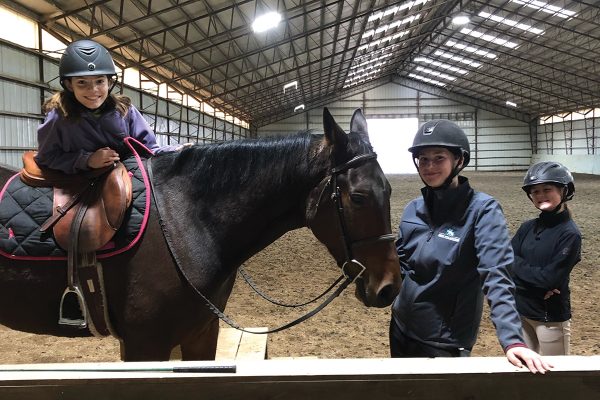 Though standing still while someone mounts from a block may be old hat to a lesson horse, it can be very intimidating to a horse who's never had anyone sit on him. Some horses may become anxious and want to get away from the "predator" who is hovering above them. Meaghan is extremely patient with the horses as they learn their new roles, never getting angry with them when they are nervous.
Meaghan gets to ride a few of the Standardbreds each day and loves learning their different personalities. She has learned a lot from riding the retired racehorses. The biggest takeaway she's had is learning the amount of patience needed to start a horse. Under her mom's watchful eye, she's also learned that little corrections go a long way in training.
Little corrections means that instead of punishing a horse for doing something "wrong," the rider quietly redirects the horse's energy and focus, gently telling him what is expected of him and not pulling on or kicking him when he does it incorrectly. This is especially important for retired racehorses, as they develop confidence while learning a whole new skill set.
The Show Ring
The skills the team members develop while working with the former Standardbred racehorses translate directly to the show ring for a new career.
"I've seen a huge improvement in the IEA scores of the girls who are riding the Standardbreds," Laura says. "If you can ride a wiggly green horse, piloting an established horse around a jump course is not nearly as difficult as it was before you learned to ride the green horses!"
Emily agrees.
"IEA has helped me learn a lot with riding new horses as you never know what to expect riding a new horse," she says. "When you're working with the green horses and starting them, you have to take time and you don't have the chance to get frustrated!"
In addition to training the horses, the Magna Carta team members help the horses get prepped for photo shoots; good images help the horses find new homes. Each horse must be bathed, trimmed, stood up properly and presented in his best light for photos.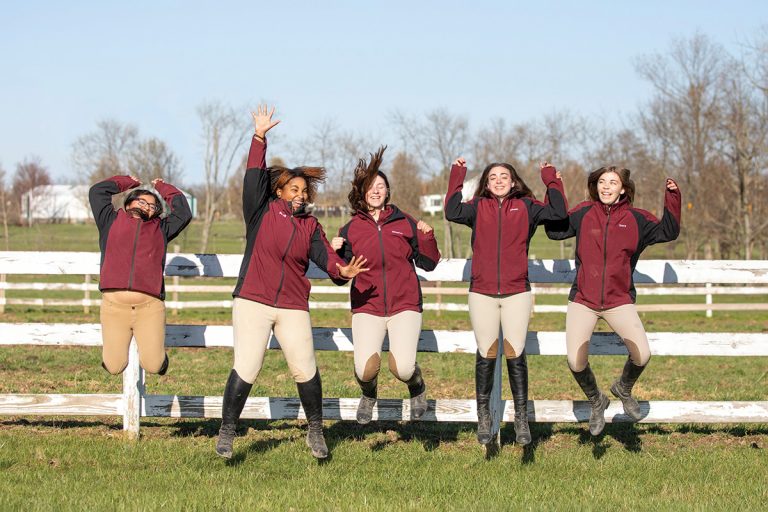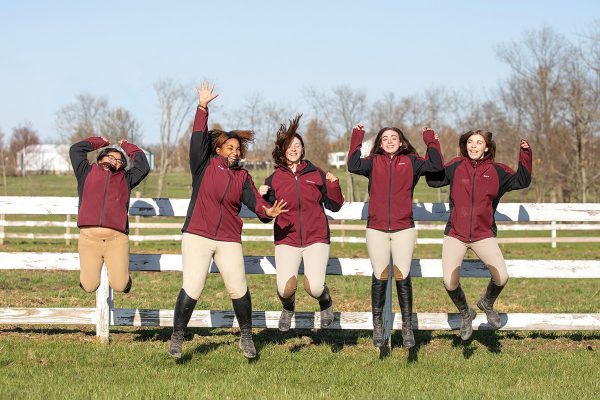 Team members assist with every step, working together to make sure the horse is as clean and prepared as possible. This attention to detail translates into the show ring, where team members help others as they get ready to show.
Helping retired Standardbred racehorses find new careers and new homes makes each Magna Carta team member a more educated horseman who is better prepared for equine ownership.
This article about an IEA team helping Standardbred racehorses find new careers appeared in the Fall 2021 issue of Young Rider magazine. Click here to subscribe!