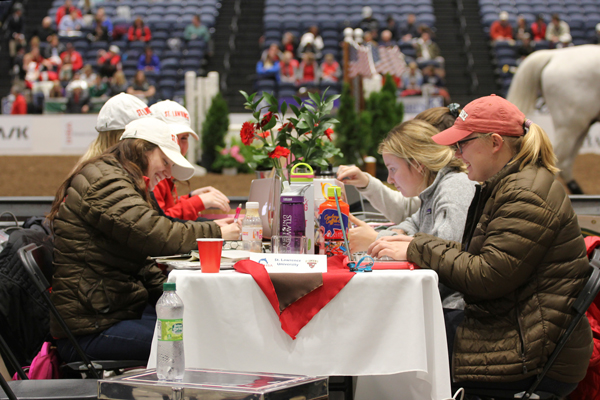 The Intercollegiate Horse Shows Association (IHSA) and Intercollegiate Equestrian Foundation (IEF), Inc. is proud to announce and congratulate the 2020 academic achievement and scholarship award winners. Academic achievement awards are presented to those who have earned a 3.5 grade point average (GPA) or above throughout the academic year. Scholarships are awarded to those members who meet eligibility requirements, excel in horsemanship and in the classroom, and demonstrate financial need.
"We love seeing our members excel in the classroom as well as in the show ring," said Peter Cashman, IHSA executive director. "It is our aim that members' academic and IHSA equestrian experience helps prepare them for life beyond college."
As the oldest and largest of the intercollegiate equestrian organizations with more than 10,000 members, IHSA welcomes men and women of all riding levels to compete in individual and team competition in hunter seat equitation, western horsemanship and reining at more than 400 member colleges and universities in 47 states and Canada. IHSA college and university team participation is represented through a variety of programs including varsity athletics, academic departments and club sports. IEF fosters and promotes intercollegiate equestrian activities and competition through the awarding of scholarships and grants.
IHSA Academic Achievement Awards
The Senior Athletic Academic Achievement Awards are presented to IHSA members who have a cumulative GPA of 3.5 or higher and have been a member of their intercollegiate equestrian team for three years, including their senior year.
Congratulations to the 2020 IHSA Senior Athletic Academic Achievement Award recipients. Click here for the full list of winners.
The IHSA recognizes its members who excel academically throughout the year with the All-Academic Awards. Eligibility for the First Team All-Academic Award members must have a cumulative GPA of 3.8 or higher, and a 3.5 or higher for the Second Team All-Academic Award.
Congratulations to all of the IHSA All-Academic Award winners. See the First Team All-Academic and Second Team All-Academic winners.
The Teresa McDonald Scholarship Challenge is comprised of a written test and a practicum held at the IHSA National Championships. Due to the unique situation this year, the 2020 awards are presented to the members in each zone with the highest written test scores.
Congratulations to the Teresa McDonald Scholarship Challenge written test high scores. See the written test high scores by zone here.
IEF Scholarships
The Intercollegiate Equestrian Foundation, Inc. (IEF) scholarships are awarded to undergraduate students who have competed in intercollegiate equestrian activities and are based on criteria including academic achievement, equestrian sport achievement, community service and financial need.
The mission of the IEF is to foster and promote intercollegiate equestrian activities by providing scholarships and grants. The IEF presents multiple general scholarships each year. Included in these general IEF scholarships are three named awards.
The Jack Fritz Memorial Award in honor of the legendary horseman, scholar and co-founder of the IHSA, Jack Fritz.
The Joan Johnson Memorial Award in honor of Joan Johnson (JJ), IHSA founding member, Stony Brook University equestrian team coach, Associate National Steward (1967-2000), Zone 3 chairperson and chair of the Scholarship Foundation since its inception. Johnson is remembered for her uncommon devotion and leadership of the IHSA.
The Emily Jane Hilscher Memorial Award created in memory of Hilscher, a 19-year-old Virginia Tech freshman. She was studying veterinary science and was among the victims of the massacre at Virginia Tech in 2007. Along with competing on the Virginia Tech equestrian team, Hilscher was an animal lover, horsewoman, passionate cook and creative artist.
The Margaret "Maggie" Blackmon Memorial Award is awarded in honor of Blackmon, a 20-year-old junior studying anthropology at St. Lawrence University. A three-year member of the St. Lawrence riding team, Blackmon passed away suddenly in 2020. Her love of horses and riding led her to develop tremendous skills and knowledge transferable to all aspects of her life. This scholarship recognizes a collegiate rider who demonstrates the same passion and commitment to equestrian sport.
The IEF also awards two noted scholarships, the Jon Conyers Memorial Scholarship and Bob Anthony Memorial Scholarship. Recipients must be nominated by their coaches and meet eligibility criteria.
The Jon Conyers Memorial Scholarship is awarded to a freshman or sophomore in his or her first year of competition in the introductory, beginner horsemanship, pre-novice, novice or rookie horsemanship divisions and must be a full-time IHSA undergraduate member in good standing, display a passion for horses, strive for excellence, and demonstrate financial need.
Conyers competed in the IHSA, instructed and coached for multiple college programs, served as an IHSA board member in many capacities, including regional president, zone chairperson, director of alumni, director-at-large and national horse show manager.
The Bob Anthony Memorial Scholarship is in memoriam of legendary horseman, NRHA Hall of Fame Inductee and six-time NHRA World Champion, Bob Anthony.
To be eligible for this scholarship, students must be a full-time undergraduate IHSA member in good standing, compete in open reining throughout the year, and demonstrate financial need.
The IHSA congratulates the IEF scholarship award winners. For a full list of the IEF Scholarship Award winners, click here.