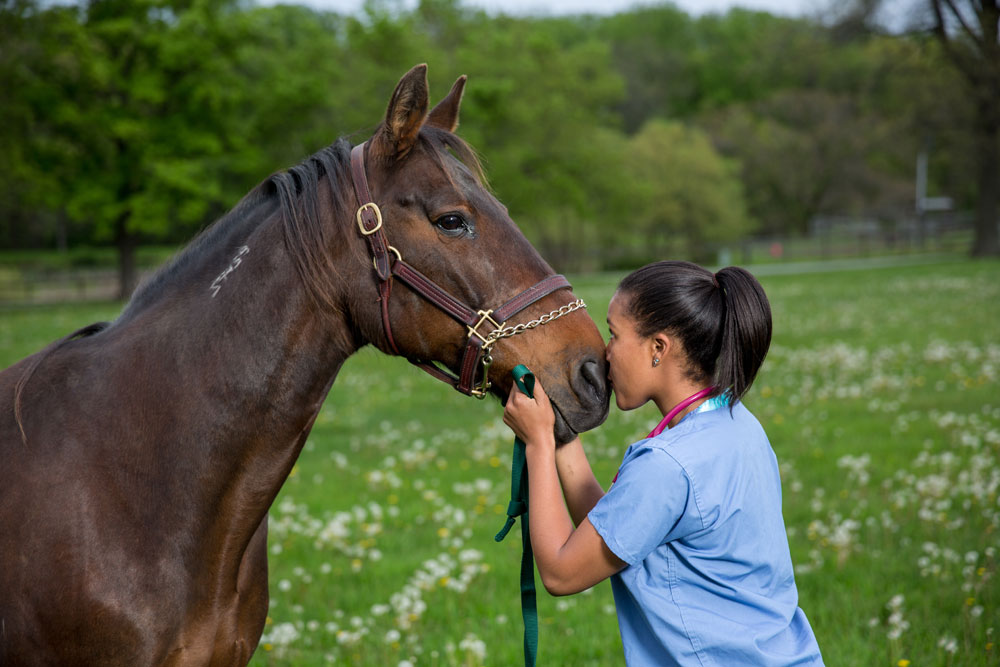 Being in vet school is crazy enough without cameras following you around. Morgan Taylor was one of the vet students at the University of Pennsylvania's School of Veterinary Medicine selected to be on Animal Planet's show, "Life at Vet U." We talked to Morgan about her journey to become an equine vet and what it was like being on the show. Read on for Morgan Taylor's interview:
YR: Why did you choose to focuses on equine veterinary medicine instead of other animals?
MT: I grew up riding hunter/jumpers and Intercollegiate Horse Show Association in college. I found that I liked medicine, I liked people, but I really liked working with horses. During my sophomore year of college, I pieced together that I had to be an equine veterinarian so that I could do all three of those things.
YR: How did you balance school with horses?
MT: I balanced my horse life pretty well through vet school. I usually rode once or twice a week and always made sure to spend time with horses outside of the hospital.
However, I have not ridden a single day since I've been at my internship. I've picked up some other hobbies that are a little less expensive; I've started Latin dancing and line dancing and I do a little bit of karaoke.
YR: How did your past experience with horses help in vet school?
MT: I came into vet school being pretty comfortable around horses. I knew the horse terms and lingo already so I didn't need to look up the weird and obscure terminology. But I think that you can be a horse vet even if you don't have experience in the horse world. It's the desire to put yourself out there. That being said, I had an advantage [by knowing horses], but I don't want to discourage anyone because it is doable. I found that many of my friends who had no horse background ended up loving them.
One of the most common problems non-horse people run into is reading horse body language. Is the horse trying to bite me or is he just really curious and looking for treats in my pockets?
YR: Did the horses react to the cameras while filming?
MT: Horses by nature are very curious. Having six people running behind them with a microphone and camera and lights made most horses a little apprehensive and spooky at first, but usually once they realized that we weren't after them, they settled down.
YR: Did being on "Life at Vet U" give you a different perspective on vet school?
MT: It gave me a totally different perspective. My instructors took extra time to explain details and broke it down to "normal people terms," and not always medical terms. So I feel like I lucked out, and there was extra learning for me.
YR: What was the hardest thing about being on the show?
MT: I think the hardest thing for me was having my personal life shown. That was very unnerving.
YR: What was one of the most fun parts about being on the show?
MT: One time in Arizona I was wrestling some sheep, and the guys loved it. I thought it was totally normal, but they were getting a laugh out of it. So that was pretty awesome.
YR: What are your future plans as a vet?
MT: I am hoping to work at a racetrack. I like Thoroughbreds and racing in general.
YR: What advice do you have for kids interested in going into horse health care?
MT: Go for it! It will enhance your horse background all around. If you become a horse technician, vet, or farrier you'll have a better appreciation of the body and how it works. When you go to ride your horse, you'll know more about how he moves and what you can do to enhance his performance.
YR: What can kids do now to help prepare for an equine veterinary career?
MT: Volunteer! Get out there and work with horses other than your own. When I was 13, I worked at a farm that did equine therapy with autistic children. I think that was a big help getting into vet school. They loved hearing about my volunteer experience, and that's something I started at a young age. Be proactive and volunteer.
---
This article about Life at Vet U originally appeared in the January/February 2017 issue of Young Rider magazine. Click here to subscribe!