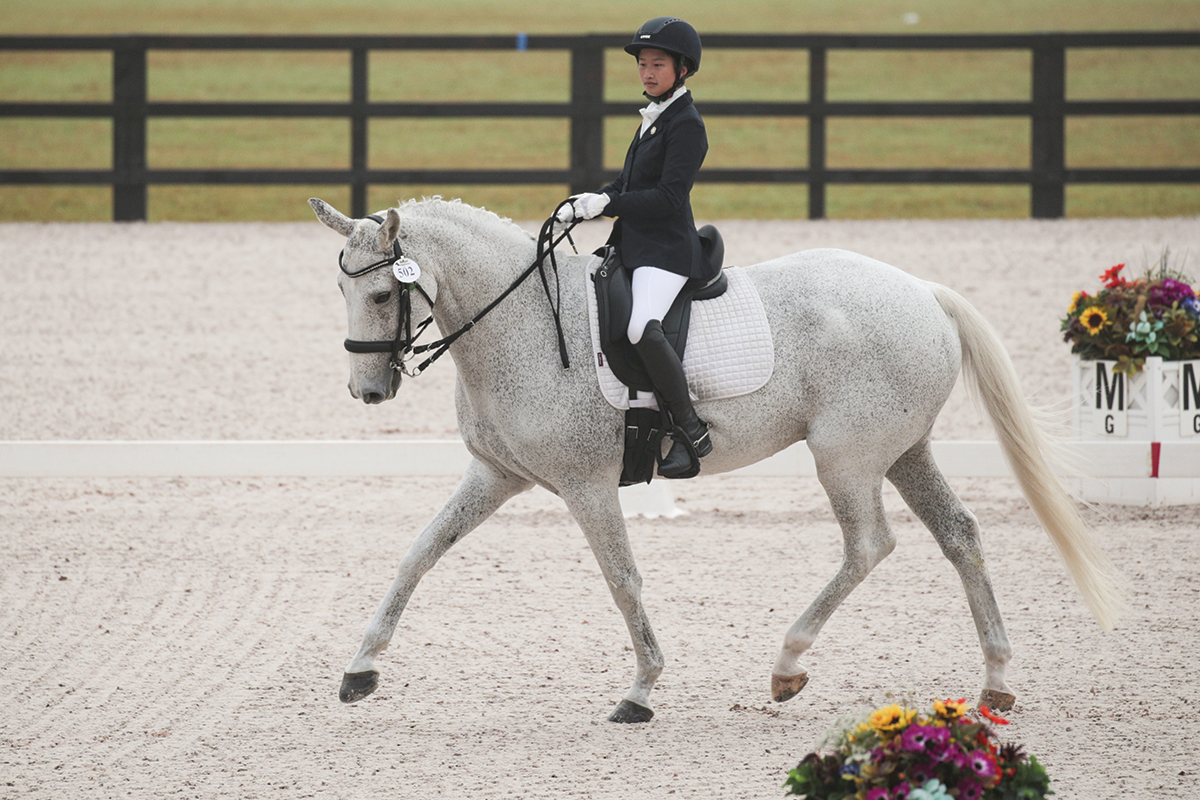 My name is Andie Sue, and I'm a 16-year-old para-dressage rider. I first rode a horse when I was about 2 years old, so I have been riding for as long as I can remember. I didn't have a riding leg (see below), so it was easier to just ride bareback, which I am very thankful for because it developed my seat and balance.
I started to ride every day with my mom. We played "follow me," and I would trot along a few horse lengths behind her, which is how I learned dressage geometry! Later, I took over my mom's horse, Tam. Tam and I did everything together: Pony Club rallies, games, clinics, trails, a little gymkhana, and even a little bit of barrel racing, though our main focus was always eventing. We really loved to jump!
Riding has given me a sense of normalcy, courage, and freedom. Horses help me get my mind off of the outside world. They need your full attention and a clear and positive mind. I believe it's necessary to remember why I started riding. Especially as the pursuit of my goals has taken over so much of my life, it helps me stay centered and continue to find joy in my journey.
Para-Dressage Rider
My off-track Thoroughbred, Blue, really changed my perspective on dressage. He had a floaty trot and power behind him that I had never felt before. That was the start of my para-dressage rider aspirations.
I became very determined to learn the path and process after one particular lesson about two years ago. After riding that day, I was overcome by how much I enjoyed dressage. I have always liked puzzles, and dressage is truly a puzzle. I looked at my mom, after years of saying that I didn't like dressage, and told her that I loved it. I said that if I wasn't allowed to jump again, I would be OK with that.
Together, we figured out how to pursue my dressage dreams, and I am taking every opportunity to make them happen.
Overcoming Setbacks
I have had physical setbacks, including a re-amputation and a break of my residual limb, which involved a long and painful recovery. Thinking about getting back on my horse was the push that got me through it.
I also had a severe knee dislocation and surgery, which resulted in six months out of the saddle. It was a tough time, but I used it to do a lot of studying for my homeschool classes and Pony Club education. I'm grateful to have used some of the setbacks in riding to reach forward in other parts of my life.
I wrapped up this season by doing my first 2* International Para-Equestrian Dressage (CPEDI) competition at Tryon after also showing at Wellington nationally and local shows on various horses. I ride between one and three horses daily for training and take four to five lessons a week. It's hard work being a para-dressage rider!
We just moved to a beautiful cherry farm and horse facility in central California. It has been a lot of work fixing up the barn and arena, but it is coming together so nicely. It has been a dream come true to have my very own space to train.
Future Goals
Ultimately, my goal is to become a Paralympian. I am working with several different horses, honing my skill set so I can have as many tools in my toolbox as possible.
At the end of show season, I get together with my coaches to strategize and budget for the following season. I divide my goals into categories, which allows us to develop a training plan. Pony Club has shaped my day-to-day life. It has taught me the process of effective planning, time management skills, and so much more.
In the end, no matter what we win or where we go, my biggest goal is always to be the best partner I can be to my horses. They put it all out there for me, and I want to do the best I can for them.
---
A Prosthetic Leg for a Para-Dressage Rider
Andie Sue was adopted from China at 15 months old; she had a severely deformed leg and foot at birth that required amputation below the knee, which was done after she got to America. She was 2 years old when she got her first prosthetic leg for walking.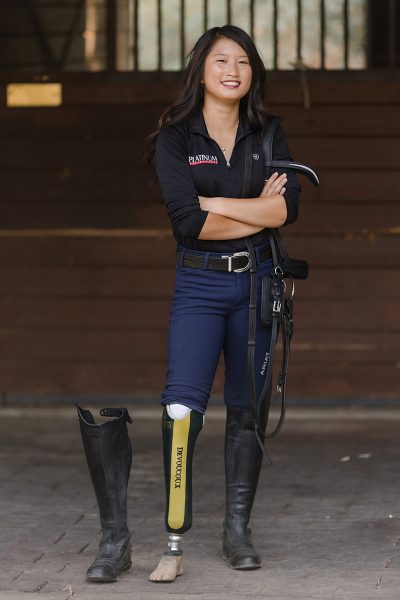 She later worked with a prosthetist at Shriners Hospital for Children to have a special leg made for riding. She did a lot of the design herself, telling the prosthetist exactly how she wanted it to work. She even brought her saddle in so they could see how to make it for her!
Andie has several prosthetic legs specially made for different activities: riding, walking and swimming. She needs new legs as she grows, so the process of custom-making them starts over again each time, which requires molding the sockets, prefitting, adjustments and tweaking the "ouchie" spots. It takes several visits to Shriners Hospital, but they are very patient and love how active she is!
This article about para-dressage rider Andie Sue Roth appeared in the Spring 2021 issue of Young Rider magazine. Click here to subscribe!