Madison Smith grew up working on a family ranch in Montana, pony club, rodeo in High School, and then Eventing in college at Texas A&M. Loving horses was easy. Affording them was a bit harder. Once out of College, having graduated in Sport Conditioning and Neuroscience, she found that field didn't comfortably support her horse addiction, so she instead opened up a Neurotherapy practice and then, later, added real estate to the mix by buying run-down homes, fixing them up, and selling them for a profit.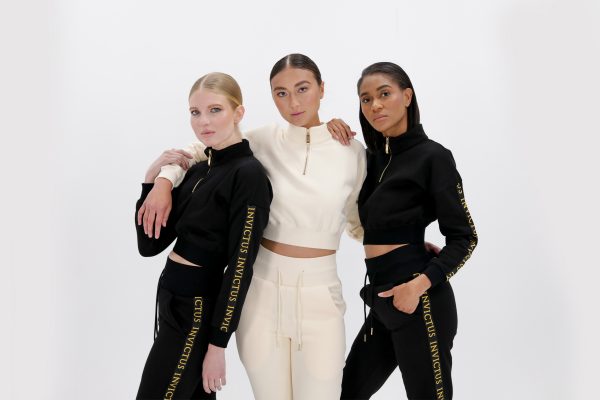 But while these professions let her financially keep riding, Madison wanted to really be involved in something more creative and, preferably, involving horses.
When you keep yourself open to the universe, interesting things can come to you. Madison started noticing that there were lots of little things she didn't like about her equestrian apparel. Nothing big enough to make her stop riding, but her life had always been about being creative and solving problems and these were starting to rise to the point of being "problems."
Ever have that burn when you take off your boots, from where the seam on the inside of your leg was pressed into your leg by the boots? Ever feel like you are wrapped like a mummy while trying to encourage a 1,200 pound (545 kg) horse to correctly negotiate a 4-foot obstacle? Ever had a group of people walk up to you while on your horse and wonder how much is showing through that white top? Ever wish they had sizes beyond S and M?
Madison did.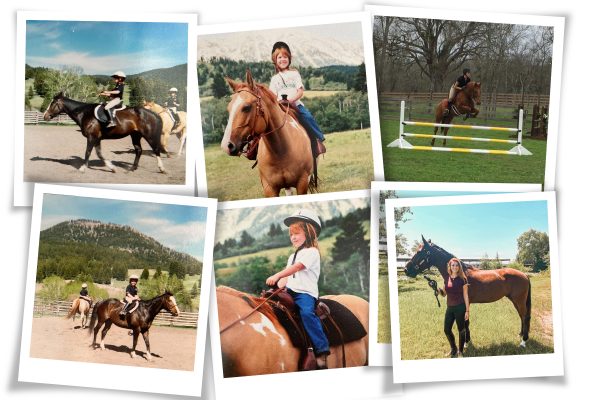 And then she started trying to solve those problems. Turns out, she could not find any brands that did not have the same problems. There are only a handful of original designs and then a number of different brands that are nearly identical to those brands once you remove the labels and a few inconsequential cosmetic items. Everyone was doing pretty much the same things as had been done before and they all had the same annoying problems. Madison realized that if she was having these problems, other women were having them too. If she was willing to buy a brand that could solve those problems, even if they were a little more, other women were willing to do the same. But someone had to actually get up and solve the problems, make the solutions, and then sell the clothes. Sometimes a girl has to take things into her own hands to get done what she needs to get done.
Time to rock the boat, make a few waves.
Knowing what you want and knowing how to get it are two different things. After lots of research and work, Madison found a manufacturer who would work with her and provide samples of her designs as she went through several design iterations. She started small, making minor improvements, and added some cosmetic changes she really liked: she made a logo and put it on her clothes in a simple but bold way: on the arm or leg, running vertically, but gilded. Or just running right down the back. Not too big to take away from the overall look, but bigger than just a label or small print. The more she worked on the design, the more fun she started having and the more she saw the final product getting better and better. This was fun! And exciting! The manufacturer had a few ideas about using some materials that were designed and used for other sport industries, but had some great benefits for equestrian work. This also opened the door for some new colors that are still classy and dignified even though they are not traditional colors. When the manufacturer made a sample batch for Madison, she fell in love with them and knew she was going to go all out and really do this.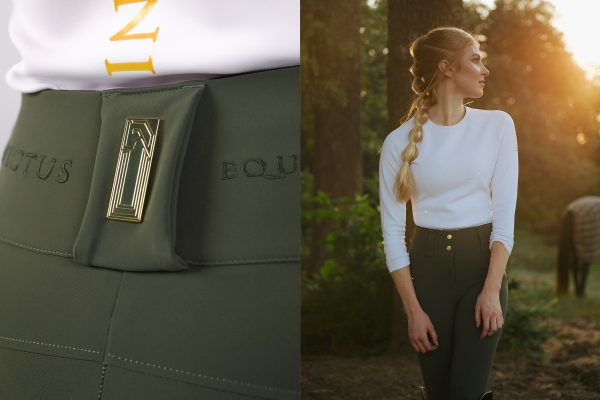 The problem was that she needed to make a few more waves and do a little more boat rocking. Some problems didn't go away easily. The manufacturer would say something could not be done, but Madison knew it could be done with enough imagination and willingness to experiment. She had to work hard to prove her designs were feasible and convince the manufacturer to do the work needed to implement those changes even though "they had always done it the old way."
The seam on the legs? That got reduced by using a different stitching method and it got shifted to a different location on the leg so it wasn't right where you press your leg against the horse. The way the crotch and hip areas were made also needed to be changed with a taller waist, a wider waist band, and stretchier material. All these changes made the breeches less binding where it is uncomfortable and added support for the abs, which improves balance and stability in the saddle – turns out the Sports Conditioning and Neuroscience degrees really helped!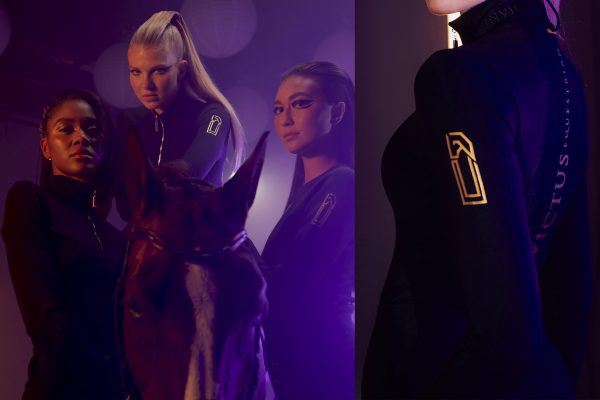 A thick waistband has been added to not only help sculpt the body, but also to help with engaging your core in the saddle which leads to better stability when riding. A textured waistband was added as well to prevent the rider's shirt from coming untucked. Cell phone pockets were added to the side of the leg so riders can bring their phones on long trail rides.
In the whole Form vs Function debate, form has a function all of its own. If you can be comfortable and safe, why not be comfortable, safe, and looking good? With this in mind, Madison dipped into her art studies a bit and had some fun playing with playing with the logo at different locations and different sizes, adding a larger-than-normal zipper pull for the neck zipper – and gilding it so while functional, it also looks like you are almost wearing a little jewelry, but without the fear of losing the jewelry. The colorful accents are subtle enough that they do not distract from the overall aesthetic but add a little splash of light. You will look good on the horse, but not look weird changing out the hay in the stall. And while the traditional black and white has to be included, riders aren't in formal competition every single day, so some beautiful and classy colors have been included in the mix.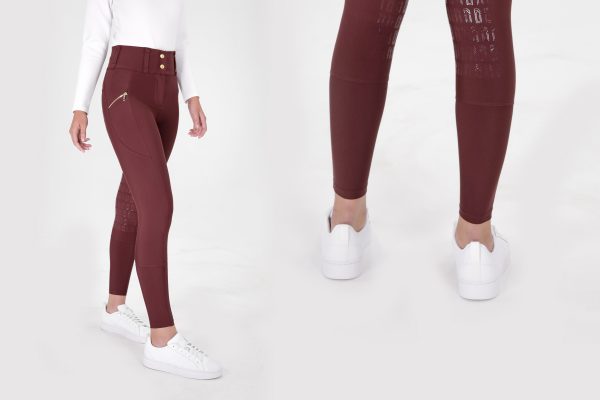 Madison has lots of plans for the future. She has a passion for designing something unique, something that hasn't been done before and she doesn't want to stop with the basics. She wants to build a community of riders who can have a voice in the clothes they wear by giving feedback and interacting with Nikovian, because Nikovian will listen. Brands shouldn't impact the rider, the rider should have an impact on the brands to make what they want and need. There are still improvements to be made in the current designs – she recently figured out how to get the manufacturer to get rid of the seam in the breeches altogether and will use this in a future collection – and she is already designing beyond the basics. Being 5' 9" (175 cm) Madison is tall and she didn't think about how many riders out there need smaller sizes. Feedback from her "testing" friends (let's not call them guinea pigs…) quickly brought this to her attention. So one of the first expansions she will be doing is including sizing below XS with low and mid rise breeches. She doesn't want to give away all of her secrets, but look for more to come in the future from Nikovian Equestrian!
This article about Nikovian Equestrian is a web exclusive issue for Young Rider magazine in partnership with Nikovian Equestrian. Click here to subscribe to Young Rider!