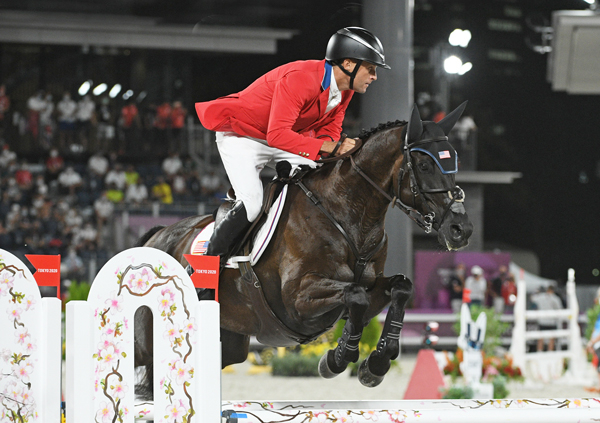 The 2020 Tokyo Olympics eventing wrapped up yesterday with the "thrill of victory and the agony of defeat" one would expect from Olympic competition. The conclusion saw the rise of some new faces and the staying power of old hats, too.
In the end, the British Team of Oliver Townend and Ballaghmor Class, Laura Collett and London 52, and Tom McEwan and Toledo de Kerser, led decisively start to finish and won the first Olympic gold for Britain since 1972, ending a 49-year drought. Their final score was 86.3.
Team silver went to Australia; team members were Shane Rose and Virgil, Kevin McNab and Scuderia 1918 Don Quidam, and Andrew Hoy and Vassily de Lassos. They won the hard-fought battle over France to take the second spot with a score of 100.20. The French Team of Christopher Six and Totem de Brecey, Nicolas Touzaint and Absolut Gold HDC, and Karim Florent Laghouag and Triton Fontaine scored 101.50 for bronze. See our photo gallery.
See the full team results here.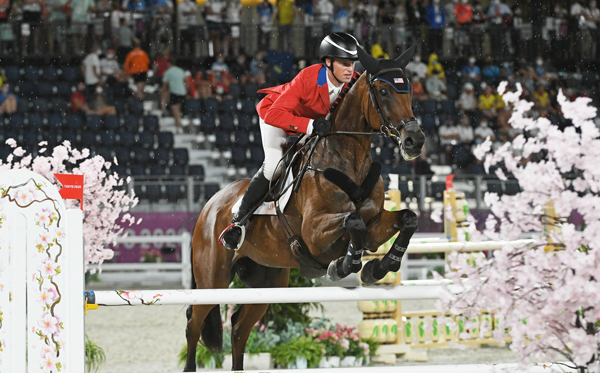 Individual Medal Winners
Chief among personal victories in eventing was that of Germany's Julia Krajewski, who became the first woman ever to win individual eventing gold at an Olympic Games. Although she also competed in the 2016 Rio de Janeiro Olympics, she was eliminated there. The 32-year-old and her relatively-green-to-the-CCI4*-level mare Amande De B'Neville, sailed around cross-country to finish second that day and then went on to jump a flawless round in the stadium to clench their medal. "Mandy," as she is known around the barn, is an 11-year-old Selle Français mare that Krajewski owns in partnership with Bernd Heicke.
Though Krajewski had been a member of the German team at other championships, she had not yet found her footing as a champion rider until Tokyo. She was literally leaping in the air with joy on the medal podium.
"I'm super proud of my horse," said Krajewski in the press conference after the medal ceremony. "I'm relieved and happy that I made it happen. I'm very thankful to everyone who's been with me all the way. For some time, I thought the Olympics would happen without me, and that was fine. Then going to Saumur [France] and winning there, and feeling that Mandy really stepped up a level, I thought we could deliver something big. I thought 'maybe I've got a little chance of going.'
"After the cross-country, I was fairly positive we could finish well, because she's such a good jumper, and I thought, 'if it goes wrong, it's all in your hands.'" shared Krajewski. "Before we went in, I said 'Mandy, we're going to get it, and I think she knew it was a special day."
Tom McEwan, 20, from Great Britain, was another fresh face to Olympic competition, capturing the silver with the 14-year-old Selle Français gelding Toledo de Kerser, who is owned by Fred and Penny Barker, Jane Inns and Alison McEwan. McEwan was a member of the gold-medal British squad with the same horse at the 2018 World Equestrian Games in Tryon, North Carolina, but Tokyo was his Olympic debut.
Bronze went to the Olympic veteran Andrew Hoy, 62, of Australia and David and Paula Evans' 12-year-old Anglo-Arabian gelding Vassily De Lassos. Hoy has represented Australia at eight Olympic Games and has won six medals thus far (three gold, two silver and a bronze).
In a bright spot for the host nation, their rider, Kazuma Tomoto took a well-deserved fourth place when he guided the 12-year-old Selle Français gelding Vinci De La Vigne to a clear round in the individual final.
See the full individual results here.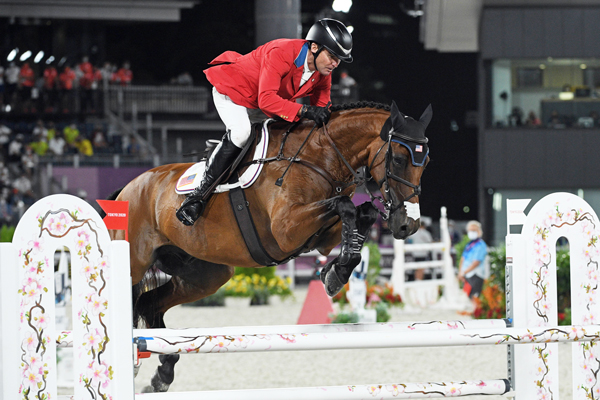 How North American Riders Fared
The results for North American event riders in Tokyo, while fairly consistent in their performances and all finished, was not what they had hoped. The U.S. Team (Doug Payne and Vandiver, Phillip Dutton and Z, and Boyd Martin with Tsetserleg TSF) was eighth after dressage and with three clear jumping rounds on cross-country, albeit with time faults, they moved up to fifth after the second phase.
Unfortunate rails for all three in the first show jumping round dropped the team to a sixth-place finish; still this was the best Olympic finish for the U.S. squad in several Olympic cycles. The last time the U.S.A. finished higher was when they won the bronze in the 2004 Athens Olympics, where interestingly enough, the sire of both Vandiver and Tsetserleg (Windfall *Pg*E*) was a member of that team.
All three U.S. riders finished the first round in the top 25 and qualified for the individual finals. But, the rails continued to fall for the U.S. riders in that round and ultimately they settled for 16th place (Payne and Vandiver), 20th place (Martin and Tsetserleg) and 21st place (Phillip Dutton and Z).
Despite their disappointment, the U.S. riders were all gracious in sharing quotes after their rides yesterday. Payne showed his affection for his long-time equine partner, a 17-year-old Trakehner gelding that he owns with his wife and Vandiver's breeder, Debi Crowley. "What's left to say about this horse's heart?" he asked. "He helped Team U.S.A. finish sixth with the best team result since the Athens Olympics. While always looking for ways to improve, now is the time to reflect and be thankful for what has just happened."
Martin echoed with his clear admiration for Tsetserleg, a 14-year-old Trakehner gelding owned by the Turner family. "Of all the horses I've been lucky enough to ride, Thomas is just such a trier. What he lacks a little bit in natural talent, he absolutely makes up with his heart and desire, and having a horse that digs deep for you when the going gets tough is priceless."
"While our final day here in Tokyo didn't go to plan, Z tried really hard, and we did our best. I'd like to thank his owners for making this opportunity possible," said Dutton in a final interview in Tokyo about the competition with Z, a 13-year-old Zangersheide gelding owned by Thomas Tierney, Ann Jones, Caroline Moran, Simon Roosevelt, and Suzanne Lacy. "Unfortunately, I think Z really was feeling the effects of yesterday. He didn't jump quite as well as I would have liked to have done, but I was very proud to be a part of this team with Boyd Martin and Doug Payne and the horses we had. We live to fight another day!"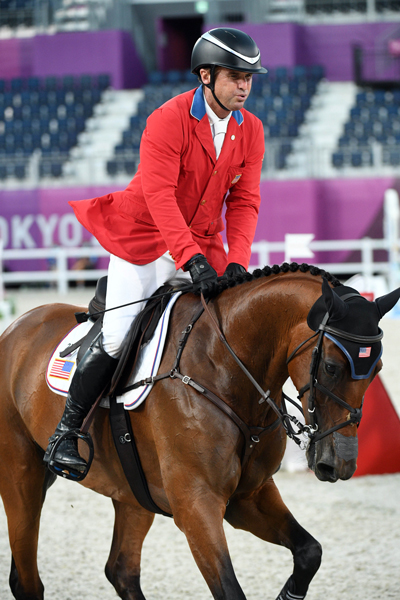 Eventing Stats
After 63 horses rode down centerline in eventing dressage, two withdrew before cross-country citing minor injuries as the issue, and another was listed in the order of go for cross-country, but did not start. So, 60 horse-and-rider pairs challenged Derek di Grazia's cross-country course on Sunday, with 10 of those being eliminated on course and two others retiring (20 percent did not finish).
Looking at the cross-country fence-by-fence analysis, two of the horse-and-rider pairs were eliminated due to three refusals, while another four riders missed a jump element on course and were eliminated for that reason. There were also three eliminations due to rider falls and one due to a fall of both horse and rider.
The other thing of note on the cross-country analysis was the number of times that frangible pins on the jumps were triggered here, which means that 11 penalty points were added to the rider's score. The frangible pins at jump number 14c were broken seven times, and another horse activated the pins at fence 18b. One key horse-and-rider combo affected by triggering the frangibles at 14c was the leader after dressage, Germany's Michael Jung and Chipmunk FRH. The 11 penalty points assessed to Jung, who was the 2012 and 2016 Olympic champion, dropped him from first to 10th at the end of cross-country.
Very, very sadly, one of the two horses retired voluntarily on course was the Swedish horse Jet Set, whose rider Robin Godel recognized a change in the horse's way of going after they galloped away from the Mt. Fuji Water Complex (obstacle # 20). Godel hopped off and immediately attended to his horse, with emergency veterinary staff and a horse ambulance there shortly thereafter.
About an hour later, the sad news came from the FEI that "ultrasound scans revealed that Jet Set had an irreparable ligament rupture in the lower right limb, just above the hoof, and on humane grounds and with the agreement of the owners and athlete, the decision was taken to put the horse to sleep." All of us here in Tokyo for equestrian sport were heartbroken over the news; our thoughts are with the rider, horse owner and all on the Swedish team.
Yesterday morning at the final horse inspection ,one more horse was eliminated when Joanna Pawlak's mare Fantasic Frieda (Poland) did not pass. That left 47 to tackle Santiago Varela's first-round show jumping course, which determined the team medals and who qualified for the next show jumping round. The top 25 moved on to the second round, which determined the individual medals.
Show Jumpers Move Into Tokyo
The show jumpers have moved into the Olympic stabling at Baji Koen. They had their first horse inspection three days ago and a training session two days ago. All horses passed the jumper initial horse inspection, which included the reserve horses as well; two were held on initial inspection and were re-inspected the next morning, when they were finally accepted. The show jumping competition gets underway this evening in the first individual qualifier with all 75 horse-and-rider combinations slated to compete.