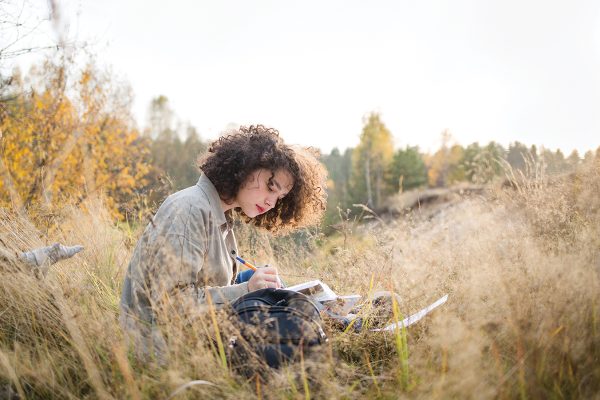 As author of the new book Horse Girl, I've spent the last year writing about horses and the people who love them. The novel tells the story of a young rider named Willa who collects Breyers, is obsessed with equines, and desperately misses her mom (an Air Force pilot stationed far away from home). Willa struggles to make friends with the snobby girls at her new stable—until she meets an adorable Clydesdale/Thoroughbred-cross rescue horse named Clyde Lee.
If you love horses as much as I do, you've probably spent a lot of time drawing and dreaming up stories about them! With that in mind, here are my top 10 tips for writing about horses so you can get started telling the story of your favorite horse:
1. Start by jotting down a few sentences introducing your main human and/or horse characters. What are their primary personality traits? Are they confident or nervous? Playful or cranky?
2.Build a world for your story—where does it take place—at a stable, along a trail path or inside a tack room? What other characters might we meet at those locations?
3. Get specific when you describe your characters and the setting. Include as many sights, sounds, smells and even tastes as you can. Think of those mouth-watering sugar cubes!
Are there any unusual details or interesting metaphors you could mention? For example, I mention that Clyde's giant hooves are the size of a medium pizza and compare his white fetlocks to fluffy whipped cream. I also decided that Willa's older sister should wear cat-eye glasses and sneeze a lot. Those kinds of fun details will help paint a picture in your reader's mind.
4. Figure out what each of your characters (both horse and human) want most in the world. Maybe they long to win a ribbon at the big show and make new friends—or maybe they just want to get back to their stall to eat more apples!
5. Then ask yourself: What's stopping my characters from reaching their goals? Is it self-doubt, inexperience, or a hangry craving for carrots?
6. Structure your story with a beginning, a middle and an end. Think about the challenges your human and horse characters might have to go through to reach their big goals. How might they change or grow from the beginning of the story to the end? And what lessons might they learn along the way?
7. Decide on a mood for your story—is it funny, happy, sad, silly?
8. Vary the pace in your story to keep it interesting. Sometimes the action might be galloping along and sometimes it might slow down to a relaxing walk.
9. Research any facts you might need to keep your story real—horse books, magazines, videos and stable visits can be incredibly helpful.
10. Have fun writing about horses! And don't get discouraged if your story doesn't come out exactly the way you'd like on the first try. Writing often takes a lot of rewriting. Remember that when it comes to riding or writing—practice makes perfect!
This article originally appeared in the Spring 2021 issue of Young Rider magazine. Click here to subscribe!