Cowboy mounted shooting is a fast-action timed event in which riders gallop around a pattern and shoot blanks (cartridges filled with black powder) from .45 caliber single-action revolvers, like those used in the late 1800s, to pop balloons that are set up around the arena.
Kids are welcome to join the Cowboy Mounted Shooting Association (CMSA) and there are many levels of competition, ranging from beginners to experienced shooters.
To find out more about mounted shooting, we chatted with Paige Li Wickum, a young rider from Minnesota who is passionate about the sport. Paige Li, 12, has been riding most of her life.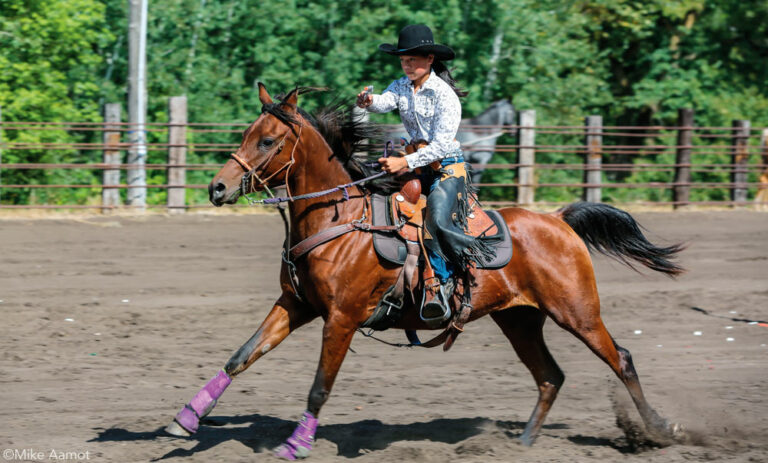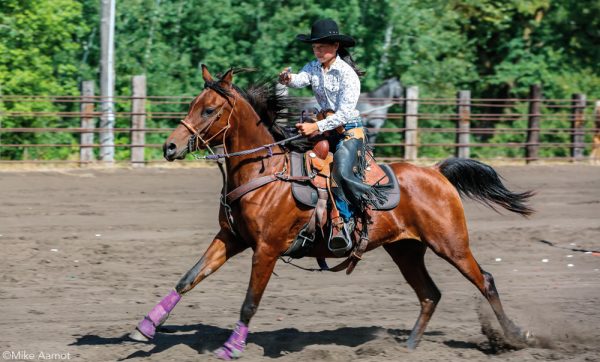 "When I was 2, my mom led me around on my pony, Annie," remembers Paige Li. "I love riding because I like to spend time with my horse and try new activities with her."
Paige Li first found out about mounted shooting in 2010 when she and her mom went to watch a match in a nearby town.
"It was exciting to watch the higher-level shooters who rode fast and hit all the targets," says Paige Li. "Mounted shooting looked like something I would do!"
Paige Li's mom, Libby, began shooting soon after.
"We found out that mounted shooters are very friendly, and they love to help new shooters get started," says Paige Li.
It wasn't long before Paige Li was practicing shooting patterns on her mom's horses. Finally she found her own horse to shoot on—Shadow, a 12-year-old Arabian mare.
"When I got Shadow, she had mainly been used for trail riding, but she had a lot of potential for speed events," says Paige Li. "I had to work with her on controlling her speed, making quick turns and running smoothly through the patterns.
Paige Li also had to teach Shadow how to neck rein because shooters ride one-handed so they can hold the gun in the other hand.
So, how did Paige Li get Shadow used to the sound of gunshots?
"I practiced riding her in our field and my mom shot her gun as I rode Shadow close by," she explains. "Now when we take her to shoots, she isn't bothered by the gunfire at all."
Until Paige Li was 12, she competed in the Wrangler division. This means she rode the same patterns as grown-ups do, but she shot cap pistols, engaging each target as if she were shooting caps. But later in the day, all of the "Wranglers" ground- shot five balloons on pegs set in a pattern with the "real McCoy"—.45 caliber single-action revolvers with blanks.
"We had to wear safety glasses and hearing protection, and our parents loaded the guns for us," explains Paige Li. "We shot at the balloons, and any that you missed you counted as a penalty on your overall time for the day."
This season, Paige Li will be able to compete in the Ladies Level 1 class where she'll shoot real .45s with blanks to actually pop the balloons. Her mom, dad and grandpa have all helped her learn to shoot and handle guns safely. Safety is key at CMSA events, and riders do not carry loaded guns outside the arena or when not competing.
"I'm practicing the patterns with the guns unloaded right now," says Paige Li. "It's harder because the guns are heavier and the hammers are harder to pull back. I'm riding slower so I can focus on hitting the targets accurately."
Paige Li tells us that there is a dress code for CMSA shooters.
"Ladies can wear a western shirt, jeans, chinks, hat and boots, or we can wear a dress," she says. "The idea is to wear clothes that look like we live in the Old West."
Paige Li's family goes to about 10 shoots each season.
"Last year, I was the Wrangler Open Overall winner for my club, the Wild Rice Peacemakers," she says. "That means I was the top of my class through the whole season at the shoots hosted by our club."
When Paige isn't competing in mounted shooting, she and Shadow participate in 4-H drill team competitions and horse shows.
"We also do gaming events because Shadow is so fast and I like those games best," she admits. "I also like to take Shadow on trail rides with my family."
For more information about cowboy mounted shooting, visit www.cmsaevents.com.
---
This article originally appeared in the September/October 2015 issue of Young Rider magazine. Click here to subscribe!