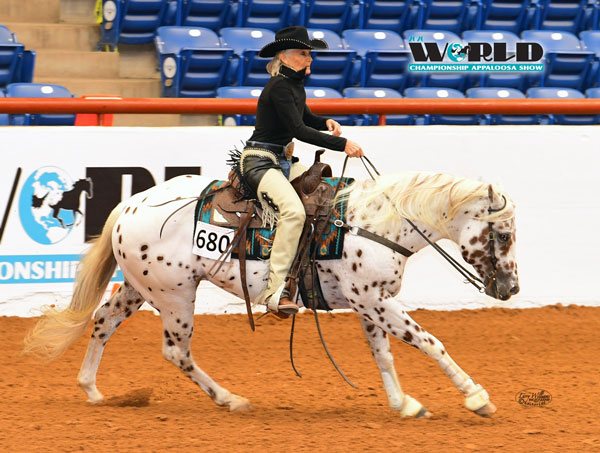 Prevailing during the 2020 pandemic, the Appaloosa Horse Club (ApHC) successfully rescheduled its Youth World Championship Show to run concurrently with its World Championship Show for the first time ever—and both shows were a success. The event ran October 29 through November 8 at the Will Rogers Memorial Center in Fort Worth, Texas. This year's show saw an increase in both horses and entries across multiple disciplines, sold a record amount of sponsorships, and added new payback classes. Germany, Mexico, Canada, and 44 states were represented, and the 5th Annual Stars and Stripes Spectacular, a show for Veterans and Equestrians with Disabilities, hosted 60 riders in 22 classes.
"While we were all disappointed by the cancellation of the National Show, it opened the door to trying something new, different and exciting," said ApHC President Ken Johnson. "Holding the two World Shows together, which has never happened before, truly made our show a 'family affair.'"
In the innovative move to adapt to the pandemic, the ApHC added 72 youth classes and two extra days to the schedule of the premier Appaloosa event of the year for its 31st appearance at the Will Rogers Memorial Center. The Appaloosa Youth Association hosted a few fun and safe fundraising events, including a costume contest, pumpkin decorating contest, and a silent auction. School was able to continue for all students with the addition of a study room on grounds with free WiFi, snacks, and volunteer tutors to help with homework and studies.
Enthusiasm for this year's show was evident months before the event started. The ApHC is happy to report that all sponsorship opportunities for the show were fulfilled, and more than $250,000 in sponsorship revenue was raised.
"It was amazing to see the equine community and our Appaloosa family come together in support of this show and the ApHC," said ApHC Advertising & Marketing Director Hannah Cassara.
Advertisers also helped raise enough funds to make the live feed of the event free to everyone via the webcast and on the ApHC Facebook page.
Over the course of the 11-day event, 619 of the best horses in the breed competed for championships, showing an increase from last year. The 2,613 overall entries in both open and non-pro classes was also an increase over 2019, with ranch and cattle classes in all divisions seeing a particular boost in participation.
New to the schedule this year were the two $2,500 added Champion of Champions western pleasure and hunter under saddle classes held Friday, November 6. Sponsored by Beck Farms, 3-G Performance Horses and Rockin' MD Ranch, the two classes were open to the top three placing in each open and non-pro western pleasure and hunter under saddle class. Winners received 100 percent payback of the added money and entry fees.
"We are so grateful we were able to hold our event in such an unpredictable year as 2020," said Show Manager Keri LeForce. "We would like to thank our sponsors, exhibitors, judges, Owen Farms Arena team, Will Rogers Memorial Center, and our staff who made it all possible."
After a year full of so many challenges and cancellations, the Appaloosa community came together to enjoy this huge success. For the list of winners, visit www.appaloosa.com/news/2020/11_30_2020.pdf.
About the Appaloosa Horse Club
The Appaloosa Horse Club (ApHC) was established in 1938 with a mission of preserving, promoting and enhancing the Appaloosa breed. The ApHC has since registered more than 700,000 Appaloosas, which are known for their distinctive color, intelligence and even temperament. True to their reputation as an extremely versatile breed, Appaloosas can be found in nearly every discipline, including racing and endurance riding, and they also serve as reliable family horses. The international breed registry is headquartered in Moscow, Ida., the heart of the Palouse region—the Appaloosa breed's namesake and point of origin.