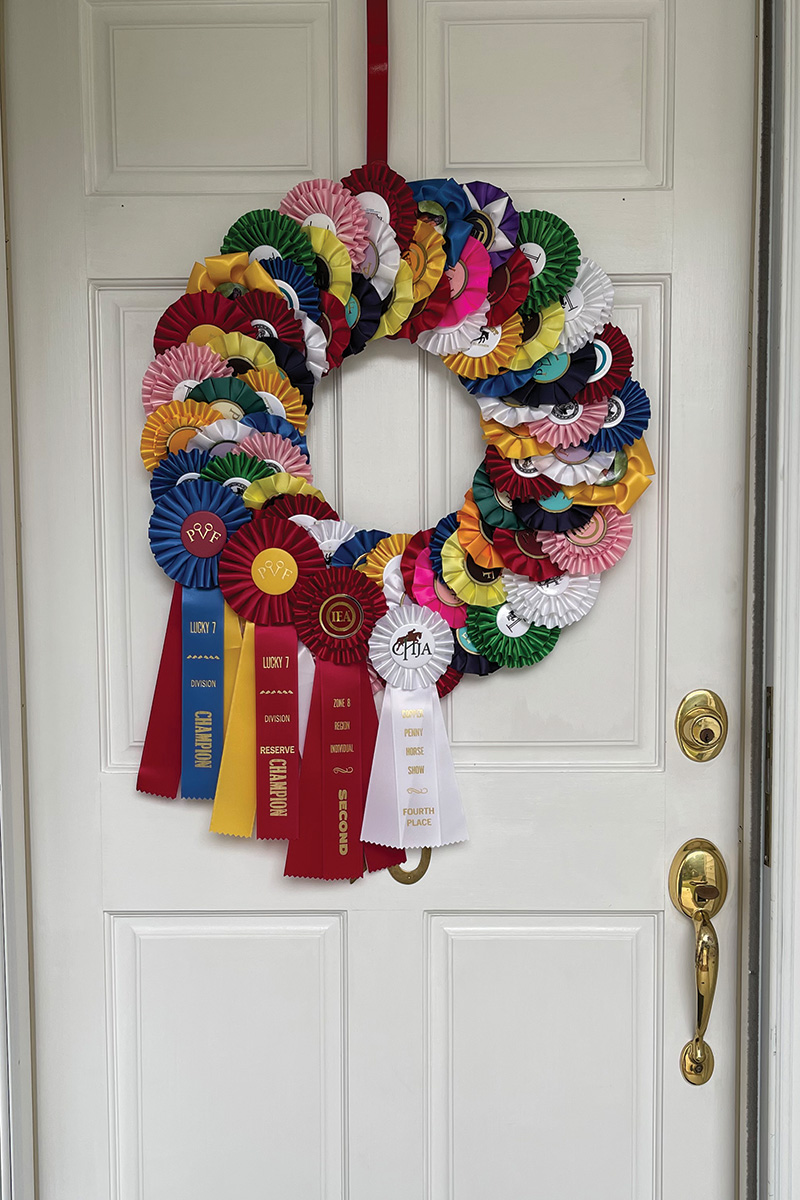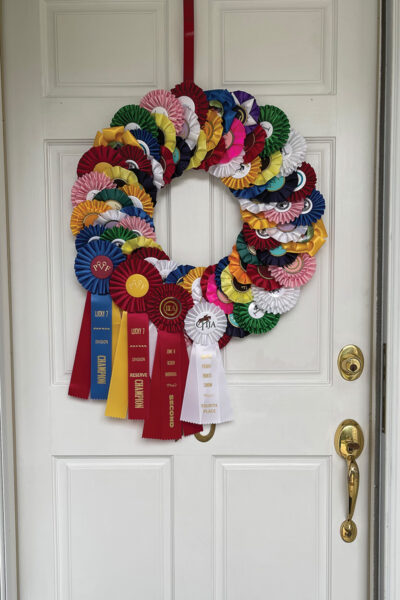 If you enjoy equestrian competition, you probably have a drawer full of horse show ribbons somewhere. Maybe you've got them tacked up on your bedroom walls but you're running out of space. One creative way you can display your ribbons is on a wreath. Not only does a wreath show off your accomplishments as artwork, it also takes up less space than individual ribbons.
Kim Woodall's daughter is an avid hunter/jumper, and with buckets of ribbons, Kim came up with the idea to make wreaths to display them. After being asked to make wreaths for their Pony Club, she began making more wreaths to help fund their horse show activities.
Since then, she's shipped wreaths to 48 states and Canada. Here are her tips to make your own ribbon wreath.
Materials Needed for a Ribbon Wreath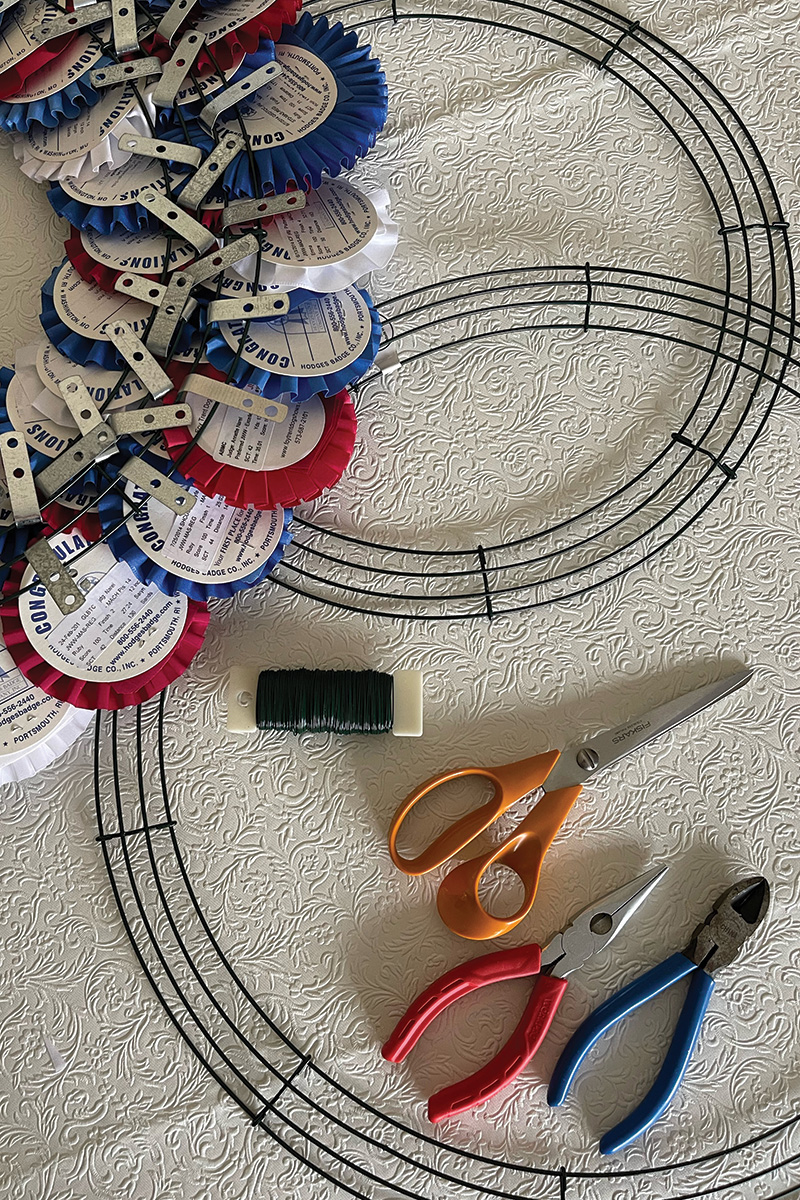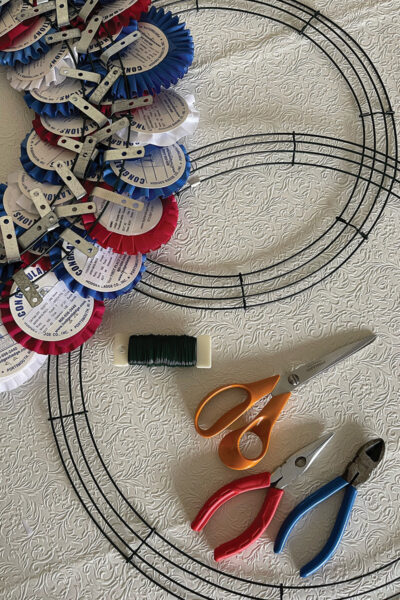 ◆ Horse show ribbons
◆ Wire wreath frame (size depends on number of rosettes, usually 16- to 18-inch diameter)
◆ Floral wire
◆ Paper clips, hot glue and hot glue gun (if your rosettes don't have hanging clips)
◆ Ribbon to hang the wreath
◆ Wire cutters
◆ Pliers
◆ Scissors
Instructions
1. Gather your ribbons together and save two or three special ones, cutting the tails off of the rest.
2. Make sure each rosette has a clip on the back. Otherwise, you'll need to glue a paper clip to the back of each one with hot glue.
3. Separate your rosettes into four different stacks, making sure the colors and sizes are about even in each.
4. Starting with three rosettes at a time, clip one to one edge of the frame, one to the other edge beside it, and one to the wire between the two.
"Make sure you sort your colors so you don't have all your blues in one corner and all the whites in another," Kim says. "Try to space your colors as evenly as possible."
5. Continue to add rosettes three at a time by layering, working around the frame.
6. Add the hanging ribbon with floral wire or hot glue to the top of the wreath.
7. Add the rosettes with tails where you want the bottom of the wreath to be located.
8. Once the wreath is full of rosettes, flip it over and use floral wire to secure them so they won't move.
"Don't get in a hurry while you're putting it together," Kim advises. "Sometimes if I have a difficult one that I'm not feeling good about, I'll put it aside and come back to it in a couple of days. Remember, this is going to be important to you for many years, so don't get in a big rush."
Need Help?
Kim Woodall is happy to answer any questions via email at showribbonwreaths@gmail.com. If you'd rather have her make you a wreath, visit her website at showribbonwreaths.com or Facebook.com/showribbonwreaths.
This article about how to make a ribbon wreath appeared in the July/August 2022 issue of Young Rider magazine. Click here to subscribe!