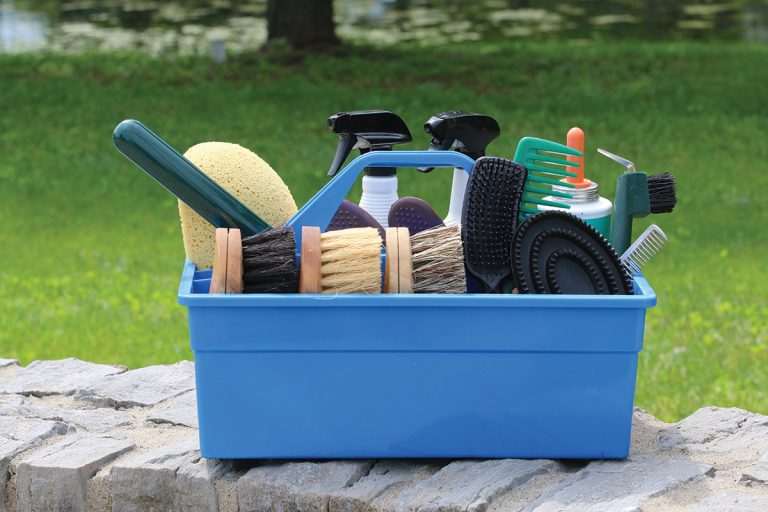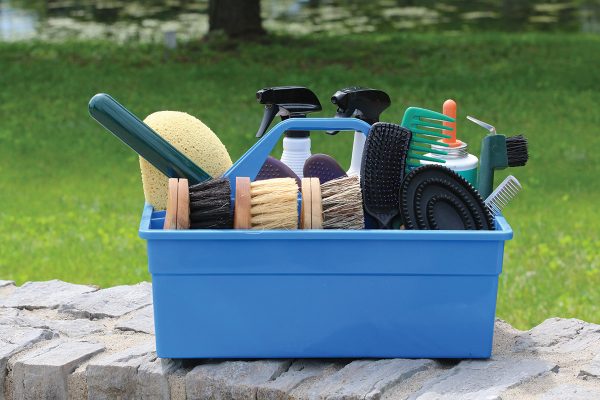 Spring is in full swing, your horse has shed his winter coat, and a busy season of riding is under way. Organizing your grooming gear is the first step to give your horse a glow-up and keep it going. Having the right supplies on hand sets you up for success so that you don't find yourself out of shampoo the night before a show or frantically hunting for a hoof pick when you're late for your lesson. Here are some tips to organize your grooming gear with a kit so you don't miss a thing.
How to Organize
Some general rules of organization can be applied at the barn to wrangle all your grooming supplies.
◆ Edit and eliminate. Gather up all your grooming tools and products and sort out what stays and what goes. If you have duplicates or things you don't use, check with local horse rescues to see if you can donate extra grooming supplies in good condition.
◆ Pair like with like. Group items together by use or product category. Creating different kits will make it easy to find the items you need for your grooming tasks, such as daily grooming, bathing and preparing for a show.
◆ Contain. There are storage bins, caddies, buckets and totes of all sizes and types that you can use to keep your grooming supplies organized. A grooming tote with pockets or dividers is a popular and portable choice to hold essential brushes, products and sprays. Hanging organizers with pockets offer handy storage solutions for trailers or tack lockers.
In the tack room, containers with lids or plastic storage drawers keep things clean and organized. Around the barn, you might install wire baskets to hold grooming supplies in a wash rack, cross-tie area, or on a stall front.
◆ Find a place for everything. Think about your grooming routines. Which products and tools do you use? When and where do you use them? Keep frequently used items, such as your daily grooming kit, in a convenient place. Braiding supplies, clippers and items that you don't use every day can go in a more out-of-the-way location.
Daily Grooming Kit
Basic Tools
◆ Currycomb
◆ Stiff brush
◆ Soft brush
◆ Hoof pick
◆ Mane and tail hairbrush
Extras
◆ Wide-tooth comb
◆ Pulling comb, mane knife or trimming device
◆ Scissors
◆ Sponges
◆ Washcloths or small towels
◆ Large towel
◆ Grooming block or shedding tool
◆ HandsOn grooming gloves
◆ Clippers
Products
◆ Fly spray
◆ Hoof oil/conditioner
◆ Hoof treatments
◆ Coat polish spray
◆ Detangling gel/serum
◆ Spot remover/waterless shampoo
Clipping Kit
◆ Clippers: large clippers for body clipping; smaller clippers for light trimming
◆ Extra blades
◆ Blade wash
◆ Cooling spray
◆ Clipper oil
◆ Small brush for cleaning (use the one that came with your clippers, or a toothbrush)
◆ Extension cord or backup battery for rechargeable clippers
Clean Out Your Grooming Kit
Dispose of trash and all the things that tend to accumulate in the dark corners of a grooming kit: wilted carrots, horse cookie crumbs, peppermint wrappers, and lone gloves. Next, look at the condition of each brush and tool and toss any that are worn out, broken, or beyond saving.
It's important to clean brushes and grooming tools regularly. Soak them in soapy water, then scrub to remove deep-down dirt from brush bristles. Rinse thoroughly and lay them to dry in the sun. Empty your grooming tote or bucket and give that a good scrub as well.
Every horse should have his own brushes and grooming tools for health reasons; shared grooming equipment can spread skin diseases. Label all your horse's items with his name, especially if you are at a busy boarding barn.
Restock Products
Go through all your grooming products to see what you have, and what you need to buy for the upcoming season. This includes the sprays, shampoos, treatments and potions you use to keep your horse looking and feeling good from head to hoof.
Dispose of any products that are empty, leaking, damaged or otherwise past their prime. Wipe any goo off the containers before storage.
This is also a good time to clean and restock your first-aid kit. Check expiration dates, dispose of outdated products, and add replacements to your shopping list.
Bath Kit
For bath time, assemble everything you need to scrub-a-dub in one place. A bucket does double duty for storing your bath kit and mixing up suds.
Bath Kit
◆ Bucket
◆ Hose
◆ Adjustable spray nozzle
◆ Shampoo
◆ Conditioner
◆ Large sponge for body
◆ Small sponges for face and dock (label)
◆ Bath mitt
◆ Sweat scraper
◆ Shine/detangler spray
◆ Large towels
When choosing a shampoo, equine shampoos are made to be tough on dirt, yet gentle on your horse's skin. There are shampoos made to add shine and condition the coat, as well as medicated shampoos to treat skin conditions, plus whitening or color-enhancing shampoos.
Apply with a large sponge and use a bath mitt or HandsOn grooming gloves to get a deeper clean. Rinse thoroughly and follow with a sweat scraper to remove excess water.
Show Grooming Kit
Show grooming requires some additional primping. In addition to the items in your daily grooming and bath kits, put together a grooming kit with those extras to help your horse shine in the show ring. (If you don't show, you can put together a "spa day" kit with all the supplies you like to use to make your horse look and feel extra special.)
The specific items in your show grooming kit will vary depending on the grooming standards for your riding sport, your horse's breed, and the type of showing you do. It might contain hoof polish or oil, whitening or color-enhancing shampoos and sprays, and extra shine products for face or body. Baby wipes and green spot remover/waterless shampoo are big time-savers on show day, while small cordless clippers are great for last minute touch-ups.
If you braid or band your horse's mane, put together a kit with those supplies. Even if you hire a professional to braid your horse, it's good to have braiding supplies on hand in case one comes out and you have to fix it.
Also dedicate a small bucket to hold last-minute essentials before you head in the ring. Your ringside kit might contain a soft brush, mane and tail brush, hoof pick and oil, fly spray, a towel to wipe your horse's muzzle, a cloth to wipe your boots, a water bottle, and anything else you need in the warm-up ring and in-gate area. A parent, trainer or friend can help you ringside.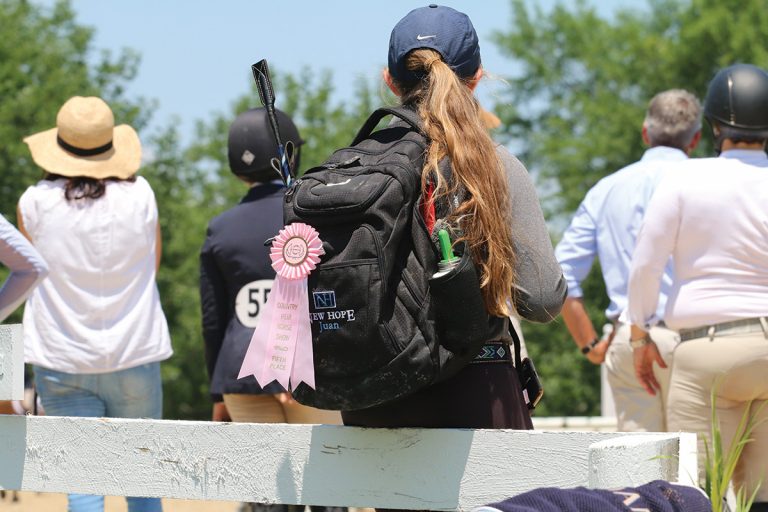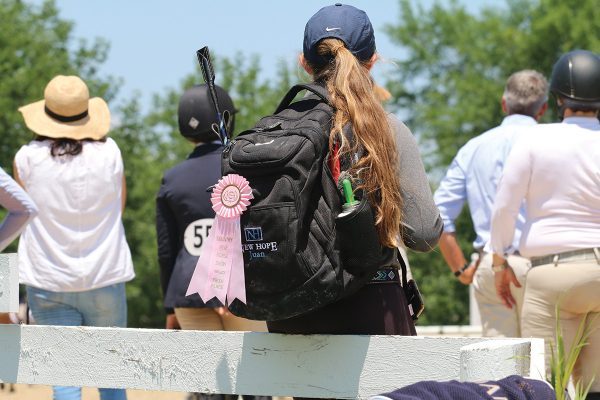 If you show frequently, it can be helpful to keep duplicates of basic grooming and bath kit items in your horse trailer or with your show kit.
Daily Grooming Kit and Bath Kit Items Plus
◆ Hoof oil or polish
◆ Clean towels/rags
◆ Baby wipes
◆ Spot remover/waterless shampoo
◆ Coat polish spray
◆ Fly spray (spring/summer)
◆ Baby oil or highlighter
◆ Baby powder or cornstarch for white leg markings
◆ Color touch-up spray
◆ Small clippers
Braiding/Banding Supplies
◆ Braiding elastics
◆ Yarn to match your horse's mane
◆ Pull-through
◆ Braiding spray, mane mousse or a small spray bottle for water
◆ Hair clip
◆ Comb
◆ Scissors
◆ Seam ripper to remove braids or bands
Ringside Kit
◆ Small bucket or tote
◆ Soft brush
◆ Mane/tail hairbrush
◆ Hoof pick and hoof oil
◆ Fly spray
◆ Towel to clean horse's muzzle
◆ Cloth to wipe boots
The beginning and end of a season are ideal times to clean and go through all your equipment and supplies. So rinse, repeat and stay organized! You'll be ready to groom for greatness all year-round.
This article about grooming kits appeared in the May/June 2022 issue of Young Rider magazine. Click here to subscribe!