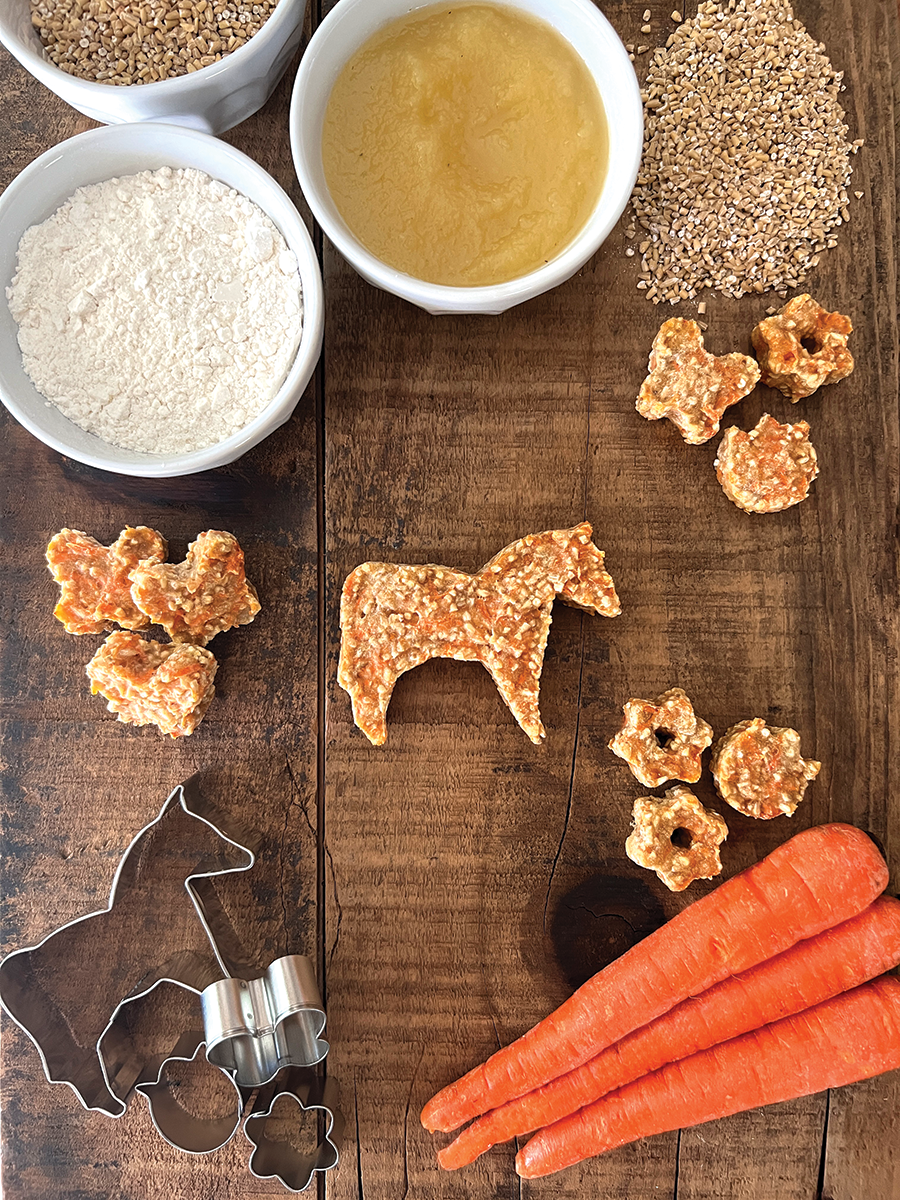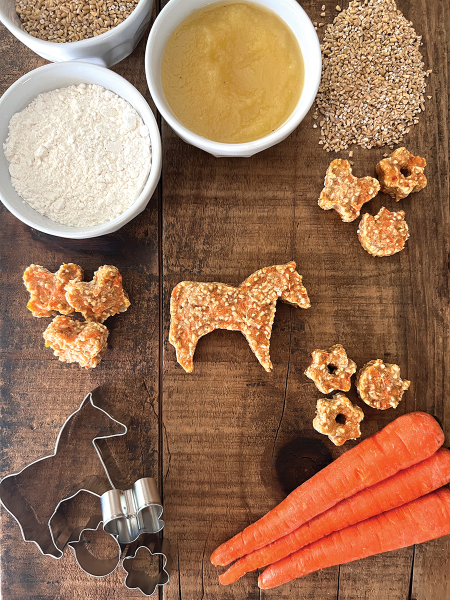 Hello, warm weather! It's almost time for BBQs and picnics. Don't let your horse feel left out of all the yummy spring and summer snacks—make him these super easy carrot cookies for horses! There are only four ingredients, and the recipe can be easily adjusted to make as small (or large) of a batch as needed. Just make sure you have equal parts of all four ingredients. With a recipe this simple, it's sure to become your go-to for horsey snacks!
This recipe contains only horse-safe ingredients, but if you have any concerns, be sure to speak with your veterinarian.
Ingredients
◆ ½ cup grated carrots
◆ ½ cup unsweetened applesauce
◆ ½ cup steel-cut oats
◆ ½ cup all-purpose flour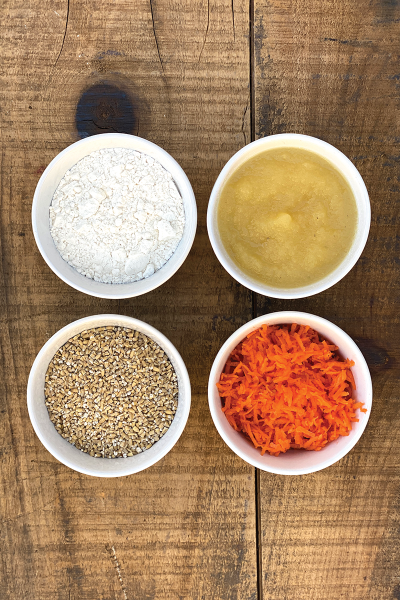 Materials
◆ Parchment paper
◆ Baking sheets
◆ Fun-shaped cookie cutters
◆ Straw (optional)
Instructions
1. Preheat oven to 350º F.
2. Line baking sheets with parchment paper.
3. Mix ingredients together until combined.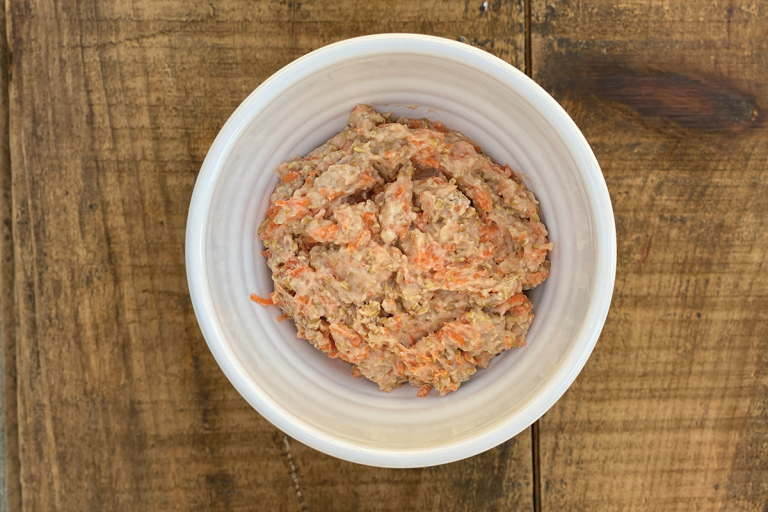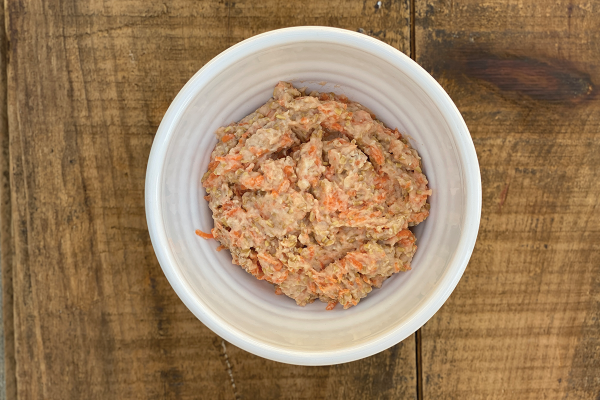 4. Spoon dough onto baking sheets, or you can shape dough into fun shapes (steps 5-6). If you choose to spoon your dough, or roll it into balls, you can jump ahead to step 7.
5. To make fun shapes, place a cookie cutter on your lined baking sheet and fill it with dough.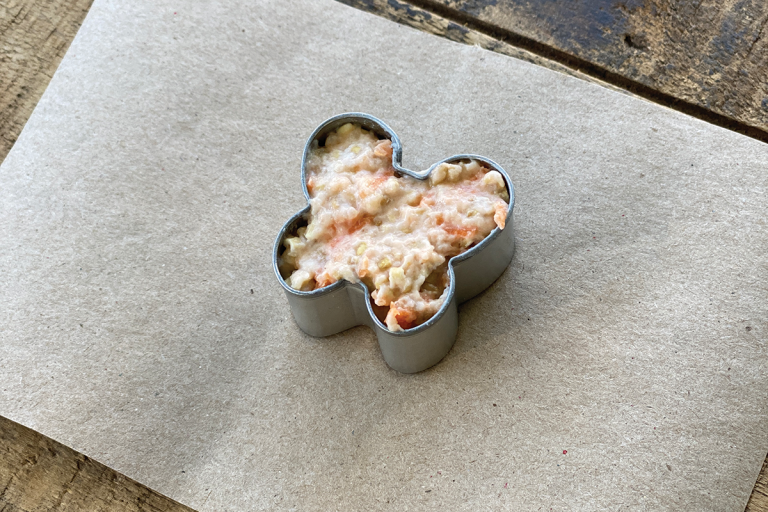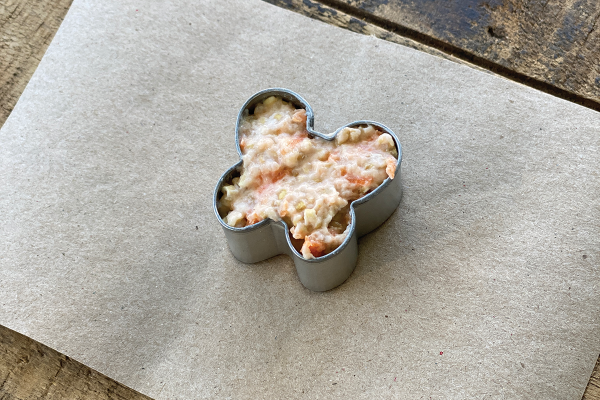 6. Once filled, carefully lift the cookie cutter off the baking sheet while gently pushing the dough down using a spoon or straw. Reshape as necessary once you have removed the cookie cutter.
7. Bake for 10-15 minutes or until the edges start to turn a golden brown. Watch your treats carefully while they bake, as baking times will vary based on the size of your treats.
8. Take your treats to the barn and share with all your horsey friends!
This recipe for carrot cookies for your horse appeared in the May/June 2022 issue of Young Rider magazine. Click here to subscribe!