When the Rocky Mountain Wranglers team members get to a show, they head straight to the warmup pen. But instead of riding their own horses into the arena, they stand along the arena walls to watch the horses. That's because this team competes with the Interscholastic Equestrian Association (IEA).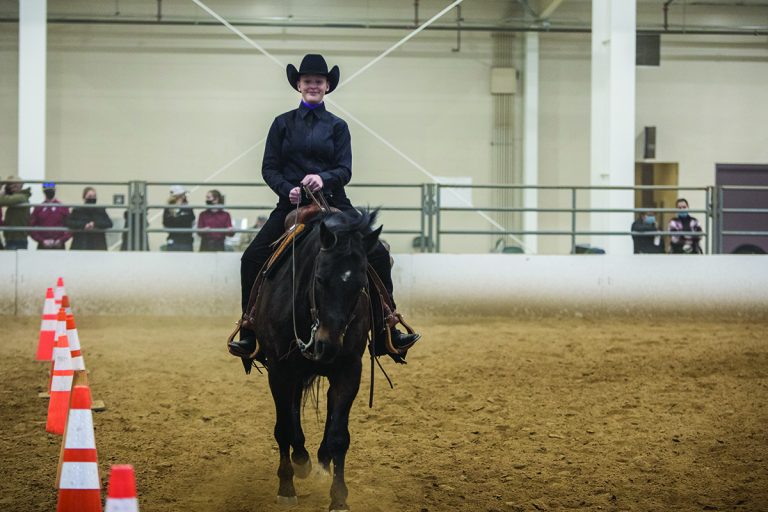 Armed with lists of all the horses at this Interscholastic Equestrian Association show, they note what each horse looks like, how fast the horse travels, and how easily the warmup rider can cue and direct the horse. With their coaches by their sides, the riders learn what to do if they draw each of the horses. Only after the draw do the riders know what horse they will mount up and show. 
Riding on an IEA western team requires lots of practice and confidence—but it doesn't require owning your horse. Team members, who can be in grades 4 through 12, are judged in western rail and reining classes. With dedication to the team, riders can earn high school varsity letters and work toward national competitions.
Here, we shadowed the Rocky Mountain Wranglers western teams during a Loveland, Colo., show to find out what it takes to show western in IEA. Coaches Jimmy Daurio, Mark Guynn, and Nancy Nemmers work together to coach the riders during weekly practices and while at shows. This trio of professional horse trainers offers advice to help IEA riders learn more about horsemanship while practicing for team and individual honors.
Interscholastic Equestrian Association Team Practice
Each week, the coaches design practices to help riders get used to the show format. Riders work on proper position for rail work, then practice maneuvers needed for horsemanship and reining patterns. But more than focusing on show-ring prep, Mark says he wants his team members to learn to ride any horse confidently.
Mark is an accomplished trainer and judge. He holds American Quarter Horse Association, National Reining Horse Association and National Reined Cow Horse Association judging cards. He centers his coaching work around the idea of creating teams.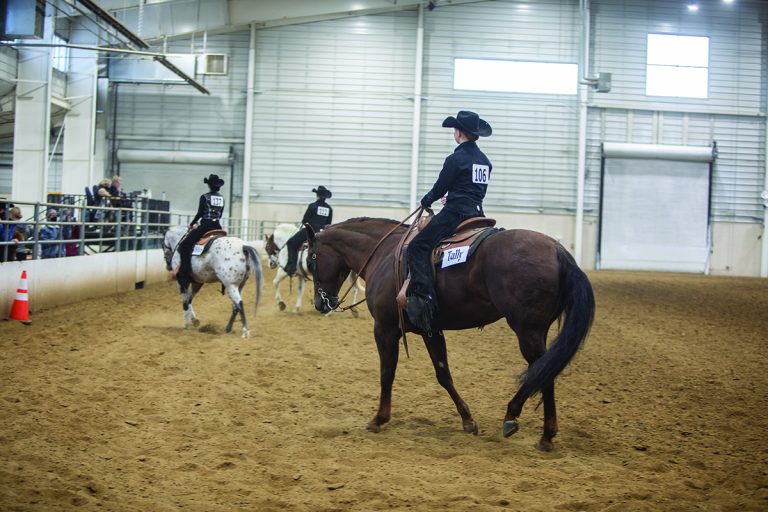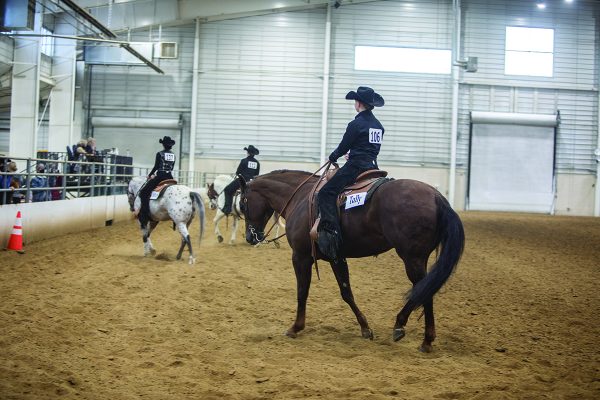 He wants each of his students to develop a "feel" of the horse so that they don't need to pull too much on the reins or cue the horse excessively. To have a "soft feel" means learning just the right amount of pressure to apply to help the horse you're riding work with you without a struggle.
"Our practices center on how to use your body well as you ride," he says. "We format lessons just like the horse shows. We do rail work and patterns; students ride different horses. When the students arrive at a big show, we want them to know what to do."
No two horses respond exactly the same. Some slower horses need a lot of leg and prompting. Horses with more "go" will be too speedy if you use the same amount of leg pressure.
"You have to learn that not every horse is going to respond the same way," Mark says.
Team members learn more than just how to look good in the saddle.
"When riders show up for practice, they groom, saddle and wrap their horses' legs," Mark says. "After the ride, the students have to make sure that the horses are ready to go back outside or are prepared for the weather."
Riding horses with different temperaments and speeds helps the Rocky Mountain Wranglers gain confidence—and be ready for anything on show day.
Before the Ring
A typical show day begins at 7:30 a.m. when team members watch their horses warm up, then find out which one they'll ride through a "draw" where riders are randomly matched with the horses who are eligible to be ridden in their class and division.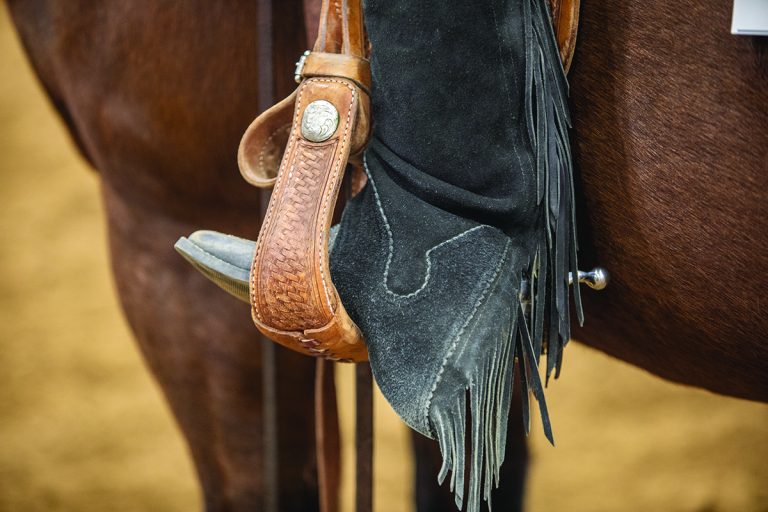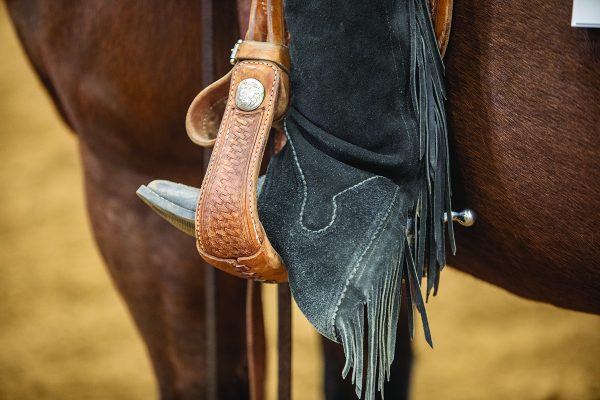 Varsity team members—the top level of high school riders—show on the rail first, followed by junior varsity and middle school riders. During each horsemanship class, riders are judged as they ride at the walk, trot and lope on the rail. Then, riders line up and individually perform a pattern. After all rail work is done, reining classes start.
Nancy and her husband, Julian, run Nemmers Performance Horses in Longmont, Colo. They coach riders for breed association shows, and have earned multiple World Championship titles. Nancy stands at the rail of the show arena to coach all of her team's riders and to offer advice to any rider who may be riding one of the horses she brought for students to ride.
Is it intimidating to ride a new horse? Nancy says she prepares her riders with as much information as possible so they know what to expect when they enter the ring.
"They get to watch the horses warm up, then they make a draw," she says. "The horse list will say if you should ride one- or two-handed, and if the horse was trained in reining or horsemanship. You'll also see the classes the horse can be entered in. It's a little cheat sheet, and that information can help boost your confidence."
Once riders are assigned horses to ride, they find the horse in the holding pen. Instead of a show number on each horse's saddle pad, each horse has his name written so that he's easy to find.
When the announcer says it's time for a class to mount up, IEA riders step up in the saddle and are led by handlers, at the walk, until it's time to enter the arena. There's no warmup and there's no time to see how a horse will react to your leg. This is the time to relax and get ready!
Interscholastic Equestrian Association Show Time
Once riders enter the arena, Mark says it's time to "go ride what you've got." You can't leave the rail, but you can pick up your reining hand to see how quickly the horse responds and move the horse over to the rail with your leg aids to see how sensitive he will be to cue with leg pressure.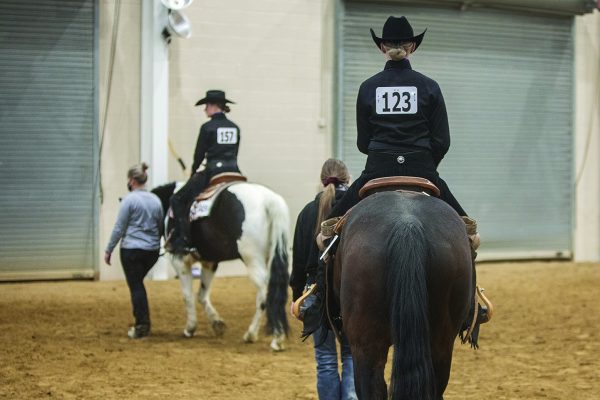 "You have to have some handiness about you, but you have to have a lot of self-control," he says. "You have to figure out what to do and how to make the best out of whatever horse you draw."
Mark says if riders have attended practice and put in the work, this is the time to show off your skills. He also cautions riders not to get frustrated if they draw a horse that wasn't their top choice.
"Don't quit riding," he says. "I don't care what's happening, don't quit. If you soldier through and the judge sees that you have a tough horse but you tried, you may earn a re-ride. Or the judge may see that you know how to handle a tough situation."
The three coaches keep their eyes on all their riders as they prepare for classes, mount up, then enter the arena. They're all quick to share their last-minute tips. They station themselves around the arena so they're available to help students learn about their horses and get ready to show.
"You worked hard to get here, you can do this!"
"Sit down, gather up some rein."
"Good, look up!"
"Your right rein is too tight, gather up some left rein."
"Pick your toes up, get your spurs out of him. Feel him relax?"
With good coaching and lots of practice, every IEA western rider has a chance to shine. You'll have the most confidence in the show pen when you ride a lot at home and when you ride different types of horses—horses with go and whoa, horses that will look around. When you ride into the arena with great posture and a look of confidence, you'll impress any judge.
This article about the Interscholastic Equestrian Association appeared in the Summer 2021 issue of Young Rider magazine. Click here to subscribe!