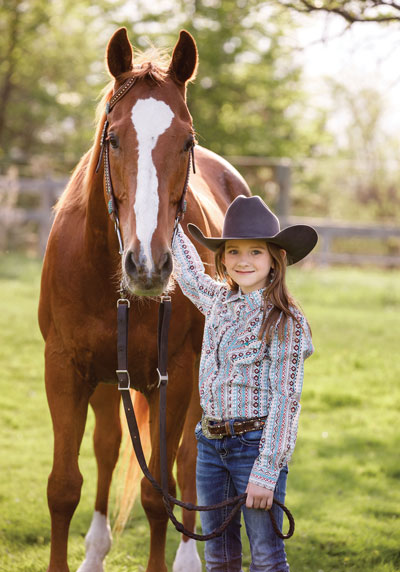 My name is Lenna Peterson, and I compete in barrel racing. I am from Watkins, Minn., and I am 9 years old. I've been riding since I was 2 years old. My mom Teresa and I learned barrel racing together and started competing and taking clinics together when I was 4. Barrel racing and taking care of my horses is hard work, but I love competing. Barrel racing is so full of highs and lows that I call it a roller coaster ride sometimes.
In April of 2018, my parents and I went to Broken Bow, Neb., and I ran a Junior National Finals Rodeo (NFR) qualifier on my horse, Reckless Merit. We call him Ned, or Ned-Monster. I got Ned at the end of 2017, and he and I just clicked. We became a great team together. Everyone says he only runs fast because he loves me. At the qualifier, I ended up third, and they took the top three into the final, so I was very excited to qualify.
A Change of Plans
I worked hard to finish second grade and was excited to run barrel races that summer. We started to plan our trip to NFR, but in June, Ned came up lame. It turned out that he had a swollen suspensory ligament and would need four to six months off.
I was sad, because there was a chance of him not being able to run in Las Vegas. In July of 2018, we went to Oklahoma for a National Little Britches Finals. I was sad to not be able to run Ned, but we brought him with us, because my mom found a therapy place that might be able to help him.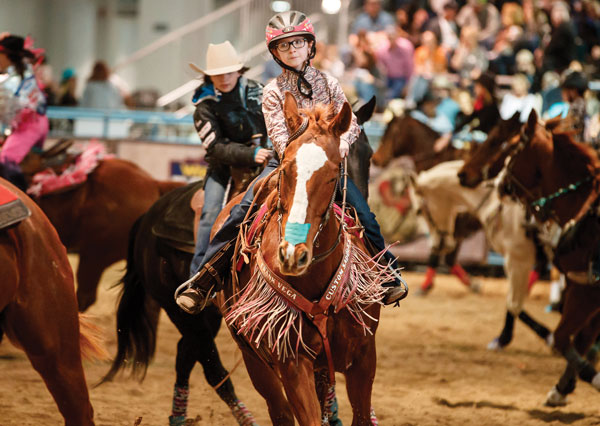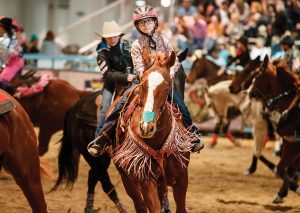 Ned stayed at the therapy place for two months to get better. I was so happy—it only took him two months to get better instead of six.
When he came back I was excited, but it seemed like he didn't like me anymore, or he was mad at me. It turns out he just had to get used to me again. By October, he was back to running his very best.
We made the trip to Las Vegas, and it was a long drive from Minnesota! We got to travel through a lot of states. In Las Vegas, it was very cool to see all the lights and action.
When it came time to run Ned in Las Vegas I was nervous, but Ned is an old pro. At 17, he knows his job, and I trust him. We ran the first two rounds at the Junior NFR, but I ended up three or four spots shy of making it back to the short round.
After I shed a few tears because I was sad. I was just so thankful for everyone around us. I had a lot of fun in Las Vegas, and I loved seeing everybody that came to watch me. Another thing I loved was going to the real NFR and seeing all the NFR girls there. My experience in Las Vegas taught me a lot about how to handle barrel racing highs and lows.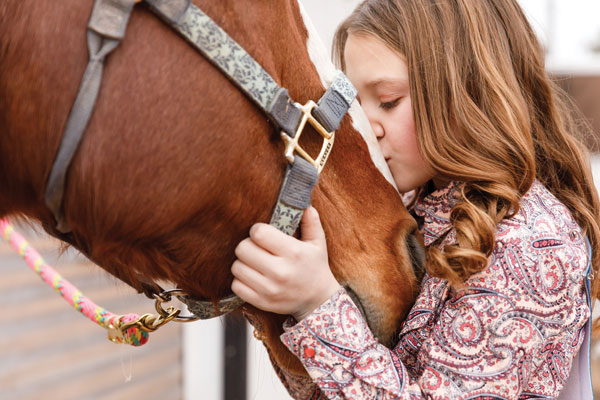 Tragedy and Rebuilding
When 2019 came around, on February 19, we were riding my mom's horse, Six, and my horse, Ned, in the snow in a field. We hit a drainage ditch, and my mom's horse hit a fence post and broke his shoulder, and we had to put him down.
That same day, my dad had surgery on his shoulder, and I was worried about him. It was sad. Ned was sore, because he also fell, so he needed some time off.
My mom and I worked hard to move on without Six and leg our horses up for the spring. In April 2019, we went to Broken Bow to try to qualify again for Las Vegas, but I tipped a barrel. Otherwise I would have been in the top three.
In May 2019, I met a new horse owned by our friend Hannah. Her name is P-nut. I got to try barrel racing with her at the Sherry Cervi Youth Championships in Verndale, Minn., and she just loved me, and I loved her.
Hannah let me welcome P-nut into our home and as part of my team. Throughout the summer, P-nut, Ned and I got to barrel race and have so much fun. I was able to ride P-nut, and she won some barrel races. I also won a big jackpot on Ned and won two buckles on him this year.
In October, me and P-nut placed first out of 450 riders at the ProElite World Challenge Finals in Verndale, Minn. I hope to set some big goals for 2020 and qualify for barrel racing at the American Rodeo and compete at National Little Britches Finals with my horses.
This article on Lenna Peterson, a young rider who is taking on the barrel racing world, appeared in the January/February 2020 issue of Young Rider magazine. Click here to subscribe!