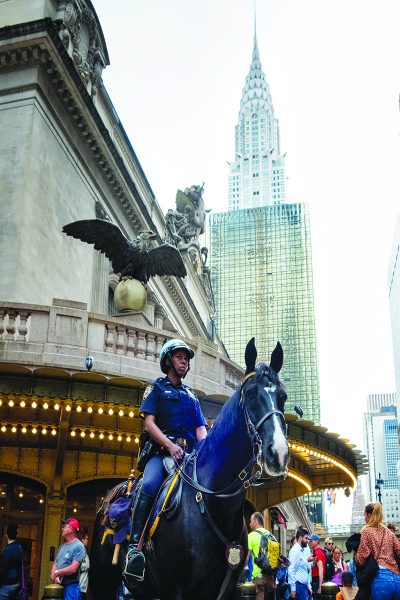 Drones, artificial intelligence, radiation sensors, and horses—all are crime-fighting tools for the New York City Police Department. Despite an abundance of advanced technologies, their mounted unit on horseback is still relevant today.
Sitting head and shoulders above pedestrians on the city's congested streets provides an excellent view of the crowd. Police on horseback can go where motorized vehicles cannot and maneuver through pedestrian areas more effectively than officers on foot.
An elite organization, only about 50 serve in the Mounted Unit of a total police force of 30,000. Once selected, candidates attend the Remount School of Horsemanship, an intensive three-month riding school in the Bronx, learning necessary horsemanship and tactics to safely employ a horse on the city's chaotic, distraction-filled streets.
Personal Stories
For lifetime horsewomen Maribeth Bradley and Pamela Bond, neither of whom are originally from New York, becoming mounted officers was the fulfillment of a dream: serving the citizens and visitors of their adopted city in the saddle while patrolling parts of the city where few may ride.
Growing up on a cattle farm in southwestern Pennsylvania, Maribeth has been passionate about horses since her first ride at 4 years old. Today, as a Detective with the New York City Police Mounted Unit, she is greeted each morning by Hero, her 16.2-hand Shire. His barn is in Queens.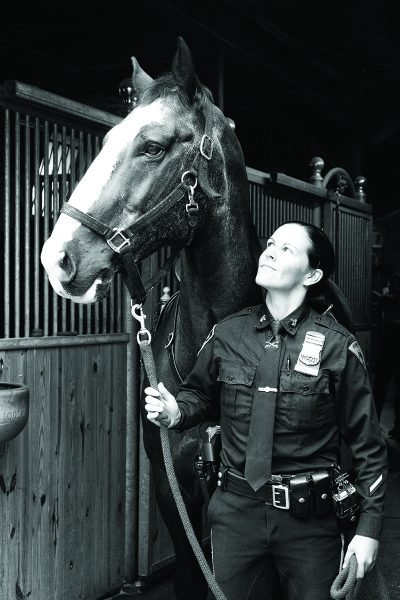 Maribeth knows she has one of New York City's best jobs. She joined the mounted unit, her lifelong goal, after paying her dues as a precinct officer in the Bronx for seven years.
Hailing from North Carolina, Pamela knew before she graduated from the Police Academy that she wanted to join the Mounted Unit.
"I love helping people and being outside, so it was the best of both worlds," she says. "Patrolling on horseback afforded me the ability to be close to the public while still being mobile." Her 16-hand horse, Torch, lives in Manhattan. His barn is located on the first floor of a modern apartment building.
A Day in the Life
After traveling to their respective barns wearing civilian clothing, Maribeth and Pamela change into their police uniforms, followed by roll call. They are briefed on important issues, current crime trends, and assigned their posting (where they will be patrolling) for the day.
"One of my favorite things in the world is when my horse hears me say hello to our overnight caretaker—[Hero] starts nickering for me and runs to his stall door to greet me," says Maribeth. His rewards are pats, scratches, and a hug, reinforcing their powerful bond.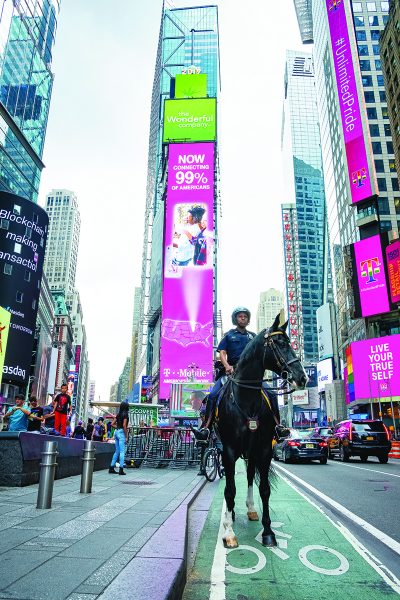 After roll call, Maribeth and Pamela groom and tack up their mounts, preparing them for their day's work as police on horseback, and then trailer them when their posting is not within walking distance.
Officer Pamela and Torch and Detective Maribeth and Hero can expect to patrol any part of the vast city's five boroughs, including locations like Times Square, the theater district, between and around cars stuck in noisy traffic, or more peaceful locations like Central Park or Astoria Park.
Maribeth's favorite posting is in the culturally diverse Astoria neighborhood of Queens, which has residents from nearly 100 countries. Maribeth and Hero are favorites with the residents, who have taught her to say "horse" in eight different languages.
Each day is a new learning experience for the horses to keep them conditioned for working in the city. One question Maribeth has been asked more than once while riding on the streets and obeying traffic laws is, "Officer, how does your horse know how to stop at red lights?"
Torch, full of spirit, once snagged a lemon off a vendor's cart before Pamela could rein in his desires. After patrol, it's back to the barn for a second grooming and lunch, plus a bonus apple or carrot.
Public Ambassadors
A typical week is five days of patrol with about six hours in the saddle per day. There are regular breaks to adjust tack and have the rider off their back to keep the horses happy and comfortable.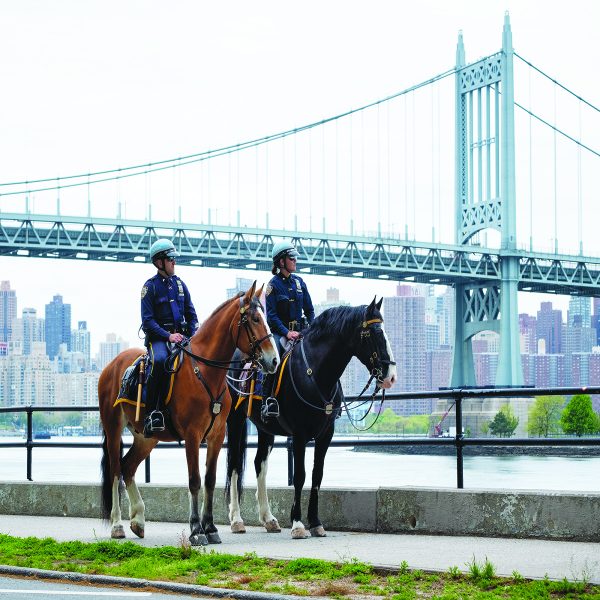 Riding is not possible in all conditions, however. Horses don't leave the barn in the winter when the roads are icy or when the wind chill is below 19 degrees Fahrenheit. If necessary, there are Thinsulate full-body blankets for use in extreme cold. In the summer, horses stay in the barn when the temperature rises above a heat index of 90 degrees.
It gives Maribeth great pride that police on horseback are ambassadors between the public and the police.
"For people to meet my horse, they have to get to know me as well," she says. "In doing that, I become a human, and not just a uniform."
This article about police on horseback appeared in the Spring 2021 issue of Young Rider magazine. Click here to subscribe!