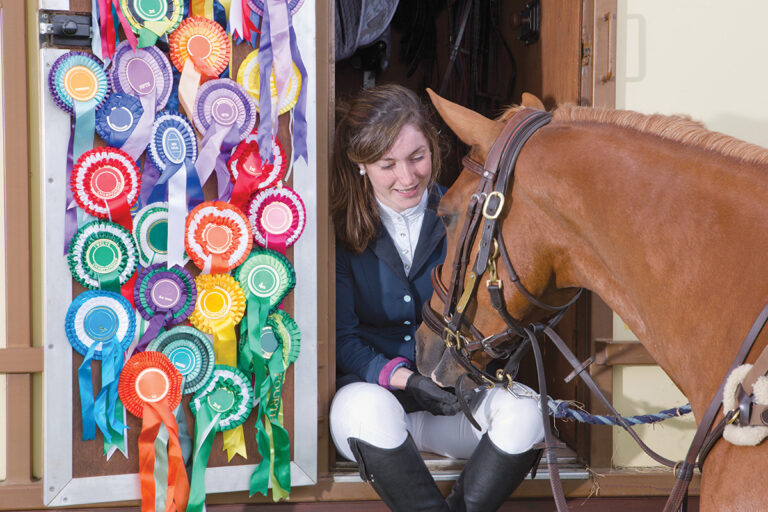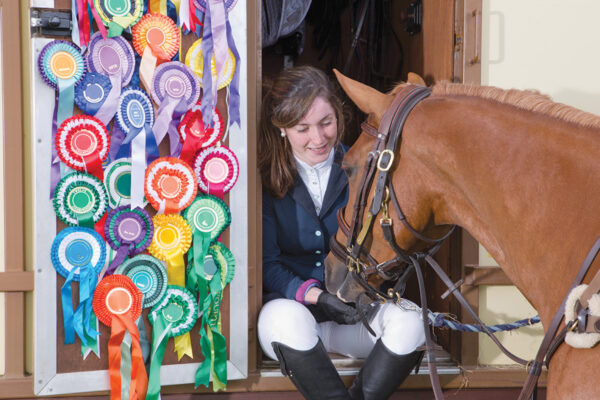 You've been practicing your patterns non-stop, but when show day comes, it can feel like your stomach is doing flips. Here, young riders Ryleigh, Katie, Emma and Riley offer their top tips to ease horse show nerves. Coach Becky joins in too.
The Week Before
Show prep starts early, and the more prepared you and your horse, are, the smoother show day will go.
"The prep work done at home is very important," says Becky Kuc, an Interscholastic Equestrian Association (IEA) coach. IEA programs across the country allow kids in grades 4-12 to compete without owning their own horse. "The more confidence you have in your routine, the more prepared and less nervous you'll be."
Ryleigh is a serious competitor with some serious show ponies. She likes to write down a few simple goals for the show. These can be anything from getting a certain score to just remembering to have a good time with friends. Coming up with obtainable goals beforehand can help keep you focused and leave less room for worry.
"I make riding through the dressage tests second nature so that even if I'm distracted and my pony is distracted, I still remember where to go," says Ryleigh.
There's nothing worse than getting to a show and feeling like you don't know your tests, when you could have been practicing at home for weeks. She also likes to do some yoga and stretching leading up to the show to get both her mind and body ready to compete.
The Day Before
It's almost go-time! Before you head to the show, it's important to have all your things organized. Is your show coat clean? Does your horse need an extra bath? If you are staying overnight, do you have meals packed for your horse, clean water buckets, and shavings ready to go? Don't forget snacks for yourself! Preparing all of this the day—or even better, a few days—before your show makes show day morning less stressful.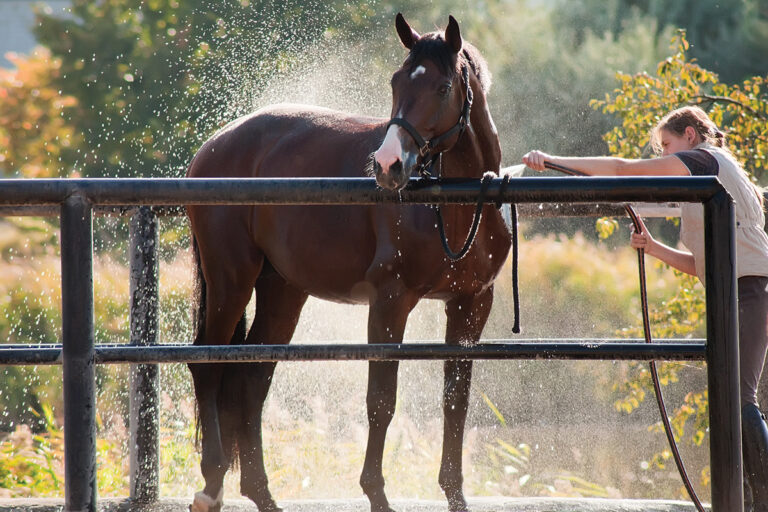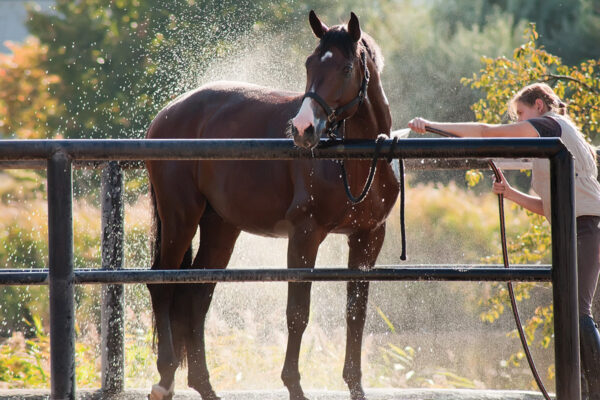 Young rider Katie likes to get everything prepared ahead of time.
"Tack cleaning, organizing, scheduling, and packing in advance or the night before the horse show gives me time to relax and get a good night's sleep so I can be my best the following day."
Riley has a similar mindset.
"The night before, I fall asleep dreaming of my perfect test," she says. She also tries to have a healthy breakfast planned for the morning. Some shows involve arriving the day before to set up, school, and walk your courses. This also gives you extra time to relax and get your game plan together.
Emma events her Paint pony, Ima Fancy Design. Once she gets settled into the show, she walks her cross-country course the night before and takes photos of all of the jumps.
She studies these as a way to help memorize the course so she feels extra prepared. Having less to do on show morning means she can focus on riding her best and taking care of her pony.
Show Day
Show day is finally here! You've done all the hard work preparing, and now it's time to show off. Being in the right mindset going into the ring is most important for Katie. When driving to the show, she listens to relaxing music and takes the time to visualize her dressage tests and think about the movements.
"I find that by being well-prepared and confident in remembering my tests, it helps me to entirely focus on my riding without worrying where I'm going," she says.
Ryleigh also has a horse show playlist that she listens to when braiding her horse and tacking up to help calm her nerves.
Coach Becky says that doing a similar warmup to what you do at home is a good idea.
"Try to not change lots of things just because it's a show," she says.
Final Advice
If you are jumping at the show, you might need to learn your stadium course the day of the show. This can be intimidating, but it can help to come up with a rhyme to remember the order of the jumps and take a photo of the course map so you can study it before you go in for your round.
If you have the chance, it's extremely helpful to walk the course on foot. Emma likes to go down to the ring a few horses before her stadium round to watch a few rides and make sure she knows where she's going. Even if you're the first in your division, watch a few rounds from another level to get an idea of how the course rides, such as a noticing a tricky turn.
"No one is perfect," says Emma. "You shouldn't be embarrassed if you have a stop, rail, fall, or make a mistake! You're there to have fun, and all you can do is try your best, smile, and pat your horse when you're done."
Riley agrees.
"We are riding 1,200-pound animals with a mind of their own, so sometimes things might not go as planned. But that's OK! Everyone has their off days. If the show didn't go well, look at it as a training experience and take that home."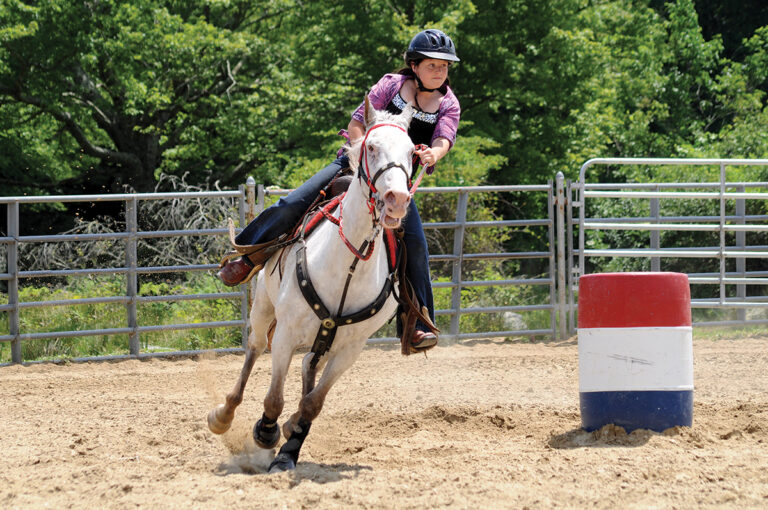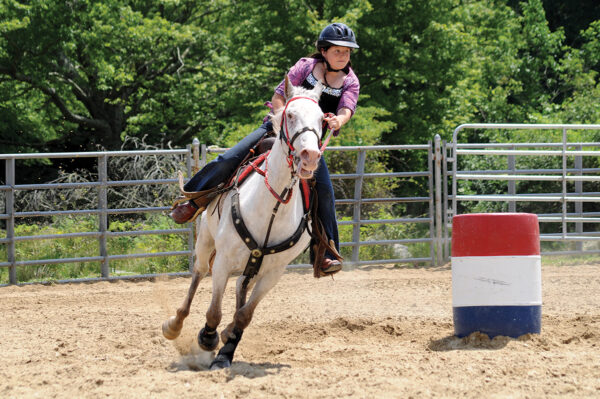 Coach Becky advises you not to focus on the small stuff.
"You can't control how others do and you can't control if your horse decides not to play that day. All you can do is ride your best!"
Win or lose, horse show days are like a field trip with your barn friends and horses, so make the most of it and remember to have fun.
"The most important part of showing is not the fancy ribbons or the score on the test, but the experience and being able to spend it with such an amazing partner," says Riley.
This article about horse show nerves appeared in the July/August 2022 issue of Young Rider magazine. Click here to subscribe!