In this short story for young riders, a shy Mustang mare needs a little extra time to gain trust. Complete with illustrations by Jean Abernethy.
Megan rested her chin on the wooden handle of her manure fork and sighed. Skipping her last class of seventh grade for a soda run with her friends had sounded like a great idea at the time. Flash forward to three weeks later, and she could confidently say it was not.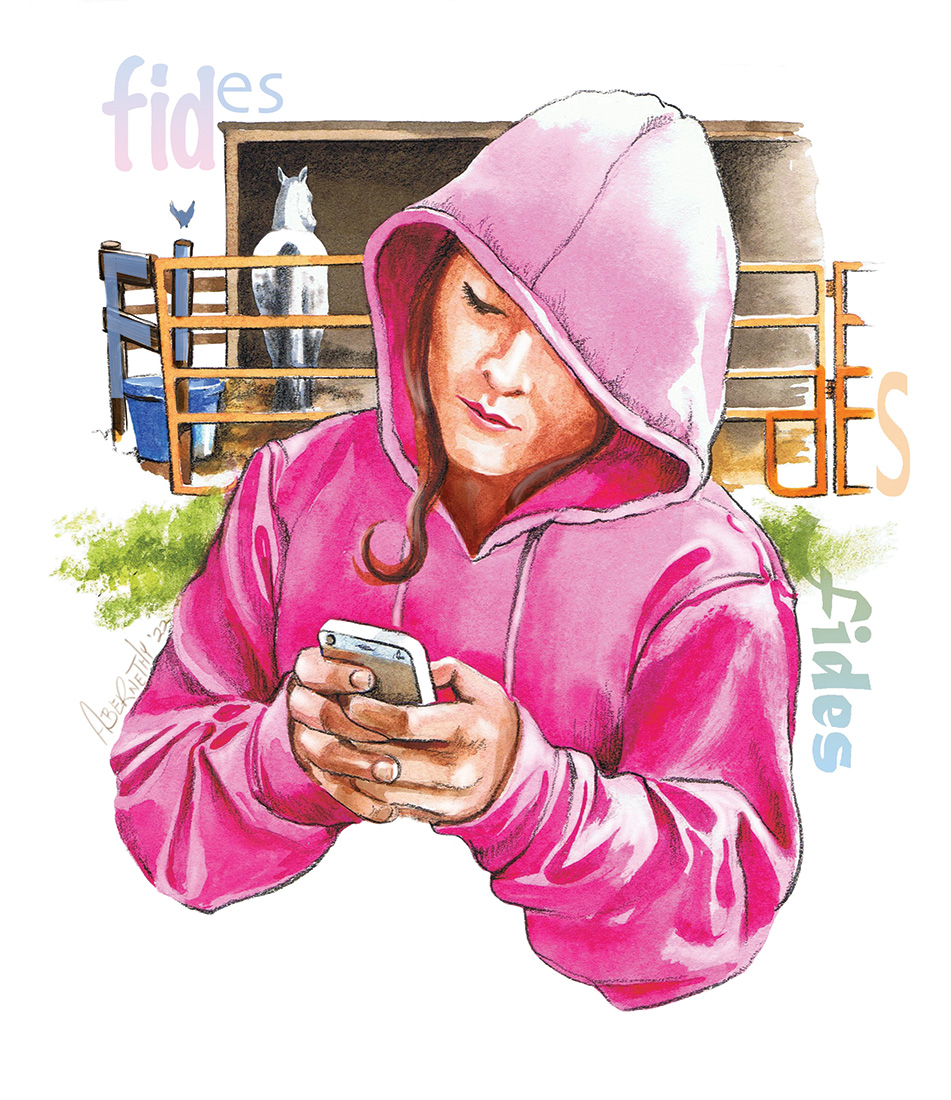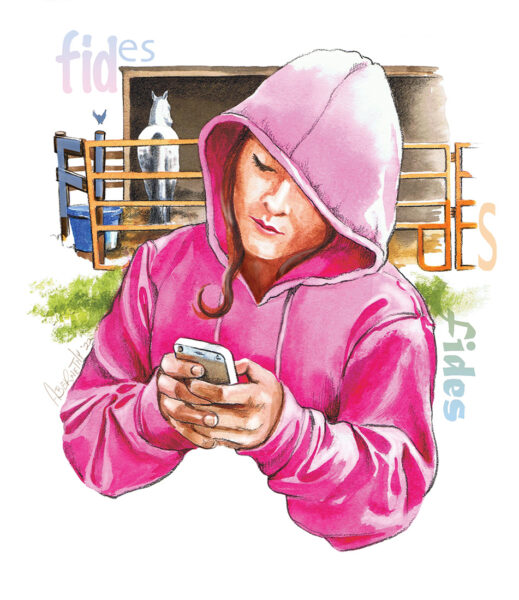 When her parents found out, they'd grounded her to the ranch until "trust was re-established" and assigned her extra chores. Thankfully, her dad agreed she could still help him gentle the ranch's newest resident, a 4-year-old Mustang. 
Megan's task? Gain the gray mare's trust so she could untangle her wild mane and brush out her silver coat.
Despite caring for the mare daily, progress was slow.
"She hardly lets me look at her without snorting or running away," Megan complained to her dad.
"This horse hasn't been around people much," he replied. "You need to earn her trust. Try sitting outside her corral for 30 minutes every day. Watch her body movements and help her start to recognize your voice."
"With the mountain of chores I have, there isn't time!"
"It's just an idea," her dad said. "Remember, trust can take time to earn, and besides, it's not like you have some place to go." He gave her a sly half-grin.
He wasn't wrong.
Bonding Time
Megan decided to take her dad's advice. Now that she was done cleaning stalls, the mare's corral was her next stop.
Bzz Bzz.
Megan glanced down at her phone to see a text from her best friend. Lisa hadn't skipped class, and Megan envied her decision.
"Any idea when you can hang out yet?" the text read.
"Too soon to tell," she replied. Since being grounded, Megan realized how much she valued her parents' trust and wondered how long it might take to earn it back.
She tucked her phone into her pocket and stepped outside into the sunshine. Her hazel eyes searched for the mare, hoping she'd be waiting by the fenceline. She wasn't. The mare stood in her usual spot in the far back corner, tucked away from the many unknowns that had recently entered her life.
Nearing the corral, Megan softly called, "Hello, beautiful."
The mare's ears acknowledged Megan's greeting, but she didn't move.
Megan sat cross-legged on a plush carpet of grass and began her routine of harvesting two decent-sized piles of green blades. She pushed one pile to the other side of the fence and kept the other next to her leg.
Then she began sharing her daily to-do list with the mare.
"So, this morning I mowed the lawn. Then I cleaned all the barn stalls."
Munch. Munch. Munch.
"I also plan to clean my room because my laundry situation is getting out of hand … hang on …"
Megan slowly looked up at the fence. Directly on the other side, the mare munched on the mound of fresh-picked grass.
She must have felt Megan watching her, because she paused and turned her head. A set of cautious but curious brown eyes looked at Megan.
Megan reached down and clutched at the pile of grass next to her leg. In response, the mare took a step back, and Megan feared she'd moved too quickly.
"It's OK girl," she murmured. "You can trust me."
The familiar tone of Megan's voice calmed the mare. Megan gently pushed the second pile of grass under the fence and waited. Carefully, the mare stretched her neck out and continued munching.
A Fitting Name
Megan softly prattled on about her day until the mare finished eating.
"Fides," Megan whispered (pronounced FEE-des). "That's what I'll call you. It's Latin for trust, something I want to be at the core of our friendship."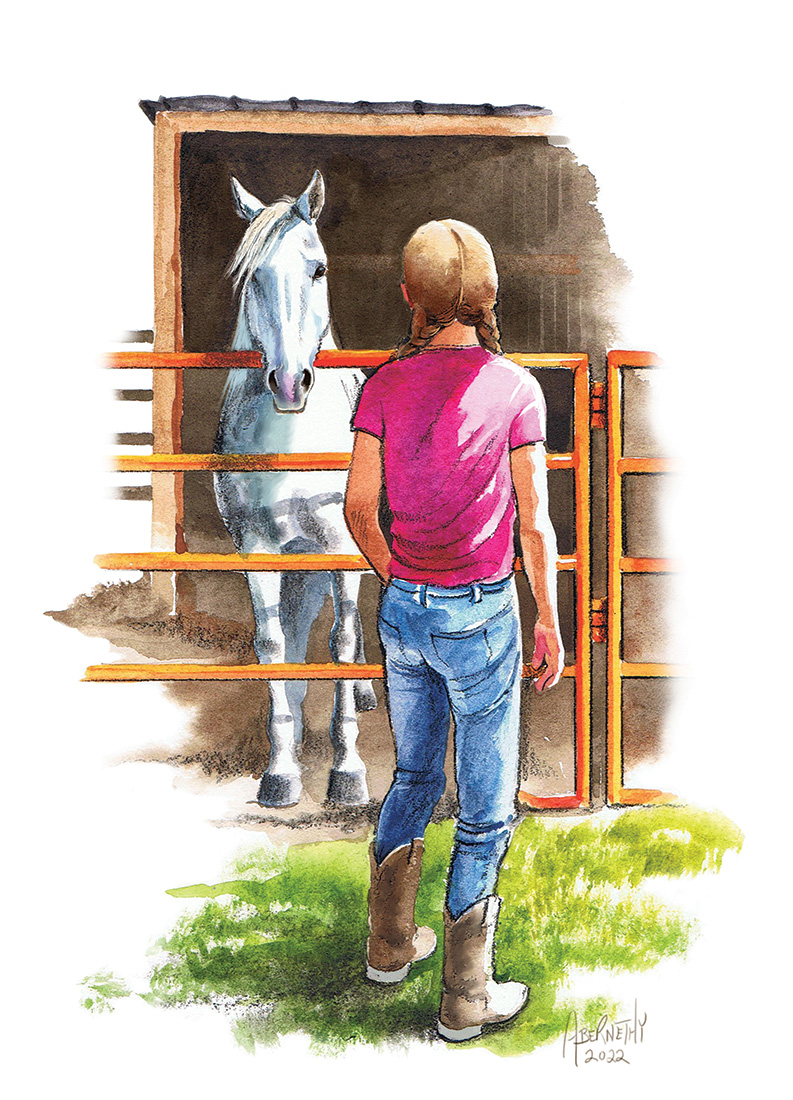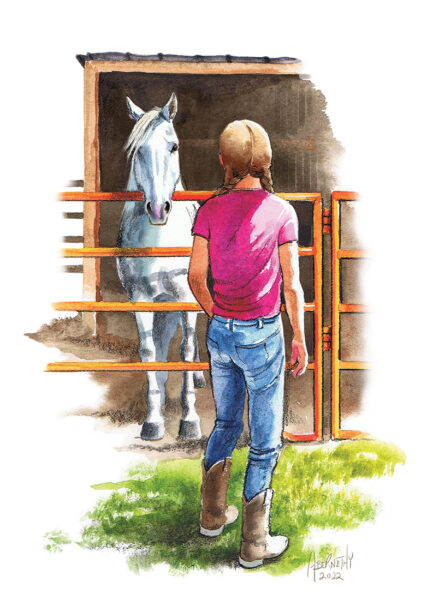 The mare flicked both ears toward Megan in what seemed like agreement before sauntering back to her corner. Megan quietly got up and walked toward the barn where her dad stood with a big smile on his face.
"Did you see that?!" she asked.
"I did," her dad said. "You're making great progress, Megan. She's starting to trust you."
"I want to call her Fides."
"That unique. Where did you learn that name?"
"It's Latin for trust. I've had time to do some extra reading this summer," Megan said with a grin.
"Fides it is," Her dad laughed. "I also wanted to tell you that your mother and I are impressed with the way you've tackled your extra responsibilities. We've decided you can have Lisa over to the house this Saturday if you want."
"That would be amazing! Fides is teaching me that trust takes time to earn, but you and mom's trust is something I don't want to lose again."
Her dad pulled her in for a hug.
"We love you, kiddo. You're making great progress with that mare and potentially creating a life-long friend," he said, pointing at the corral.
A smile lit up Megan's face when she turned around. Fides stood at the fence line, and she was looking in Megan's direction.
This short story about a Mustang appeared in the July/August 2022 issue of Young Rider magazine. Click here to subscribe!