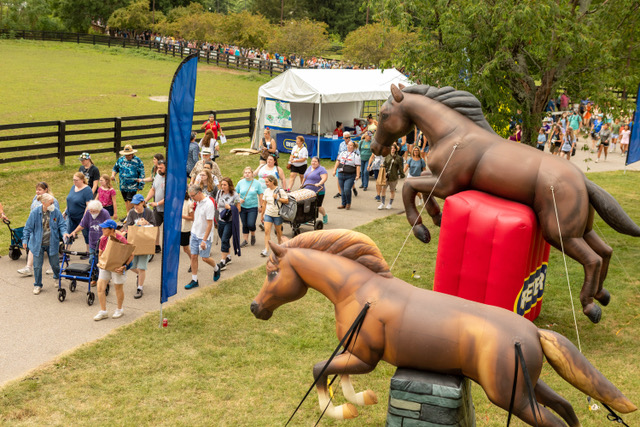 PEQUANNOCK, NJ — From equine stars to "pony cars," BreyerFest: DRIVING FORWARD is the fast track to family fun with something for everyone. The annual celebration returns to the Kentucky Horse Park in Lexington, July 14-16, 2023. A mecca for Breyer model horses, the real horses that inspire them, and horses lovers of every age, BreyerFest's unique "hybrid" format—attend in-person or virtually online—gives fans anywhere in the world the chance to experience the 3-day jam-packed event.
BreyerFest 2023's theme, Driving Forward, is a tribute to how horses have shaped human history. From the days of charging chariots to journeys aboard a clanking chuckwagon, from leisurely drives along country roads to a thrilling, sleek sulky racing around a track, horses have driven us forward. This year's Celebration Horse, international Combined Driving superstar Bravour 54, is the bay KWPN gelding who helped make owner Misdee Wrigley Miller the first woman to win Gold in Combined Driving at 2018's World Equestrian Games. As part of her four-in-hand team, they earned the United States its first Gold Medal in the sport. Meet them and other celebrity horses at BreyerFest!
Whether you attend BreyerFest in-person or virtually, keep From the Horse's Mouth handy. This First Timer's Guide is a must read for everyone—the portal to all that's happening! A guide to the in-person event and a guide to the online event are both available.
From the live horse demonstrations—see an American Sugarbush Harlequin Draft (What's that? Find out!)—to meet-and-greet sessions with equine stars, there are photo ops abound. Take selfies with a rare Norwegian Fjord reminiscent of Sweetwater's Zorah Belle (aka "Zoobie"), the first Fjord to represent the USA in any discipline. Now a Breyer model horse, Zoobie competed in the 2019 FEI Combined Driving Pony World Championships in Hungary.
BreyerFest is a bonanza of workshops, seminars, and contests (enter your diorama!). The cherished fan-favorite Breyer model horse shows have classes for kids to adults—even novices! Just sharing a moment painting a Stablemates model in the Craft & Activity tent on-site together with other guests imbues a special meaning to a perk included with every ticket.
Then, grab a seat for Friday and Saturday evening's spellbinding Celebration of Horses spectacle in the Alltech Arena, produced and directed exclusively for Breyer by the world-famous Sylvia Zerbini, who again stars with her liberty horses and a dazzling cast of talent. Virtual attendees can watch it livestream both Friday and Saturday. Fun fact! Over 30,000 people come to the Kentucky Horse Park to experience BreyerFest in-person. Online, ticket holders from more than 100 countries attend virtually—a production feat Breyer first pioneered in 2020. BreyerFest's online event is hosted by the beloved Kimber Goodwin.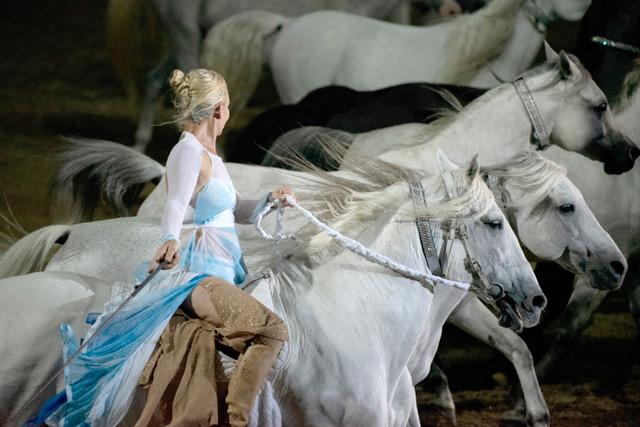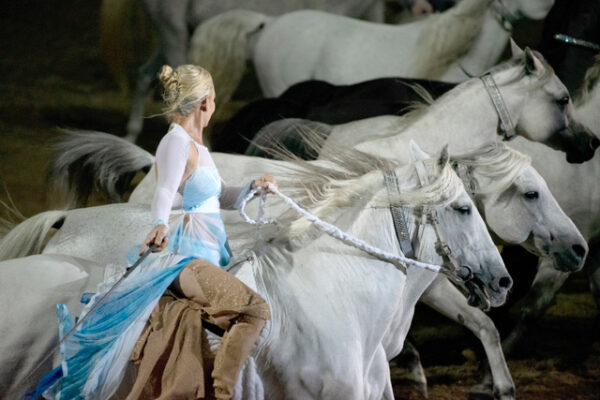 "Our company is committed to visioning the horse world in timeless ways as we embrace new generations and old," said Breyer's Vice President, Marketing, Stephanie Macejko, who personally greets BreyerFest fans at Kentucky Horse Park's front gate on opening day—often from the back of a horse. Her words have clout. Breyer won the nation's Horse Industry Vision Award in 2021.
The ultimate family fest, Breyer's gateway to horses holds endless intrigue. Yes, someone did say "Pony Cars!" This July's BreyerFest will delight the "alternate horsepower" enthusiasts of the family with a first-time car show featuring Ford Mustangs®, Pony Cars, and trucks! Ever-popular are returning attractions like select films from EQUUS Film Festival and Sunday morning's BreyerFest 5K—the Sulky Sprint—happening in-person and virtually. No one ever leaves BreyerFest empty-handed with the shopping opportunities galore! All Limited Edition models, warehouse finds, BreyerFest merchandise and Breyer regular line products will be available at each BreyerFest Store location throughout the park. 
DockDogs fans are in for a treat. Those incredible canines that love to run, jump, and swim are an added attraction this year. Meanwhile, music lovers will be tapping their feet to the sounds of top local bands, which change daily.
July 14-16th is trotting toward you! Attend BreyerFest in-person at Kentucky Horse Park AND online at BreyerHorses.com.
Considering online? Tune in to content—live or on your own time—and feel like you're there at the Kentucky Horse Park. From live broadcasts with guest horse owners, hobbyists, and fans to the all-day coverage of equine demonstrations in the Covered Arena, you can enjoy the best of BreyerFest from the comfort of your home.  All online ticket holders get access to BreyerFest seminars and shopping—Virtual Marketplace and Virtual Artisans' Gallery included—plus the evening Celebration of Horses show.
Giddy up and get your BreyerFest tickets!
◆ On-site tickets for the Kentucky Horse Park, Lexington: $30-$90
◆ Virtual tickets, for anywhere on Planet Earth: $25-$65
Check out a sneak peak of the guest horses.
— Edited Press Release
About BreyerFest®
Now in its 34th year, BreyerFest is a 3-day equine extravaganza bringing more than 30,000 fans together with 300+ live horses and thousands of model horses at the Kentucky Horse Park in Lexington each July. From model horse shows and hands-on workshops, to real horse demonstrations and equine celebrities, BreyerFest is the hub of the model horse hobbyist world—where creative animal lovers of all ages celebrate their passion. A hybrid event with online ticket options, enthusiasts from over 100 countries now livestream BreyerFest virtually from everywhere in the world.
Discover everything straight From the Horse's Mouth in the BreyerFest First Timer's Guide, also available for Virtual First Timers.
About Breyer Animal Creations®
One of America's most iconic toy brands, Breyer Animal Creations is a division of Reeves International, Inc., a family-owned, NJ-based toy manufacturer and distributor that took home the nation's Horse Industry Vision Award in 2021. Celebrating its 73rd anniversary in 2023, Breyer has championed the horse and animals for decades. Breyer's dedication to creating authentic, realistic model horses for play and collecting inspires a vibrant, devoted international community that considers Breyer far more than a brand.
Learn more at www.BreyerHorses.com.