Individual Gold in Show Jumping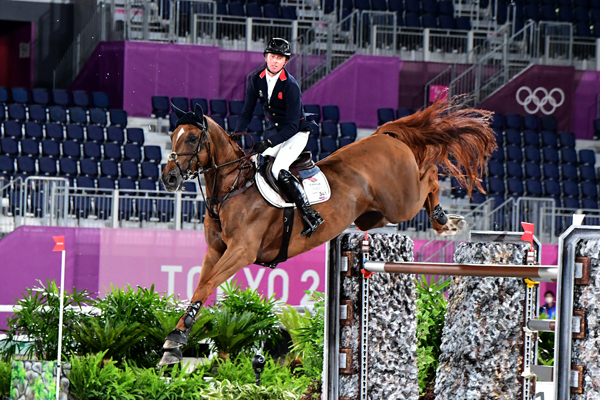 Five years ago in Rio de Janeiro, decorated British rider Nick Skelton stepped onto the podium and accepted an individual Olympic gold medal. He had earned bundles of other accolades in his long career, including team gold in London in 2012, but the individual medal had eluded him until that day when he and the stallion Big Star triumphed. Shortly after that, both Skelton and Big Star retired. But today at the Tokyo Olympics, it was Skelton's countryman and former teammate Ben Maher's turn at the individual medals in jumping. Maher piloted the powerful chestnut 12-year-old Dutch Warmblood gelding Explosion W around the jump-off course to capture his own individual gold medal.
The Tokyo Olympic individual show jumping final started with 30 horse-and-rider combinations taking a turn around Santiago Varela's beefed-up championship course. Six pairs jumped cleanly to return for a jump-off to determine the medals: Maher from Great Britain; Diasuke Fukushima from Japan; Maikel van der Vleuten from The Netherlands, and Peder Fredricson, Henrik von Eckermann and Malin Baryard-Johnsson, all from Sweden.
Fukushima was first to go in the jump-off on the 13-year-old Oldenburg gelding Chanyon. and they turned in a flowing, clear round in 43.76 seconds which was, as one would expect, met with cheers. Next in was the only female rider in the jump-off, Baryard-Johnsson, and she and H&M Indiana, a 13-year-old Belgian Warmblood mare, also jumped clear, stopping the clock at 40.76 seconds. Then, Fredricson guided his long-time equine partner H&M All In, a 15-year-old Belgian Sport Horse, in a clean, fast round, crossing the finish in 38.02 seconds.
Fredrickson was followed in the order by Maher and Explosion W who blazed around and promptly lowered the time to 37.85. Following that, von Eckermann and King Edward, an 11-year-old Belgian Warmblood gelding, left the jumps up but could not get the time, finishing in 39.71. The final combination in the jump-off was van der Vleuten and Beauville Z, an 11-year-old German Sport Horse; they made a grand effort, jumping clear in 38.90.
When the dust had settled, Maher had his gold, Fredricson the silver and van der Vleuten the bronze. The lone North American representative in the final, Mario Deslauriers of Canada riding Bandolina 2, finished in 22nd place on 12 faults.
Maher, who is to be married in two weeks, was full of praise for his horse and gratitude to the owners of Explosion. "The short version is that there's nothing like him," he said. "Starting from nine years old, he was winning five-star grand prix. And then, at 10 years old, last year, we had quite a long break in America. I had an operation earlier in the year, and then with COVID, we decided to just stay there and not come back to Europe. He did one grand prix in New York, which he won. And then, we started a little later this year in order to try to peak at this time. Never again in my lifetime will I ride a horse like Explosion. I've had some incredible horses and some support from some amazing owners over the years, and they still support me. Charlotte Rossetter and Pamela Wright made it possible to keep him for me. It's a special bond that we have. I really know what he's feeling. He's a phenomenal horse; he's more of an athlete than a horse. And, the speed that he can go to the jumps is just on another level."
The second jumper horse inspection will be tomorrow evening for those horses moving on to team competition. Then the show jumping team qualifier is Friday evening, August 6, followed by the team finals and medal ceremonies on Saturday evening, August 7.
In the new FEI team competition format, 20 teams will start on the team qualifier day and the top ten will move on to the final. As with the individual medal competition, the scores will be wiped after the team qualifier and scores will start at zero again on team final day.
The first two riders for each team in the final will start in reverse of how their team did in the qualifying round. Then the starting order for the third rider out for each team in the finals will be re-done based on the standings after the first two rounds. So, determining the winning team will go down to the final ride.
Tokyo Olympic Show Jumping Final by the Numbers
◆ Number of horses: 30
◆ Number of geldings: 19
◆ Number of stallions: 5
◆ Number of mares: 6
◆ Breeds represented in the finals: Belgian Sport Horses, 2; Belgian Warmboods, 5; Dutch Warmbloods, 3; Estonian Sport Horses, 1; Holsteiners, 4; Irish Sport Horses, 2; Luxembourger Sport Horses, 1; Oldenburgs, 2; Polish Sport Horses, 1; Selle Français, 4; Westphalians, 3, and Zangersheide (German Sport Horses), 2.
◆ Number of female riders: 3
◆ Number of male riders: 27
◆ Number of nations represented: 17
Full results from the show jumping individual medals at the Olympic Games Tokyo 2020.
Complete Tokyo Olympics Coverage
Golden Victory Gallop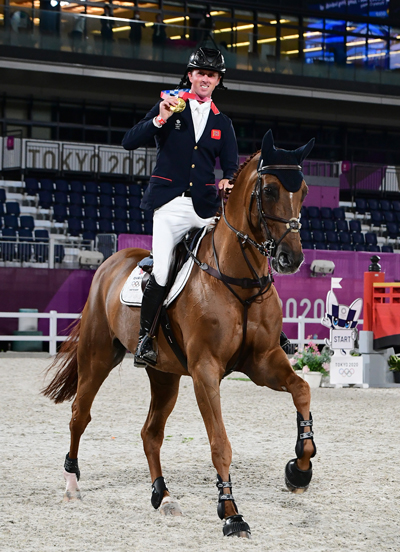 Individual Show Jumping Medalists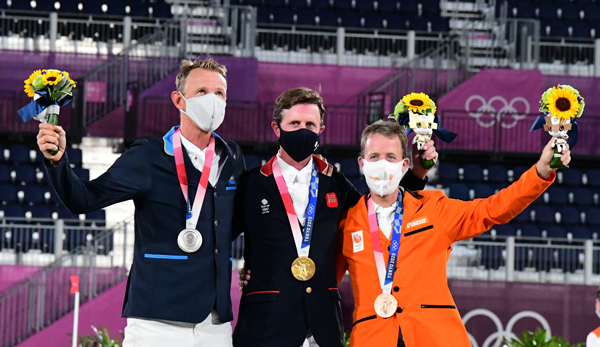 Silver Medalist Peder Fredricson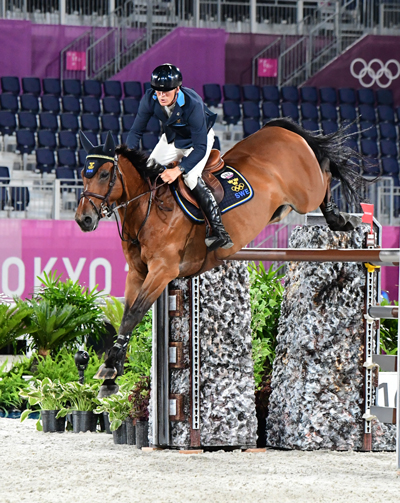 Bronze Medalist Maikel van der Vleuten