Barrel racing is all about seconds, and you'll do anything to scrape off a tenth of a second here and there to get closer to the buckle. The single biggest time waster is a wide barrel turn. But you don't need to run cloverleaf after cloverleaf to get that tighter, cleaner turn. Follow these three steps recommended by trainer Kelly Murphy-Alley to help you have better racing turns: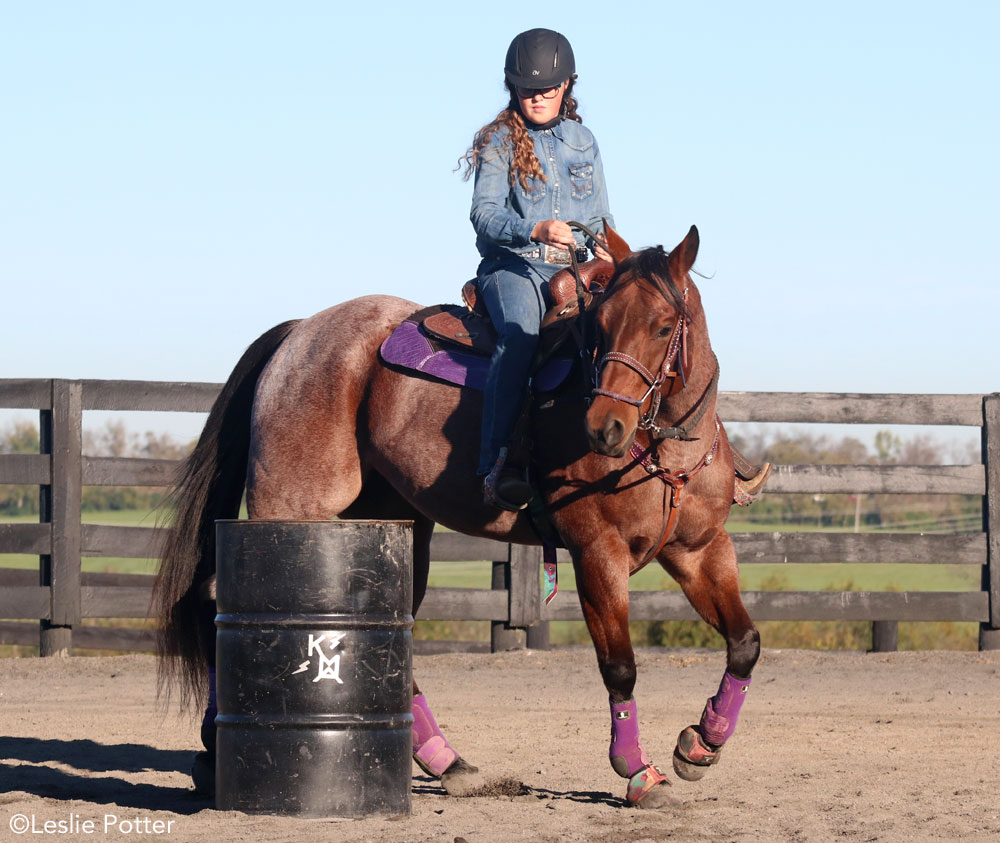 Barrel Racing Turns: Centered Seat
If you want to be a professional barrel racer like Fallon Taylor or Charmayne James, you might think imitating how they run around the barrels will help your own runs. Kelly points out that while you sometimes see the professionals leaning to the inside or moving all around in their saddle, what you don't realize is that they have the basic center seat.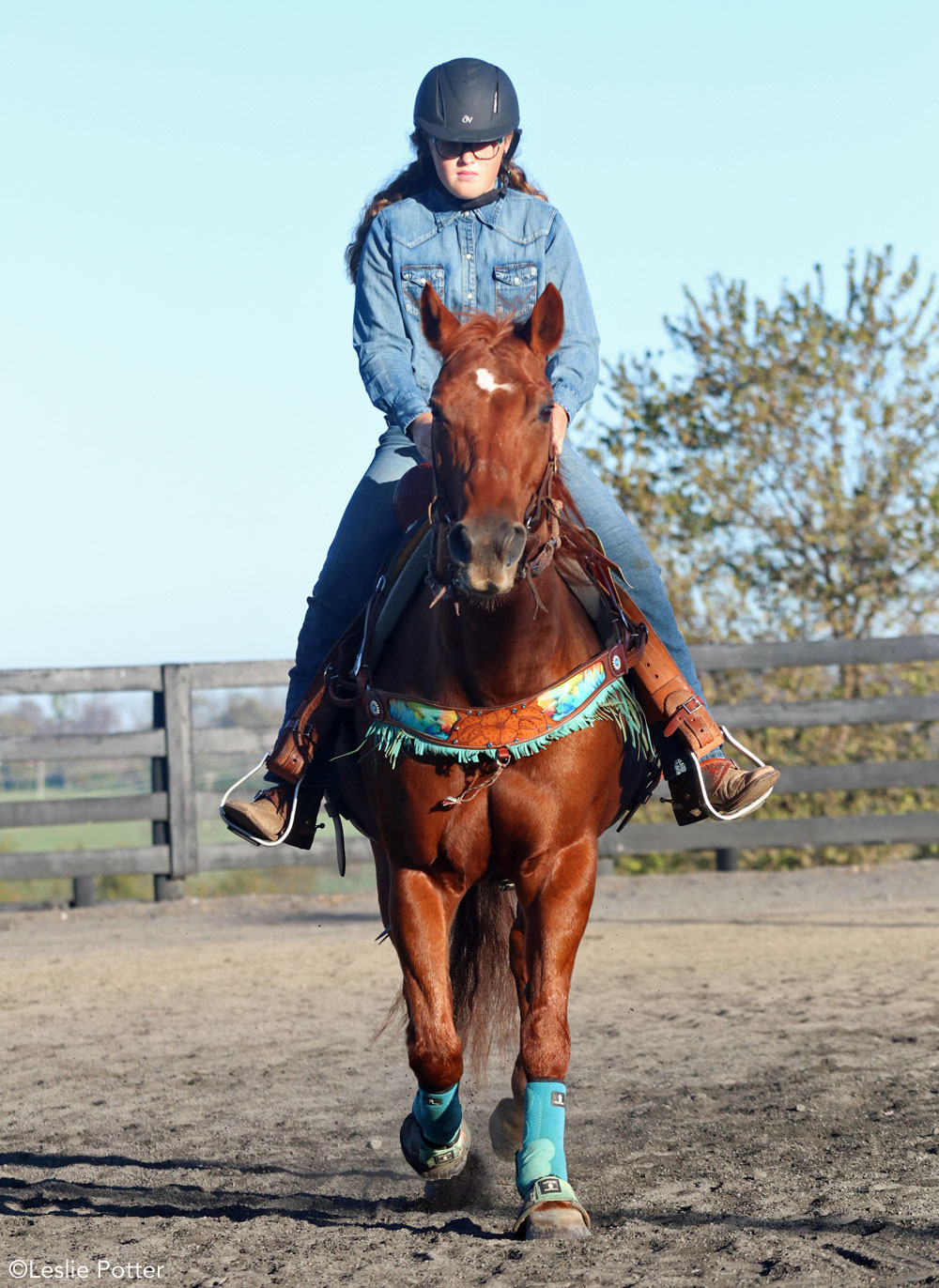 "What you might forget is that the pros started out with the basics, which include riding in the center of your horse," she says. "The horse is at his fastest when you sit in the middle of his back. Being in the middle of your horse and having a good seat is the most important thing to remember with barrel racing."
Rollback
To work on your position in the saddle, Kelly recommends working on your rollback with your horse. Starting at a jog, ride in a straight line along the rail of the arena, sit deep in the saddle and ask your horse to stop and turn to the outside simultaneously. Once you've completed a 180-degree turn, trot off toward the other end of the arena.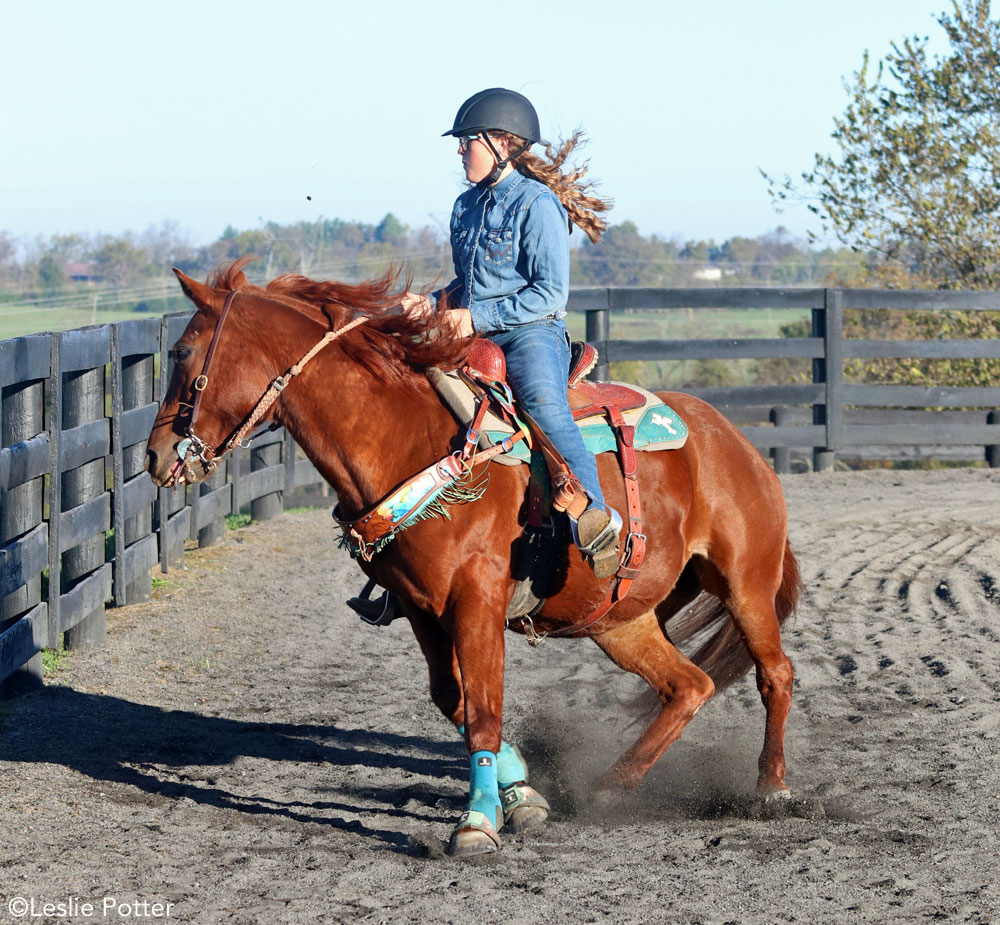 "The rollback teaches you to stay in the center of the horse, helps you learn how to sit in the turn, and teaches you to keep your hands low without constantly working on the barrels," says Kelly.
Barrel Racing Turns: Hand Position
The position of your hands is just as important as your seat. "So many kids tend to want to jerk and pull their horse," she adds.
Kelly instructs riders to think about keeping their hands in a small box by the saddle horn. When you go into a turn, you want to keep your hands low and around the saddle horn.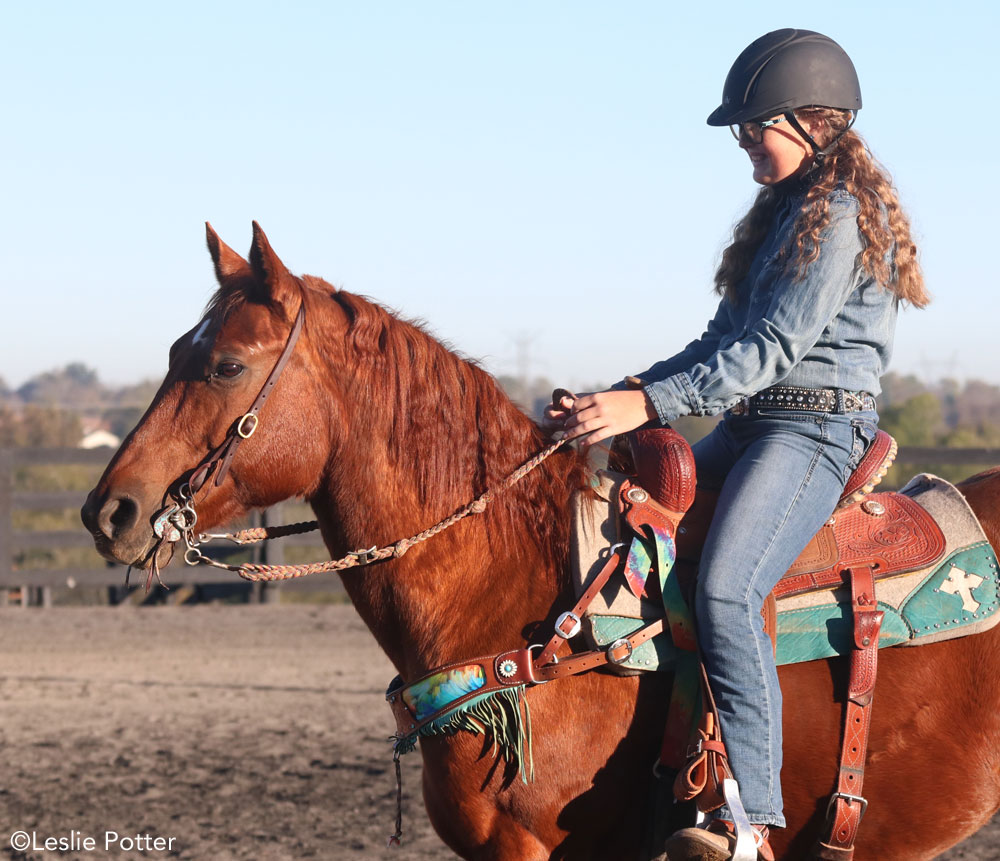 "Fully extending your arm to the side while going into a turn can cause your horse to drop his shoulder more," she says. "If you think about picking up your reins and pulling toward your pocket, this will help you sit more in the center while keeping your horse's shoulders up."
Placement
A second major component of a successful barrel turn is the placement of your horse around the barrel. It's important that you know the distance you need to give your horse between his body and the barrel in order to make a good turn.
"Some horse can be taken almost right on top of the barrel and they'll make a great turn; others need a lot more room," says Kelly. "You might have to rate some horses down a lot more before their turns, but others can be pushed into the pocket. Knowing your horse's body placement and the amount of rating you need going into the turn is very important."
This kind of knowledge comes with time and training. It's important to realize that there's no one way to ride a barrel horse. There are some things that you have in common with your fellow barrel racers, like your seat, hands and body placement, but your horse's body position will vary from the next horse.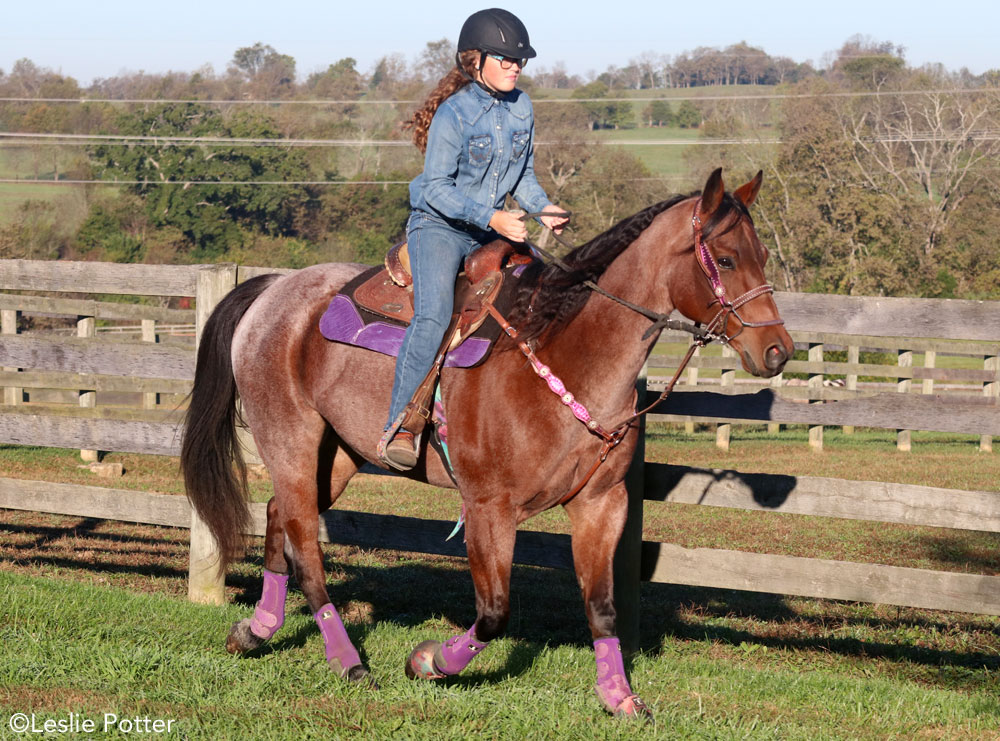 Conditioning for Barrel Racing Turns
To be a fast, flexible athlete, your horse needs to be in shape, and so do you. Kelly recommends long trotting your horse to strengthen his legs and lungs. Work on keeping his hips and shoulders built up and flexible. Sometimes just going for rides in a big field every few days will help keep his body and mind fresh.
For your part, Kelly stresses the importance of being a fit rider.
"If your horse is in great shape and able to make some great turns, but you're out of shape and are flapping around in the saddle and pulling back on him, you're not going to help him out much around those turns."
Kelly recommends a basic fitness regimen for the rider as well as the horse to keep both parties in shape and ready to turn and burn. "You can't ask your horse to stay in perfect shape if you're not," she says.
Meet the Expert
Kelly Murphy-Alley is a professional barrel racer and trainer based in Wilmore, Ky. While competing on her college rodeo team on a barrel racing scholarship, she started training horses part time, turning it into a full-time job upon her move back to her hometown. She owns Striking KMA Performance Horses.
Thanks to Madi McFarland riding Cookie and Tilly for modeling these exercises!
---
This article originally appeared in the January/February 2018 issue of Young Rider magazine. Click here to subscribe!