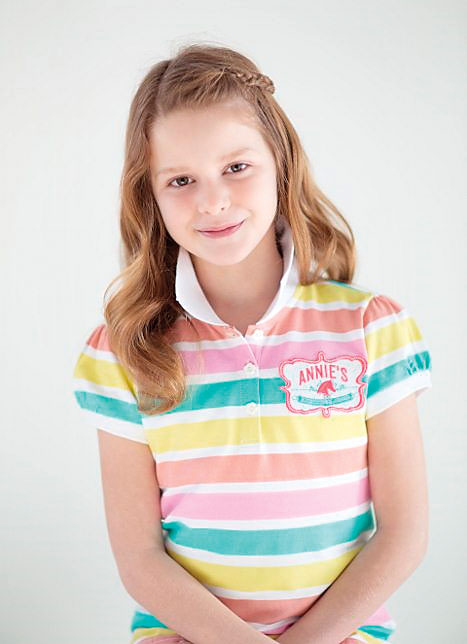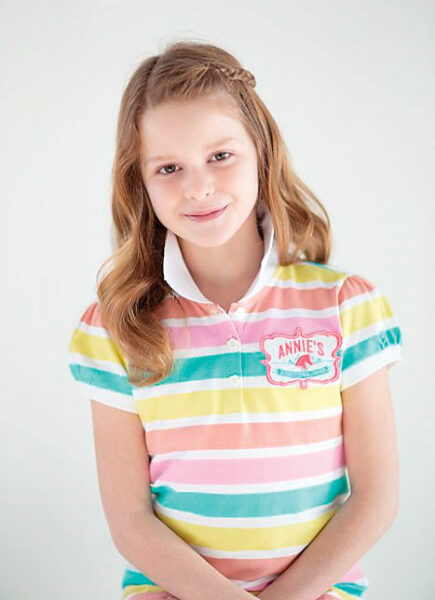 Annie Klepper is a 10-year-old equine entrepreneur who lives in Ohio. In 2013, Annie and her mom, Shannon, were shopping for schooling apparel, but Annie couldn't find anything she really liked.

"We were looking for cute, colorful and age-appropriate schooling apparel for young riders, but most of the clothes seemed to be for really little kids or just looked like scaled-down version of adult clothes," says Annie. "A few days later I was thinking about how fun it would be to have bright pink breeches and a candy-striped polo, so I got out my crayons and started sketching.
"When I showed the sketches to my mom, she said that someone should make those clothes, and the rest is history!"
Annie and her mom found a factory that could make the riding apparel, and they launched Annie's Equestrienne Apparel in January 2014. They began selling their apparel online and also traveled to horse shows, setting up a booth to sell the colorful breeches and shirts directly to customers.
"This summer, we had a booth at BreyerFest and at the United States Equestrian Federation Pony Finals," says Annie. "We've met the nicest people at shows.
"I love fashion, riding and meeting people, so even though launching Annie's Equestrienne Apparel has been a lot of work, it's been soooo much fun!
"Our business has grown quickly," adds Annie. "Even though we started out by just making girls' clothing, we're expanding into ladies' apparel. We kept getting requests for our full-seat breeches in adult sizes."
And Annie's three older brothers have influenced her into designing a new line for boys.
"My brothers wouldn't be caught dead in regular breeches," says Annie. "So, I came up with a design that I thought boys would like. My boys' breeches are black with a white skull and crossbone design embroidered across the back."
Annie and her mom also plan to sell their apparel to tack shops and horsey boutiques—when they have some spare time.
"Right now, we're super busy taking care of our website customers," says Annie. "And I do have another full-time job being [in school]!"
One thing Annie cares about is giving back to kids who are less fortunate than herself. Annie's Equestrienne Apparel donates a portion of its sales to orphanages in Haiti to help provide basic necessities and educational opportunities.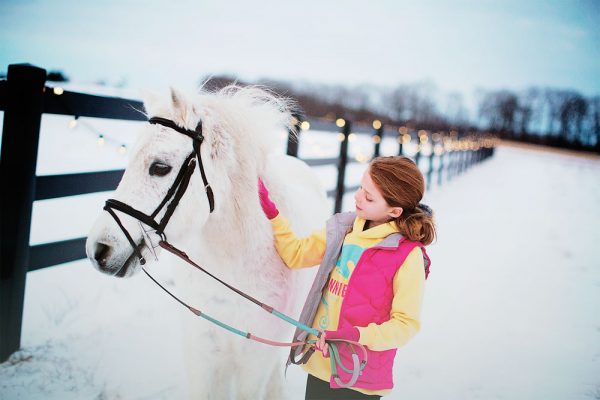 When she's not at school or coming up with new clothing ideas for Annie's Equestrienne Apparel, Annie loves riding her 12.2-hand Welsh Pony, Pepper.

"Pepper lives on our farm, so I can ride him whenever I want," says Annie.
Annie does dressage with Pepper, and she plans to start jumping him at shows soon.
"Mostly I just play around with Pepper," says Annie. "We do pony picnics and spa days where I give him pony pedicures. He puts up with a lot of pink!"
Check out Annie's website at www.anniesusa.com.
---
This article originally appeared in the November/December 2014 issue of Young Rider magazine. Click here to subscribe!