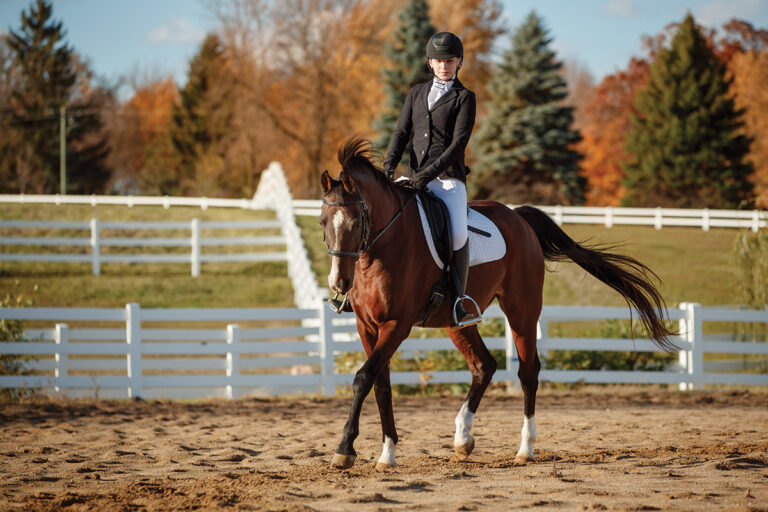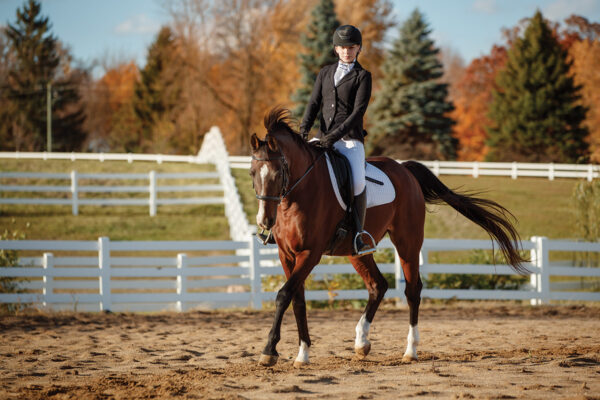 When you think about dressage, you might conjure up an image of a fancy horses piaffing in the ring and a plethora of blue ribbons. But you might want to think again: While the sport of dressage does have a competition aspect, dressage at its core is simply the basics of training a horse, meaning every horse can do it!
Basic Training
"The actual word 'dressage' means training," says Reese Koffler-Stanfield, a Grand Prix dressage rider and U.S. Dressage Federation (USDF) gold, silver, and bronze medalist based in Kentucky. "It really helps you learn how to make your horse stop and turn, which are the basics of everything. It makes him more responsive and makes your aids [more effective]."
Cara Klothe, a USDF gold, silver and bronze medalist in Pennsylvania, agrees.
"Dressage is about showing horses how to use their bodies in a way that is very natural, and teaches them to be better versions of themselves," she says.
As riders, we strive to make our horses respond to the lightest touch so we can keep our aids quiet. It's no fun feeling like you need to kick and pull your horse to make him turn in the ring or on the trail. Learning about dressage can make your rides much more enjoyable for both you and your horse. You want to spend time enjoying the ride, not frustrated that your horse has different plans than you.
Stronger and Sounder
Dressage can also help your horse stay healthier and sounder, which is a goal every rider should strive for.
"The more balanced your horse is when he works, just like humans, the healthier he stays," says Reese.
Cara agrees.
"[Dressage makes] horses supple and less prone to injuries," she says.
Think of dressage as a combination of strength training and yoga. You are increasing your horse's muscle mass while also adding flexibility. These two things combined will make it so your horse can keep doing his job happily and comfortably as long as possible.
It takes a lot of power for your horse to push off perfectly over every jump or make a tight turn around a barrel. Working on his balance and strength through basic dressage exercises will make it easier for him to perform while reducing his risk of injury.
How to Get Started in Dressage
Dressage doesn't need to be complicated. Basic walk-halt transitions are a good place to start, according to Reese.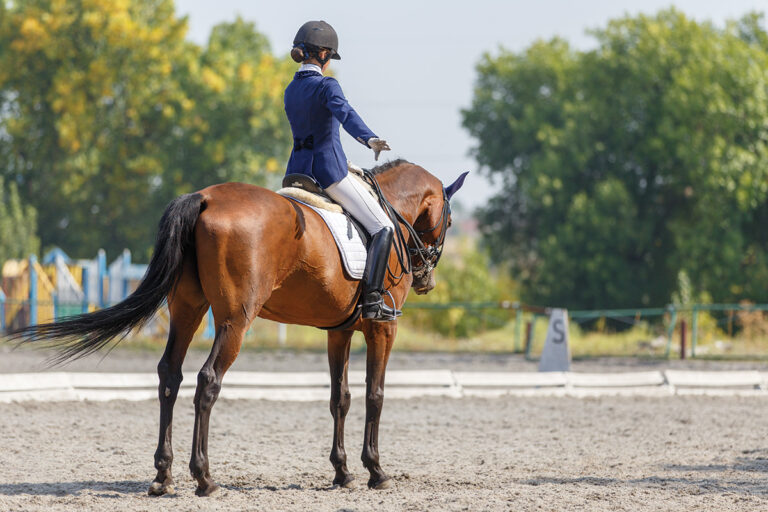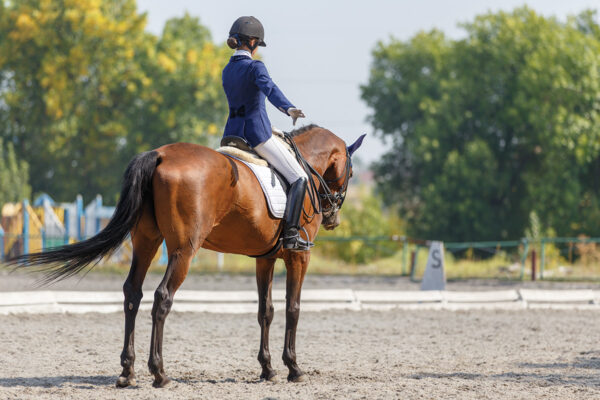 "Every sport horse needs to stop, needs to go, and needs to move sideways," she says.
One of Cara's favorite basic exercises is working on making proper circles.
"Horses don't naturally make circles, they make lima beans," she says. "They will fall in on one side and out on the other. By having a horse make an actual circle, it will get him on your aids. It seems like a very easy concept, but the execution can be hard. From there, I try to see if I can keep the number of steps per circle exactly the same, and when I can do that, I try to deliberately change the number of steps."
There are few things worse than nagging a horse to walk forward every single step. Try asking your horse to walk off promptly, then halting again. Make a game out of seeing how quickly you can do these transitions.
Once you master that, you can try adding in some trot and canter as well. Challenge yourself by seeing if you can walk, trot, canter, and halt all on one circle without needing to kick or pull on your horse.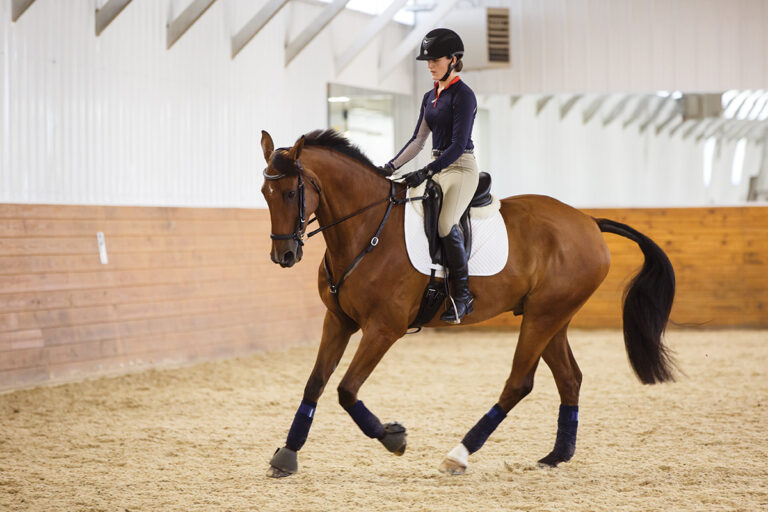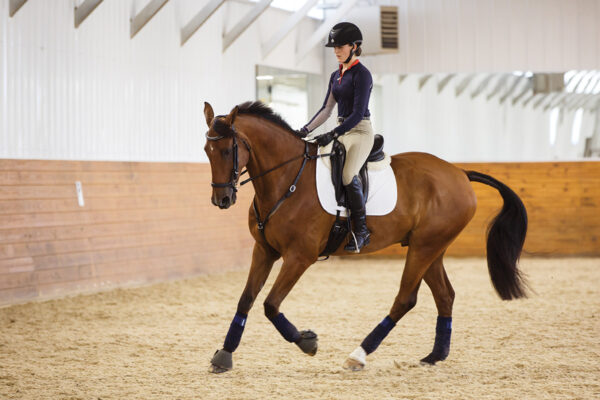 It might take some practice, but think about how much easier basic dressage exercises like this will make your rides over time.
Dressage is Helpful in Any Sport
Once you've mastered these moves, being able to move your horse sideways is another important part of every equestrian sport. Practicing leg-yields (going forward and sideways with the body straight) isn't just for dressage competitors. Being able to move your horse sideways off of your leg can help in any ring.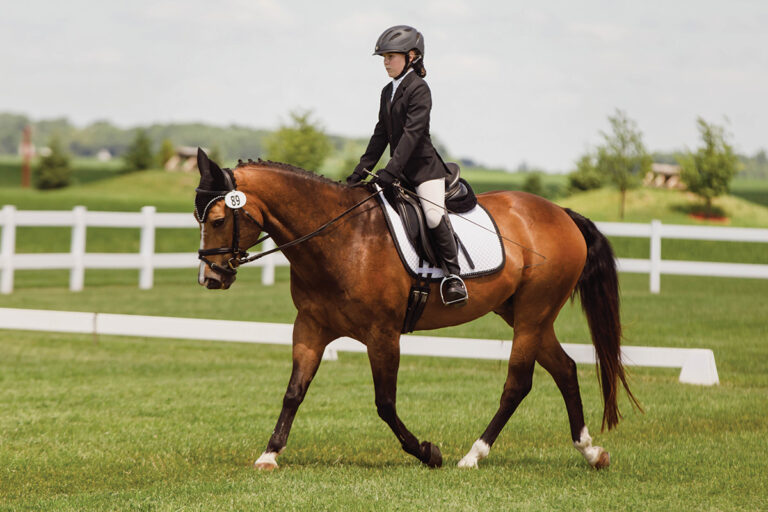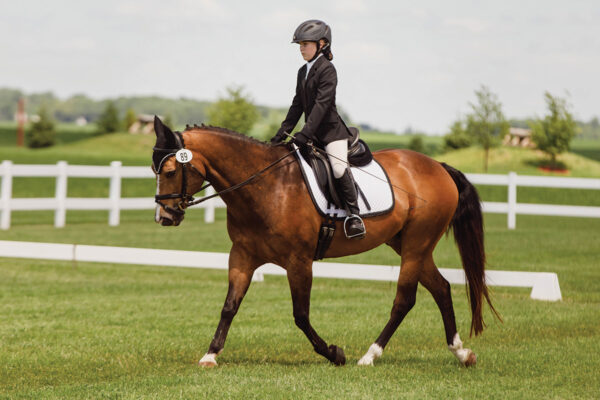 Imagine you are approaching a jump and realize you are way off to the left. You can pull on your right rein to try to get your horse straighter, but then his body can get crooked and both of you can become unbalanced. However, if you work on leg-yields and teaching your horse to be quicker to respond to subtle aids, it'll be easier to push him back toward his line while staying balanced.
"Dessage makes horses more adjustable and ridable," Cara says. "This means hunters and jumpers are going to have a better half-halt as well as making better, more balanced turns toward jumps, setting them up for more success."
Reese agrees.
"The balance learned in dressage can make [a show jumper] a second faster to win their class," she says.
The same goes for other speed events. You can't just blast around a barrel with an unbalanced horse, and you can't expect pole bending to go well if your horse can't stay balanced to make the tight maneuvers needed to be competitive.
While dressage is just one of the three phases of eventing, it's still super important.
"Your dressage needs to be good to place or be in the ribbons," says Reese. Plus, your newfound balance and adjustability will keep you safer on cross-country and help keep the rails up in stadium.
Reese's final advice for young riders wanting to give dressage a go is simple: Go for it! It doesn't matter if you have the fanciest horse in the barn. Focusing on strength, balance, and obedience to your aids is something any horse can work on.
This article about dressage appeared in the September/October 2022 issue of Young Rider magazine. Click here to subscribe!