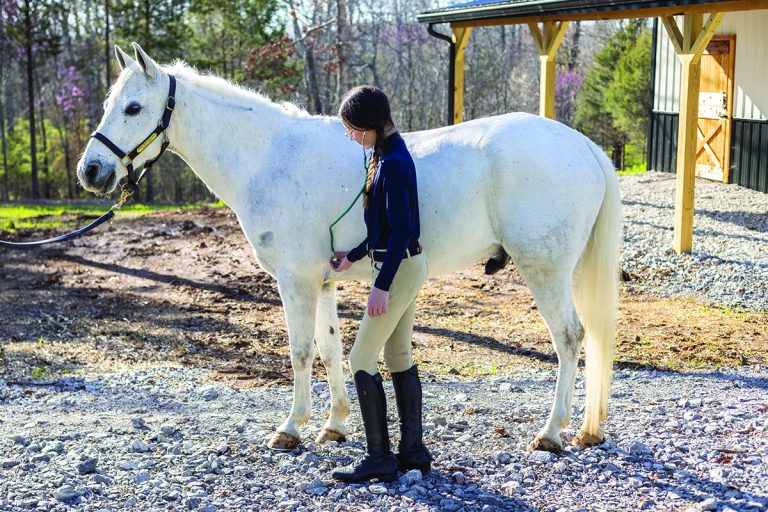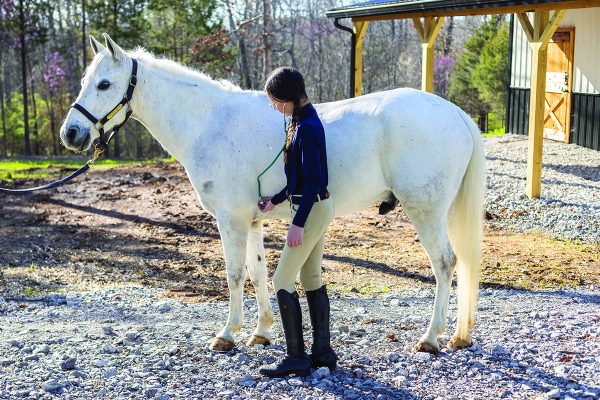 If you've ever owned, leased or cared for a horse, then you know there's a lot more to good horsemanship than riding. Part of caring for your horse means learning the basics of first-aid for horses, including how to check your horse's temperature, pulse and respiration (TPR).
But you don't have to wait until an emergency to learn first-aid for horses. In fact, taking your horse's vital signs should become part of your daily routine. That way, when you are faced with an emergency, you'll already know what's normal for your horse and what isn't.
Information like that can go a long way toward helping your vet better assess your horse during an emergency, too.
Ready to learn more about taking TPR like a pro? Follow our guidelines, and you'll be an expert observer of first-aid for horses in no time.
Daily Wellness Check
Even if you're in a hurry to go ride, it's important to give your horse a thorough once-over as soon as you get to the barn so you can look for signs of lameness and illness. Thirteen-year-old eventer and Middle Tennessee Pony Club member Lillie Cercone of Nashville, Tenn., starts every riding lesson with a quick wellness check of her pony, Andre.
"Every time I walk Andre from the field up to the barn, I watch to make sure he isn't limping because he lives in a steep, rocky pasture," Lillie says. "While I'm grooming, I run my hands down his legs to check for bumps, cuts or swelling. I also like to look at his face to make sure his eyes and nose are clear."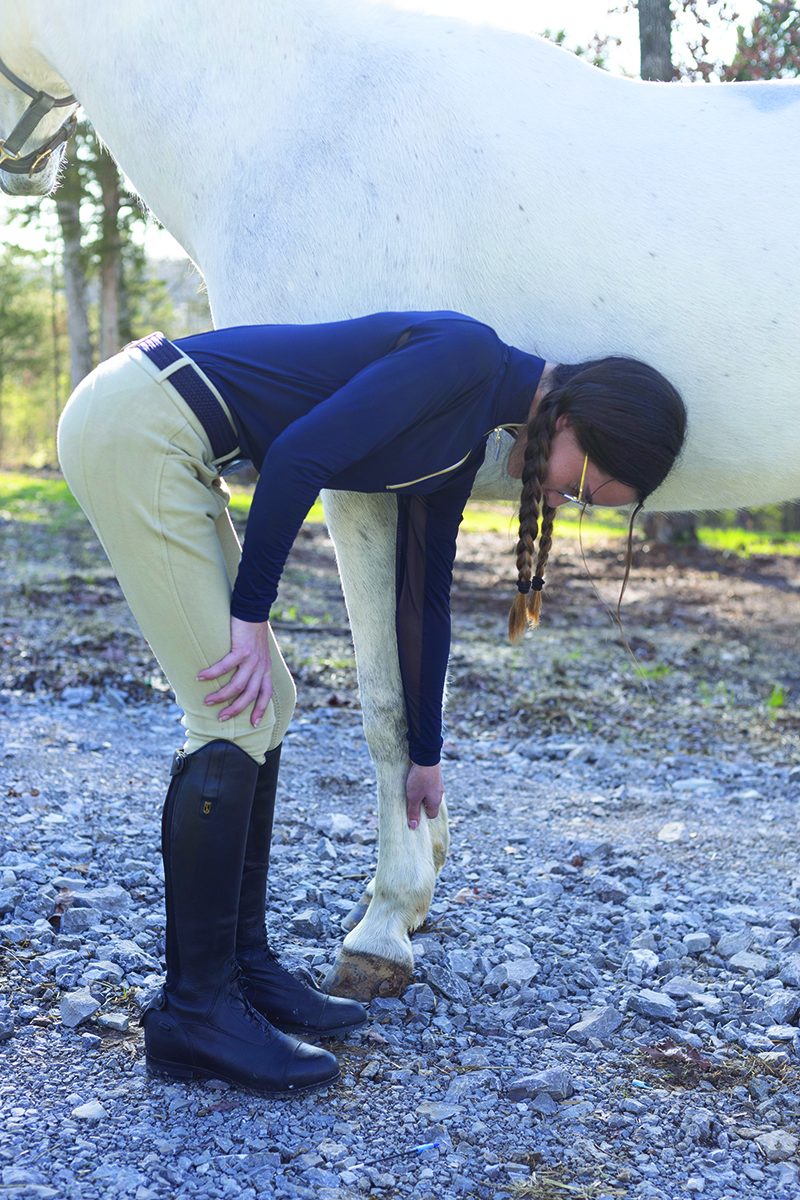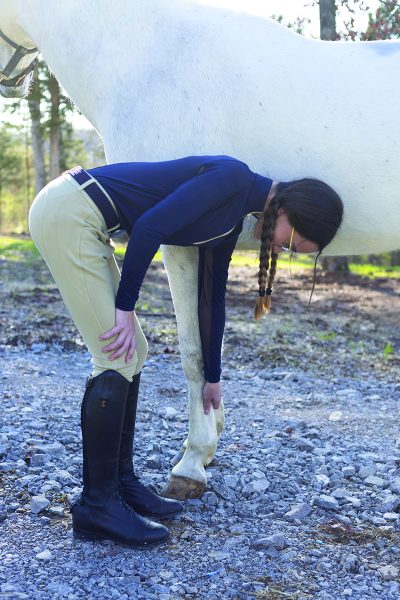 Don't forget to assess your horse's behavior, too. Is he normally quiet and reserved, or does he like to play and squirm in the cross ties? Knowing your horse's normal attitude can help you pick out subtle signs of illness the next time he's feeling bad.
Additionally, taking TPR can help you assess whether your horse is feeling well or if trouble is brewing, since colic, illness and injury can cause any one of these three parameters to spike or drop.
Temperature
To check your horse's temperature, you'll need a thermometer. Digital thermometers are cheap and easy to use, with digital readings that come back within seconds.
To check your horse's temperature, stand to one side of his hindquarters, gently lift his tail with one hand and insert the thermometer into the rectum with your other hand. If you're nervous about doing this for the first time or your horse seems tense, ask an adult to help you.
"It's important to use some kind of lubrication, like Vaseline, to keep your pony comfortable when you use the thermometer," recommends Jessica Jenkins, a lifelong equestrian and A-Level Pony Club graduate from Eagleville, Tenn. "Stand off to the side so that you're not in kicking range. You only need to put the thermometer in a few inches, then wait until it beeps to check the reading."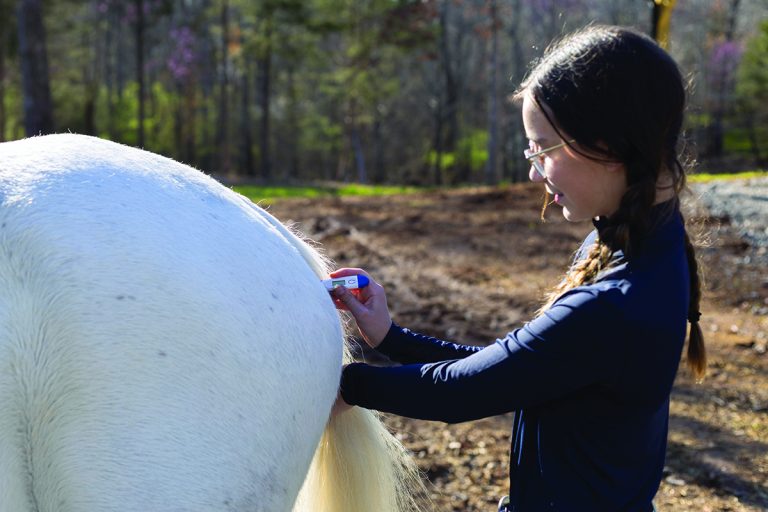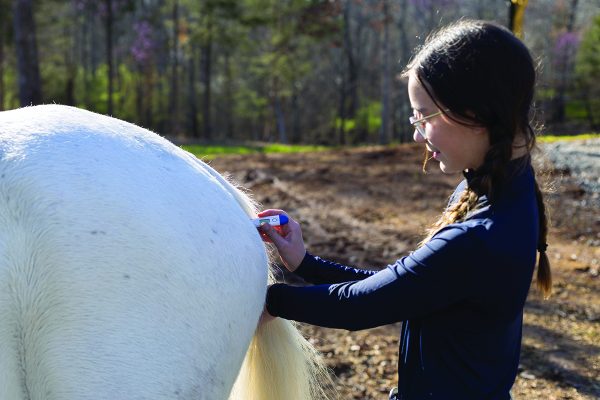 At rest, an adult horse's body temperature should be 99-101.5 degrees Fahrenheit. If your horse has an elevated temperature, alert an adult, or call your veterinarian for help.
Handy Hack: To avoid mix-ups, label your horse's thermometer with his name and keep a backup digital thermometer on hand in case of dead batteries.
Pulse
To check your horse's pulse, all you need is two fingers and a watch (or smartphone with stopwatch app). Make sure to listen for each whole heartbeat.
"You can use your hand to feel for the artery on the inside of your horse's jaw," Lillie says. "Just put two fingers against the artery and then count the number of beats you feel. You can count for a full minute, or for 15 seconds and then multiply by four to determine your horse's resting heart rate."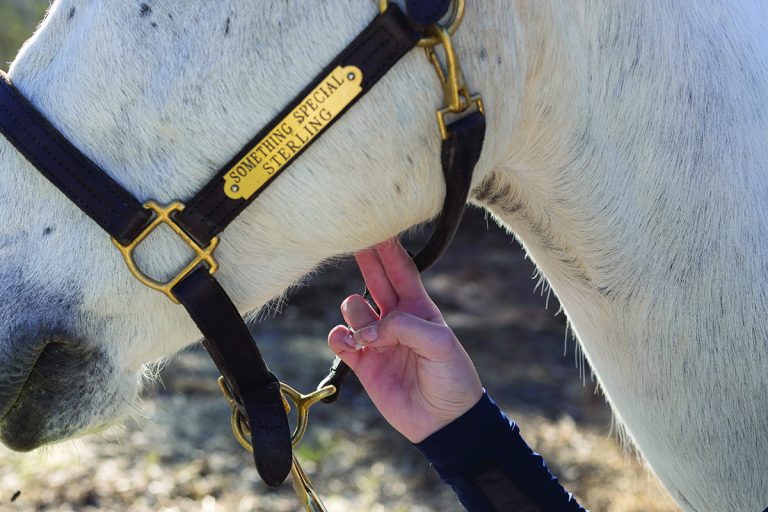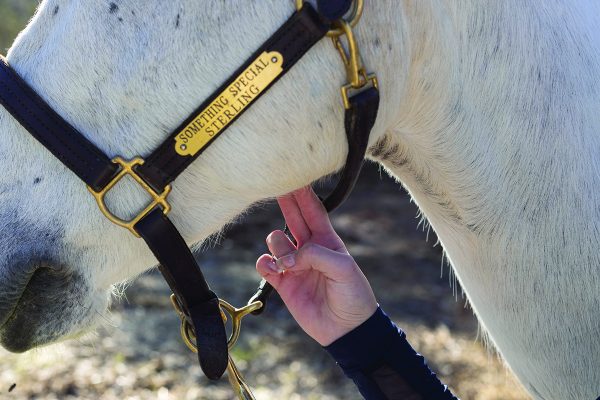 The normal heart rate for most horses is 32-36 beats per minute, but some horses may naturally have lower or higher heart rates. To get an idea for your horse's baseline, check his pulse on a regular basis and record your observations in a notebook.
Handy Hack: You can also purchase an inexpensive stethoscope to listen to your horse's heartbeat. Place the circular chestpiece against your horse's girth area, right behind the elbow, on the left side.
Respiration
Finally, count your horse's resting respiration rate. According to Lillie, it's usually easiest to count breaths by standing back and watching your horse's flank rise and fall. For respiration, count for a full minute for accuracy.
"Normal respiration can vary from 8 to 12 breaths per minute, and sometimes up to 20 breaths per minute," Jessica says. "There's a wide range there, so it's good to know what's normal for your horse on an average day. Respirations will go up if your horse is in pain, has just been exercising, or if it's a hot day. Very fit horses will have a lower resting respiration rate."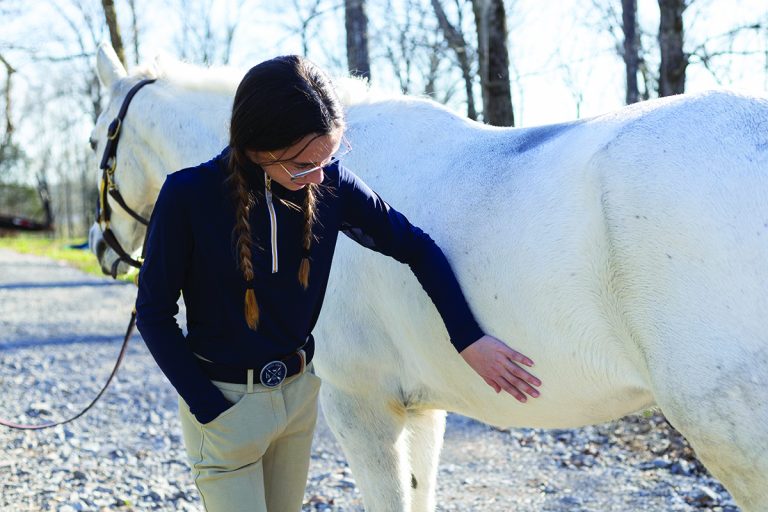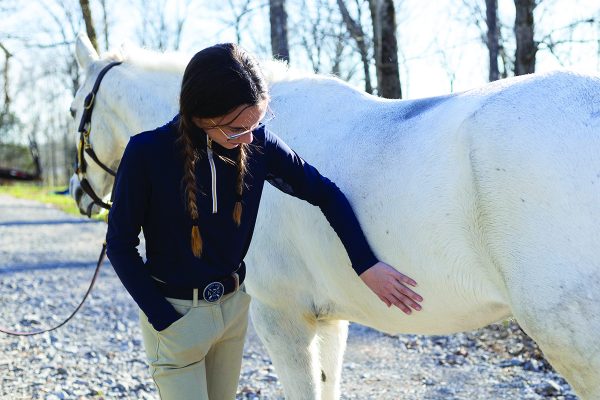 Handy Hack: If your horse is in a conditioning program, counting your horse's respiration rate should be part of your after-ride routine. As a horse becomes more fit, his return to resting rate should become faster.
Practice Makes Perfect!
It's important to practice taking your horse's vital signs every day and your skills in first-aid for horses; track and record your observations so that you notice when your horse has a slight fever or an elevated heart rate. That way you'll have valuable information to keep your veterinarian informed if an emergency occurs.
Special thanks to Savannah Victory and Sterling of Lebanon, Tenn., for demonstrating these methods.
This article about first-aid for horses appeared in the Summer 2021 issue of Young Rider magazine. Click here to subscribe!