There's a buzz in the barn; it's farrier day! Everyone loves to see the truck come rumbling up the driveway. You recognize the rituals of your farrier setting up the anvil, positioning the tool box, donning the apron, and greeting and evaluating the first horse to be shod. Even the dogs are excited, anticipating hoof trimmings that may be tossed in their direction to chew on. This could be a scene straight out of history, unchanged since the village farriers first took to the roads in forge-equipped trucks. But one thing has changed: the farriers themselves. And they are continuing to change, in ways that are attracting more young people than ever to join their ranks for the rewarding career of a farrier.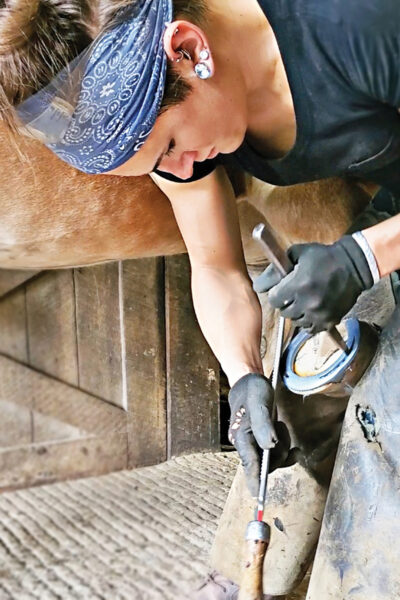 Who Are the Farriers?
Farriers are no longer the village strongmen who swing heavy hammers from morning to night. They now come in all sizes, races, backgrounds, and genders; they speak with many accents.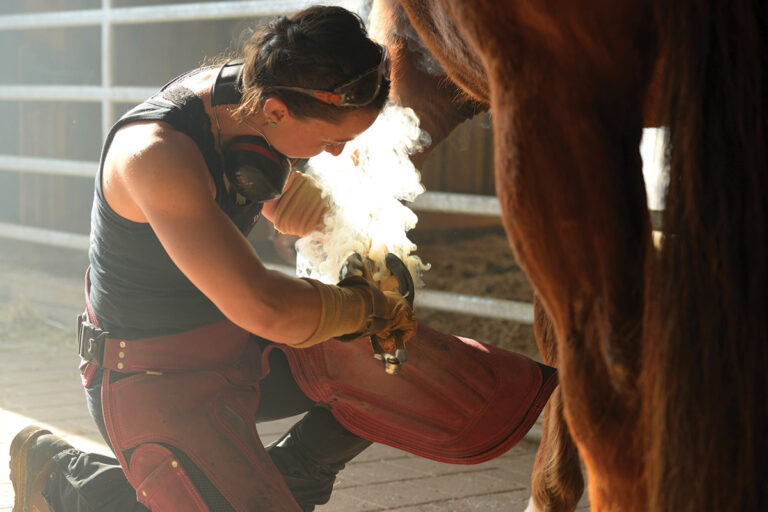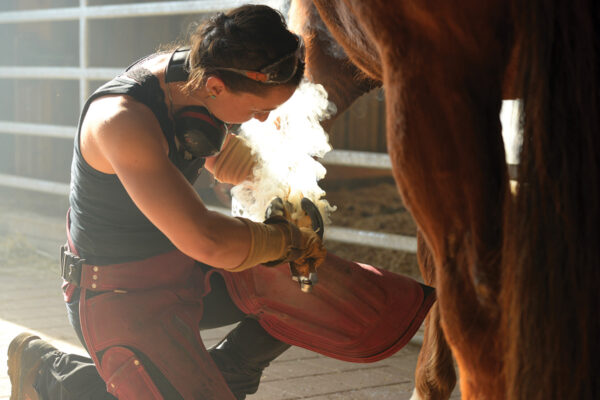 Some don't shoe horses in the traditional sense, but rather find success trimming bare feet or using hoof boots and plastic shoes. Others are skilled in forging at the highest level. But the successful ones have a few things in common.
Because farriery is an unregulated profession, there are few statistics to share. There is also no common path for success, or even how to start. But we'll give you some ideas, and if you think you are cut out for this job, see if your parents will let you spend time riding with a farrier or shadowing one at a busy horse show to see what it's like.
What Does a Career as a Farrier Take?
You might automatically say that the best farriers are the ones that work the hardest, but it's easy for a farrier to get overbooked or drive great distances between customers. The best farriers have goals and plans, and always leave time to improve their skills and keep up with new developments in hoofcare.
The first quality of a good farrier is a love and respect for horses. Farriers need to be able to get along with horses, to help them relax, and to notice changes in behavior or stance; a farrier and a horse need to work together to get the job done.
A farrier also needs to know about anatomy, hoof diseases, conformation, and lameness. That involves reading, going to conferences, watching videos, and spending valuable time with other farriers, vets, and horse people. Business skills matter, too.
Things good farriers don't need include bulging muscles and big trucks. Some work from a van or trailer, while others invest in new trucks. Some follow the horse show circuit all over the country; others are done with work in time to meet their child's school bus. Farriery can be flexible.
Good farriers understand that a problem might require forging skills to make a special shoe, horsemanship to help the horse relax for shoeing, or knowledge of biomechanics—or all three!
Farrier Career Prospects
Is farriery a good profession to consider? Diego Almeida is director of the 12-week horseshoeing program at Montana State University. The next two courses are already sold out; he feels that there is an upswing in interest in farrier careers, particularly in the West, where the need for professionals is high.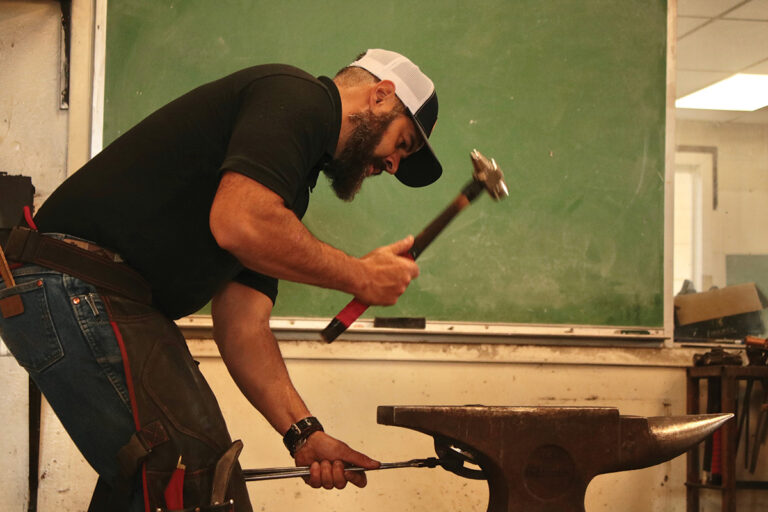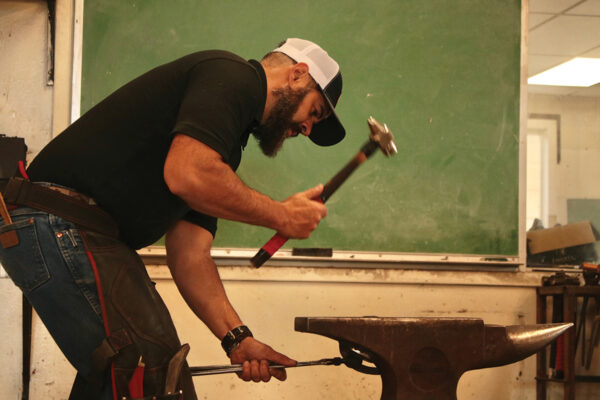 Montana State students spend 12 hours a day on campus taking courses in anatomy, physiology and horsemanship or practicing making shoes and actually trimming or shoeing horses.
"We have people who quit on the second day," Diego says. Once students find out just how demanding farriery is, on both their bodies and their minds, they sometimes decide it's not for them.
He likes to emphasize farrier school as the first step in a career, but many students go straight to work after they finish. Diego tries to place students in apprenticeships to continue on-the-job learning with an experienced farrier.
Successful Indiana farrier Cody Bogard echoes Diego's advice.
"New farriers either start and fail right away, or they keep going but they burn out," he says. "You have to continually grow as a farrier, but not in the number of horses on your books." Failure and burnout are the result of not having a plan, in Cody's view.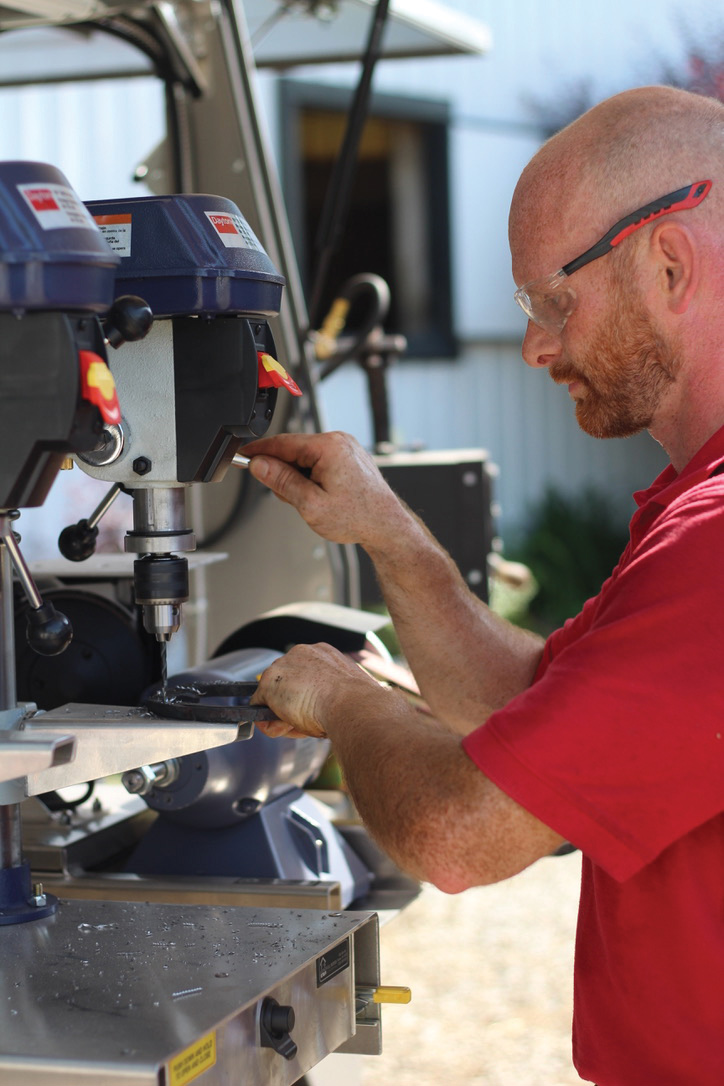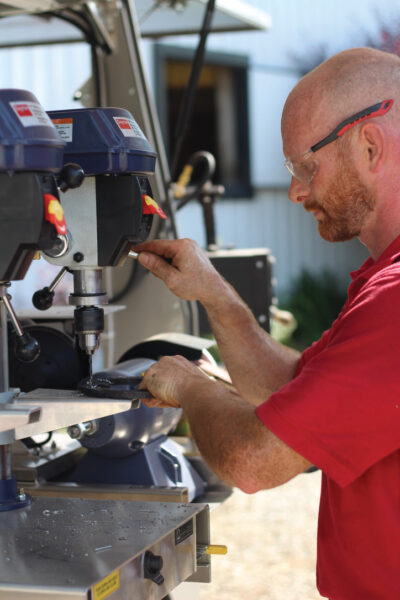 Advice for Aspiring Farriers
Elizabeth Rice says that the good reputation of her Finger Lakes Forge business in New York state is the result of 15 years of continual self-improvement efforts. She places the highest value on having had the opportunity to work under three experienced mentors, all of whom helped her develop different skills on the job.
Like all farriers, Elizabeth says there is no one formula for success. Unlike many others, she was not raised around horses, but she hit the ground running when she began this career at age 20.
"I am fortunate in that I get to be surrounded by animals every single day at work," she says. "Every hour I've spent has been dedicated to building proficiency—for the horse's sake."
For Elizabeth, that means working with horses, rather than trying to force them into some ideal, "whether it's a yearling who doesn't yet understand everything we ask or an arthritic, retired senior pony who had a long career and deserves to stand comfortably during its hoof appointment." She is thankful for the American Farrier's Association's (AFA) certification program for giving her goals and structure; she has attained the much-respected AFA Certified Journeyman level.
All the farriers we spoke to suggest starting with horsemanship skills, then spending time working as a farrier's helper, even if it just means sweeping the floor, before completing school and an apprenticeship.
They all emphasize that even though farriery is a mostly solo profession, it often requires working amicably with other farriers, veterinarians, and owners and knowledge of horse behavior and what different sports require.
Farriers who can do those things are forging ahead to rewarding lifelong careers!
Learn More
◆ American Farrier's Association
◆ Montana State University Farrier School
◆ Cody Bogard's Dixies Farrier Service
◆ Elizabeth Rice's Finger Lakes Forge
This article about a career as a farrier appeared in the November/December 2022 issue of Young Rider magazine. Click here to subscribe!