If you are living in a place that gets cold and snowy, winter weather can be a big downer for barn time. You don't have to hide inside, though. Plan ahead with appropriate clothing and healthy habits, so you can keep up your routine at the barn. Read on to learn how to stay warm when riding in the winter.
Dress Appropriately
A big factor in staying warm when riding in the winter, is dressing appropriately. "You can't be too bulky when you ride, so we always use layers," said Krishona Martinson, a University of Minnesota Equine Extension Specialist and mother of two horse-loving daughters.
Living in Minnesota, she gets an average of 51 inches of snow each year. While Krishona doesn't ride as much in the winter, she still is outside taking care of the horses with her daughters.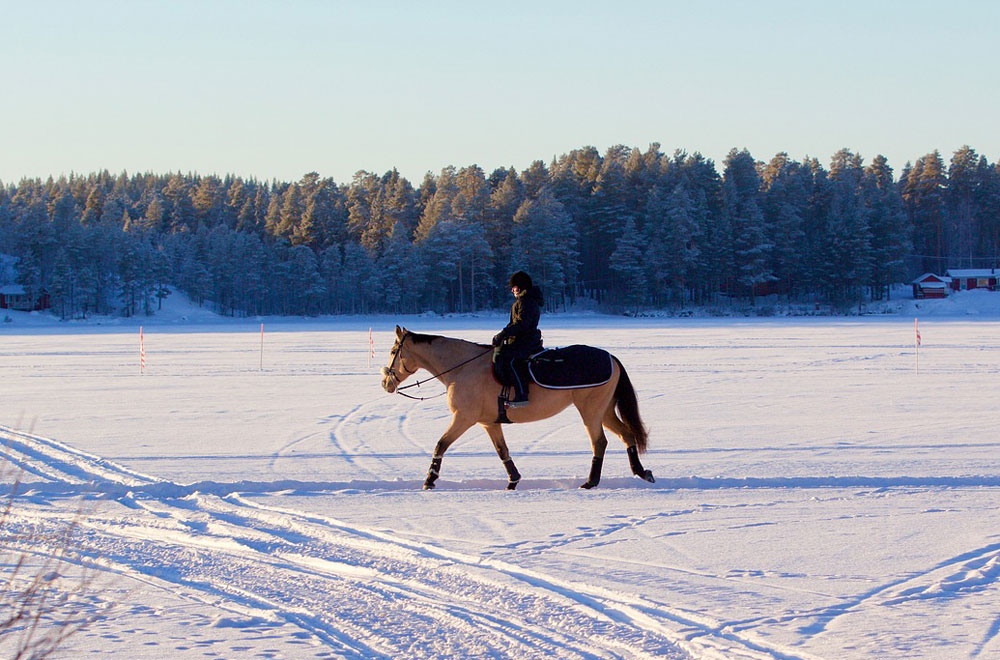 Krishona likes very thin thermal layers under riding clothing. When doing barn work, her family bundles up with lined coveralls, heavy winter coats, a couple of pairs of gloves, and boots that are meant to keep your feet warm to 60 below zero F.
Alena Meacham, director of riding at the University of Connecticut, pointed out that you shouldn't allow yourself to get sweaty and then stand around in the cold.
Cotton clothing, especially, will hold the sweat next to your skin, making you chilly. The layer of clothing next to your skin should be a moisture-wicking material to keep you dry. Vests are nice because they let heat escape through your arms but keep your core warm.
The right layers will let you take clothing off as you get warmer and then put them back on when you cool off again.
Krishona and Alena both use quick-heat hand and foot warmers for less active time spent outdoors.
Eat Well
Another factor in staying warm while riding is eating well through the winter months. You feed your horse more in the winter so he can stay warm and maintain his proper weight, and the same idea applies to you.
"Drink water and eat a good meal with protein before standing out in the cold," says Alena.
In the winter, you still sweat—especially when doing barn chores—but it's easy to forget to drink water because you naturally don't feel as thirsty as you do in the summer. Eating is important, too, because the energy created by digesting the food makes 10 percent more heat inside your body within an hour than when your stomach is empty!
Practice Patience
Remember, frigid cold, low wind chill, or heavy snow can make it dangerous for you to spend too much time outside.
"To be honest, on those incredibly cold days, not much happens—just the minimum," Krishona admits. It's OK to get by just doing the minimum; feed and water your horse and clean his stall, but skip the riding that day. These days are your opportunity to get in some reading and horse-treat baking.
As winter roars in this year, be smart about your wardrobe, your nutrition, and your daily plans so you can still fit in barn time.
---
This article about staying warm while riding originally appeared in the November/December 2017 issue of Young Rider magazine. Click here to subscribe!