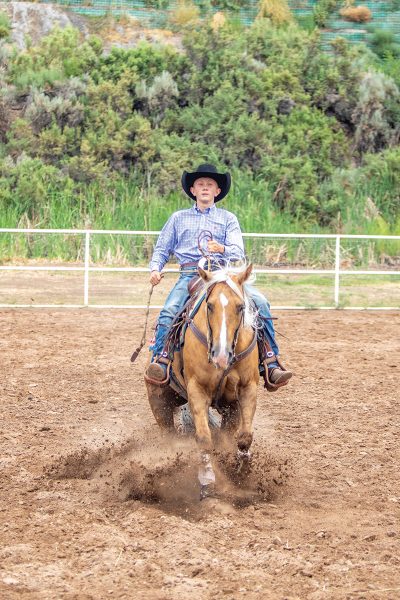 You've seen reining horses lope, speed up, then slide to a dramatic sliding stop. What does it take to ride through this stop and keep your balance? We'll help you master the position so you're ready to slide the stop.
Posture Tips
You've probably heard your riding instructor talk about riding with perfect alignment. If you imagine a string dropped from your shoulder, it should make a line to your hip, then your heel when you're riding at the walk, trot, or lope.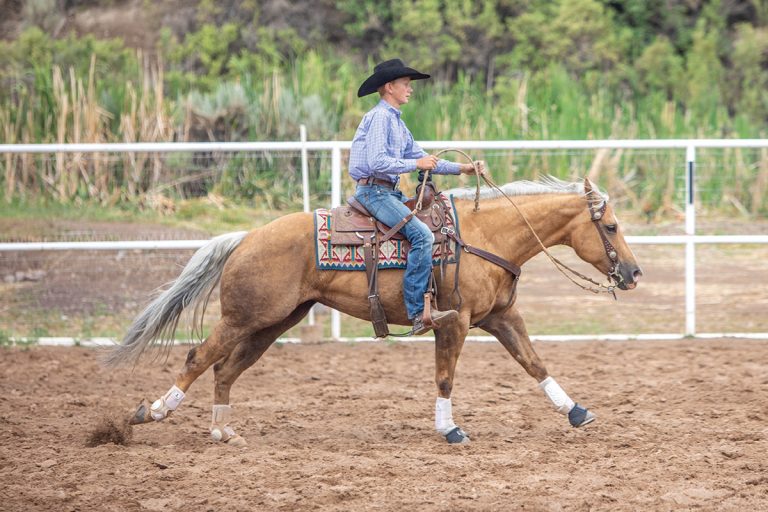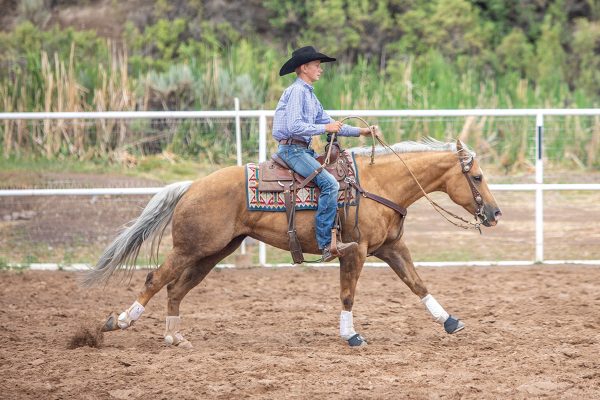 For a reining sliding stop, you'll need to keep your shoulders, hips, and heels in alignment. However, you'll tilt the line back so that your shoulders are back, and your heels move to the front. The straight line will be tilted to help keep you rooted in the saddle while your horse moves his hind legs far under you.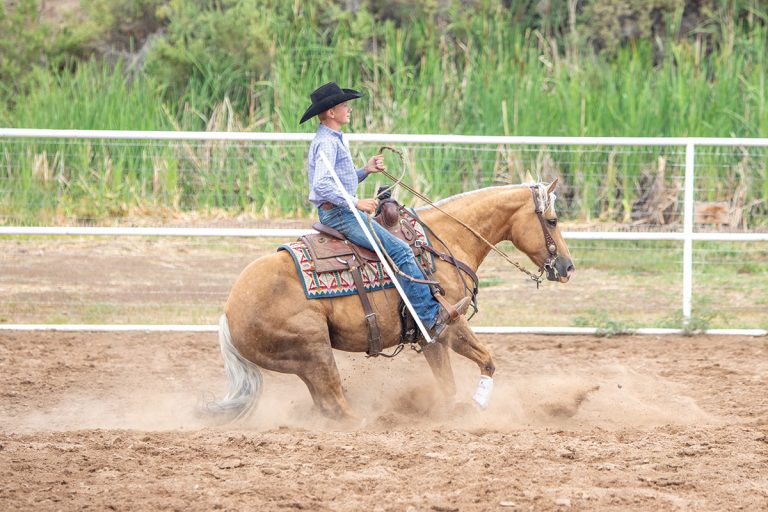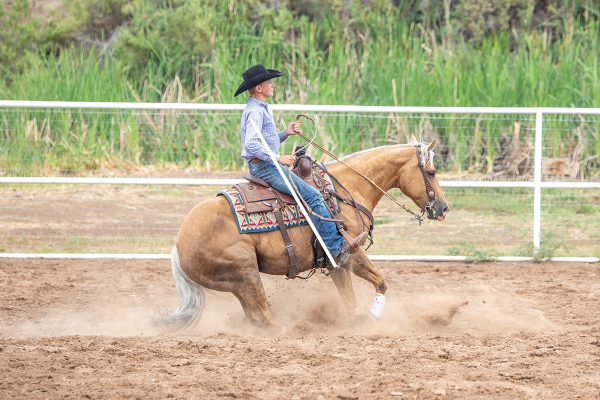 Here, 15-year-old Parker Ralston helps show you the perfect stopping position. When he rides his horse in the rundown (loping then speeding up for a dramatic stop), he sits up tall with a line from his shoulders down to his hips, then to his heels and straight to the ground.
When it's time to cue his horse for the stop, he moves his shoulders back and his feet forward to tilt the line as his horse stops beneath him. Once his horse recovers her balance, he moves his posture back to the usual riding position, too.
The Right Order
Parker's dad, Aaron Ralston, helps coach him through the stopping process so that all looks smooth and relaxed. As you're loping in a straight line, find a place where you want to stop. To prepare, you'll first move your shoulders back and slide your feet forward a little bit. On the approach, you want your shoulders slightly behind your hips.
When it's time to stop, you're going to say "whoaaaaa" with a drawn out, long tone. You aren't going to throw your shoulders back—they'll stay back as they were on your approach. Say whoa, press into your legs, then pick up your hand and move it behind the saddle horn.
Aaron says you'll keep your chin up and point your belt buckle to the sky as you slide to the stop. Be smooth and breathe. When you lean back, you'll have a driving seat and a little bend in your back while keeping your shoulders back.
Troubleshooting
Make sure that you don't change positions with a jolt. If you move fast, your horse will brace and move too fast into the stop, too.
Instead, all your moves should be smooth and well-timed. Put yourself in the position you will be in throughout the stop. When you're smooth and relaxed, your horse will be able to move smoothly beneath you.
Slow Work
You don't have to go fast to practice your position and flow. If your horse is trained for reining, he may look forward to the rundown and speeding up! Make sure that he waits for your cue to speed up, and know that you can practice your stopping position without lots of speed.
If your horse gets going too strong, stop, back up and try again at the speed you choose to go. It's always good to ask a pro for help if you feel like your horse wants to move too fast.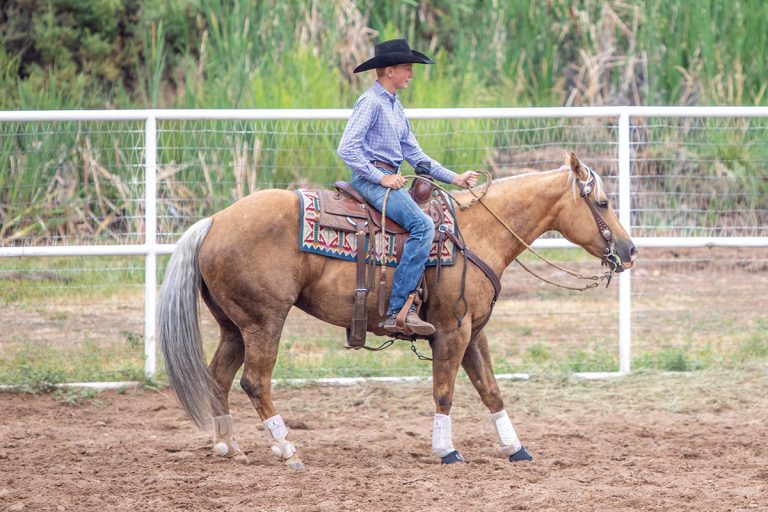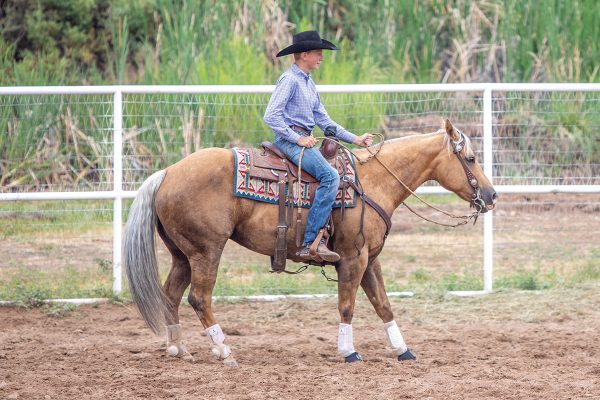 Once you release your horse from the stop, relax and back up a step or two. You'll reward your horse for his efforts when you allow him a moment to pause.
With practice, your horse will understand when it's time to go and when it's time to go slow!
Non-Sliding Stops
Not all western show classes require a sliding stop. In ranch riding and ranch trail classes, smooth downward transitions are the key.
A slow-down to stop requires vertical shoulder, hip, and heel alignment. You'll gather your reins and ask your horse to slow down without a slide.
For a smooth downward transition, you'll keep your reining hand in front of the saddle horn and pick up to cue for the slower motion. For many western-trained horses, a pull in front of the horn means to slow, and a pull behind the saddle horn means to stop with gusto.
To maintain a slow, consistent downward transition, you'll need to keep forward motion while cueing for a subtle slow down. To do this, keep your vertical posture and shoulder, hip, and heel alignment.
Meet the Trainer
Trainer Aaron Ralston works his horses on his family's Colorado cattle ranch and prepares them for world-class competition. He won Top 10 honors at the 2021 AQHA Versatility Ranch Horse World Show and has championship titles in reining, cutting, working cowhorse, and calf roping. He also earned gold for the United States reining team at the FEI World Equestrian Games in 2006.
Aaron's son Parker Ralston and his mare, Nic Stole My Heart (pictured in article) won the AQHA Versatility Ranch Horse Youth World Championship in 2021.
This article about improving your reining sliding stops appeared in the March 2022 issue of Young Rider magazine. Click here to subscribe!