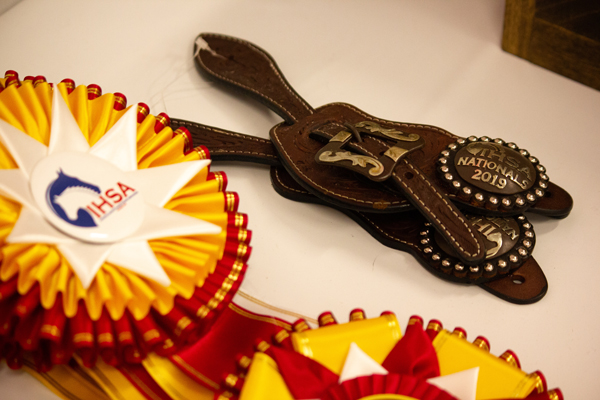 The Intercollegiate Horse Shows Association (IHSA) leadership announced that they will add ranch riding classes to their growing western division. Ranch riding competition includes the individual performance of an approved pattern. The patterns emulate maneuvers commonly used in ranch work, such as gait extensions and turnarounds with a more forward-moving horse. The goal is to present a smooth and competent horse-and-rider team that could face any job on a working ranch. Tack and attire are simple and workman-like. IHSA's ranch riding classes will be offered for IHSA Western Level II members.
Ranch riding classes are the fastest-growing segment at American Quarter Horse Association (AQHA) and American Paint Horse Association (APHA) horse shows. For IHSA members, ranch riding will create a bridge from the horsemanship classes to reining. It will be a fun addition for upper-level riders and help educate those who aim to compete at the Open level, the IHSA's top Western division.
The Intercollegiate Horse Shows Association (IHSA) offers individual and team competition at all levels in hunter seat equitation, western horsemanship and reining—and now ranch riding—at more than 400 member colleges and universities. Membership in IHSA means that college students can participate in horse shows regardless of their experience or financial status. Students compete at eight levels from beginner through advanced with suitable, provided horses. It is the oldest and largest intercollegiate equestrian organization with 10,000 members in 47 states and Canada.
An IHSA affiliate, the Youth Equestrian Development Association (YEDA), a competition and education program for western riders from grade 4-12, added ranch riding in 2016 to their catch-ride competition format and experienced triple-digit increases in participation from middle and high school riders.
"We believe it (ranch riding) has helped our diamond (upper-level) division as the riders have more experience when they start to compete in diamond reining," says Laura Smith, YEDA's chief executive officer.
The new division will provide jobs for horses that may not be appropriate for horsemanship or reining classes. Suitable ranch riding horses are versatile and should be free-flowing and able to cover ground, yet are adjustable and may have a higher head carriage.
"Ranch riding is a great addition to IHSA western competition for several reasons," said Peter Cashman, IHSA executive director. "It is fun and in demand. It helps educate riders that are looking to move up, and it helps us give jobs to horses that may not make the cut for our other divisions but make wonderful ranch riding partners. We are excited to add Level II Ranch Riding to IHSA competition."
For more information go to www.IHSAinc.com.