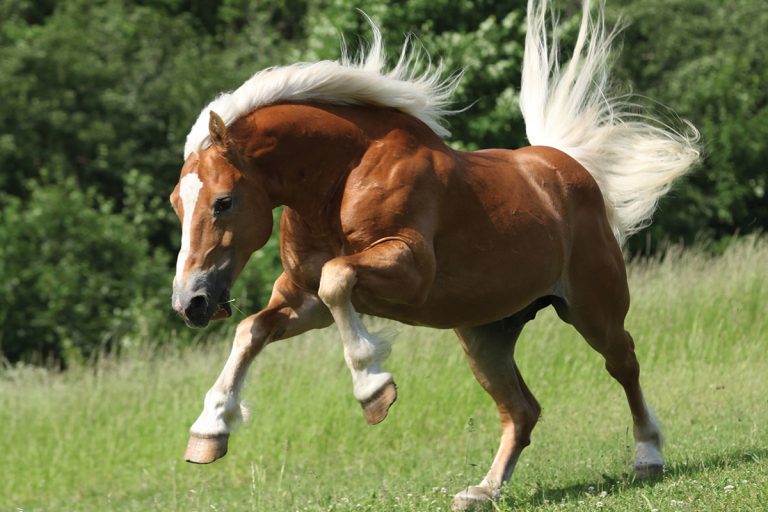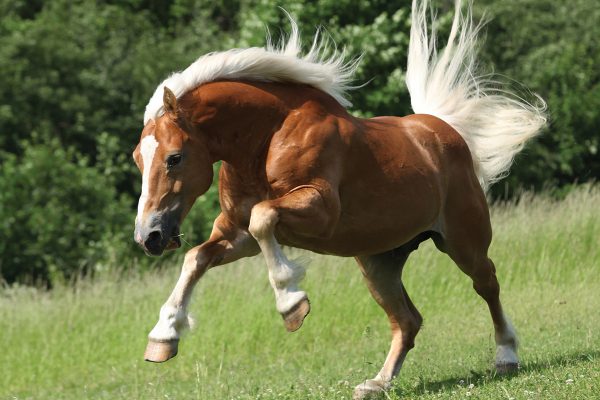 Known for their distinctive golden chestnut color and white or flaxen mane and tail, the Haflinger breed traces back to the Tyrolean mountains of present-day Austria and Northern Italy near the Tyrolean village of Hafling, which gives the breed its name. Because of their origin from the mountains, the breed is stocky with strong hindquarters, and has hard hooves suited to rocky trails and hard ground.
As early as Medieval times through to the 1800s, these horses were used as a packhorse and for transporting goods between villages. Because they lived in close quarters with their owners, this helped Haflingers develop a personable, affectionate personality.
Haflingers were also used in World War II because of their height and stockiness. Soldiers were able to use them as a packhorse for transporting goods and fallen soldiers from the battlefield.
All Haflingers can be traced back to a single stallion in 1874 named 249 Folie. Folie was sired by a half-Arabian stallion, 133 El' Bedavi XXII, and out of a refined native Tyrolean mare.
There are only seven bloodlines—A, B, M, N, S, ST, and W—allowed for a Haflinger to be registered as a purebred today. Because of its small gene pool, the Haflinger has a very specific appearance that is easily recognizable.
Today's Haflinger
The modern-day Haflinger is considered a "jack of all trades," as it is now found all over the world, and takes part in many different disciplines. These include dressage, jumping, eventing, vaulting, driving, western disciplines, trail riding, endurance riding, and many also make great therapeutic riding horses. Haflingers often hold their own in competition against other breeds.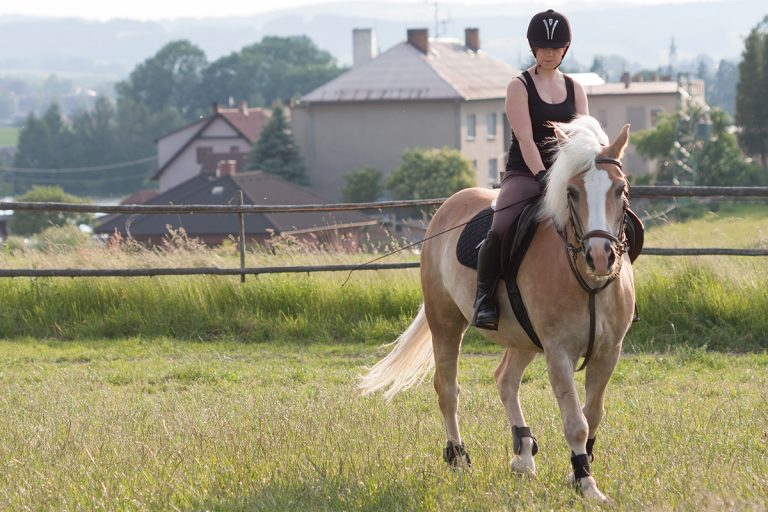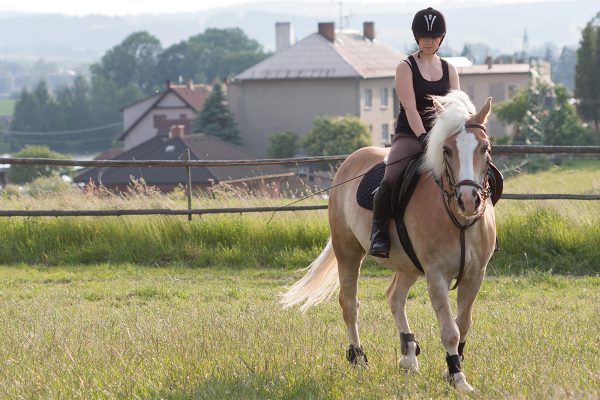 Because of their pleasant temperaments, Haflingers easily become part of the family. Their people-loving, willing and forgiving temperament make them perfect for riders of all ages, especially younger riders.
At a Glance
According to the American Haflinger Registry, the official breed registry in the U.S., the breed should stand between 13.2 and 15 hands tall. Even though relatively small, a Haflinger is a horse, not a pony.
By having intelligence, dependability, athleticism, gracefulness, stamina, strength and an excellent personality, Haflingers continue to capture the hearts of many equestrians.
This article about the Haflinger Horse appeared in the Summer 2020 Digital Mini issue of Young Rider magazine. Click here to subscribe!