Morgan horses are known for being friendly, people-pleasing horses. They're like the Golden Retrievers of the equine world. And what could be better than spending hours on the trail with your four-legged best friend? Christopher and Morgan Loomis are young riders who compete in endurance rides with their Morgans. In the sport of endurance, horse-and-rider teams complete a ride of anywhere from 25 to 100 miles in a single day! It takes a strong, athletic horse (and rider) to tackle endurance riding, and the Morgan horse is more than capable of doing it. But there's nothing like the feeling of accomplishment that comes from successfully finishing a ride.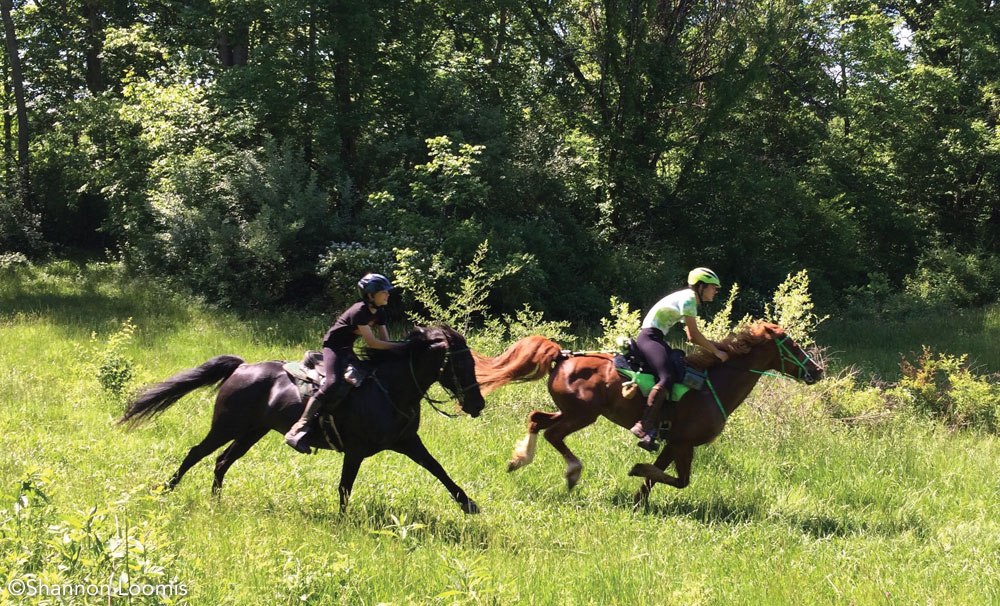 Mega Miles
Morgan is 18 and a freshman in the pre-vet program at Wilmington College in Ohio. She completed her first endurance ride when she was just 4 years old and has been riding her current horse, a 19-year-old Morgan mare named The Perfect Angel, for eight seasons. Not only have Morgan and Angel completed a 100-mile ride together, but they've also done the Shore to Shore Pioneer Ride six times. That's a 250-mile ride that takes place over the course of five days.
"Morgans are extremely tough and hardworking," says Morgan. "They may not be the fastest horses on the trail, but they thrive and persevere through difficult terrain and conditions, which can give them an edge."
Angel is a tough competitor on the trail, but she has tons of personality, too.
"Angel loves playing in water, must have her face itched before her heart rate will come down at vet checks, and is an expert at flipping feed pans!" says Morgan.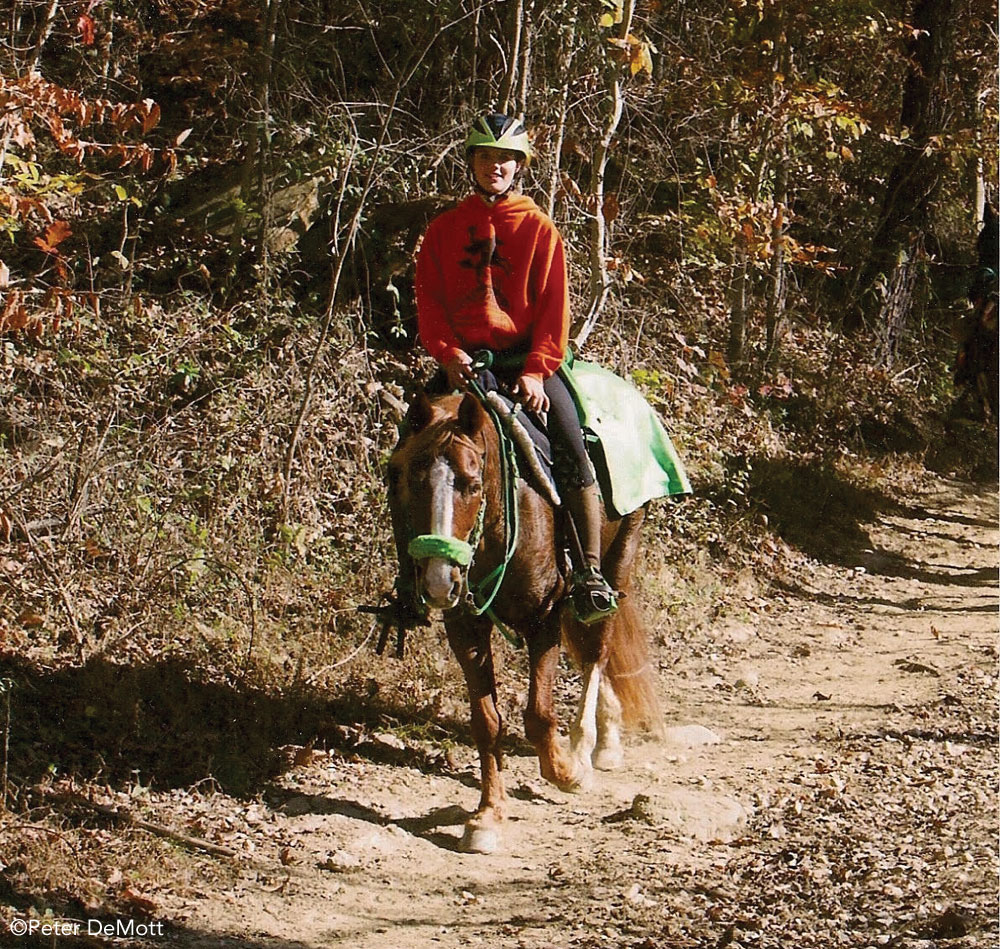 Looking to the Future
Christopher started in endurance at age 6 and is now 15 and a sophomore in high school. He's looking forward to competing with his 10-year-old Morgan mare, Coco Charlie, in the upcoming season. Charlie was recovering from a pasture injury during the last season, but she has a bright future ahead.
"Charlie is very pretty and looks very sweet, but she is definitely the alpha mare in the herd," says Christopher. "She loves attention and cookies and can be very loving when she wants something."
In endurance competition, the winner isn't simply the horse-and-rider pair that finishes in the fastest time. Veterinarians examine the horses at designated points throughout the ride and at the finish. They must be determined "fit to continue," which means their heart rate and respiration rate have to come down quickly. It takes a lot of preparation and a fit, athletic horse to pass all the vet checks and finish the race.
"I've ridden Morgans all my life, and their heart and natural athleticism make them excellent teammates," says Morgan. "Endurance is a discipline like no other. The long distances may seem daunting at first, but there is a lot of support between riders and the spirit of the sport is embodied in its slogan, 'To finish is to win.'"
"Once you figure [Morgans] out, they learn very quickly," adds Christopher. "Morgans were made to be tough and hardy. They go and go and go."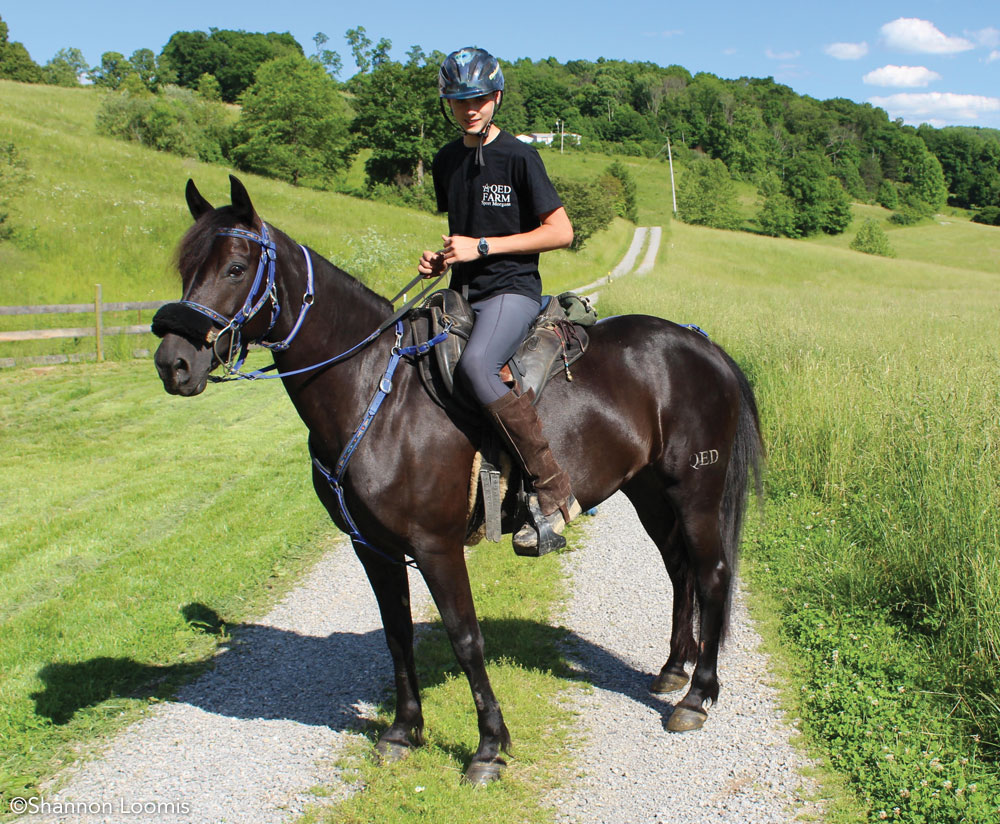 A Family Affair
Morgan horses and endurance riding are a family activity for the Loomises. Their mom, Shannon, got started in endurance riding as a 4-H club member when she was 12 and has been active in the sport ever since. It takes a team to be successful in endurance, especially the really long distances, so having family around is helpful.
"I haven't competed as much as my sister has," says Christopher. "But I crew for them at most of their rides and am very proud of how we are all able to work together to get everyone safely through a ride, especially the Shore to Shore, which is a very intense week of riding."
If tackling an endurance ride sounds like your dream come true, maybe a Morgan could be in your future!
"Just do it," Christopher says when asked what advice he has for riders who want to try endurance. "If you don't get started, you'll never finish. Finding a mentor can really help you get started in endurance. Morgans can sometimes take a little longer to get as fit as an Arabian, but with a Morgan, it's more likely something will go right than something will go wrong, no matter what sport you choose."
Morgan Facts
Size: Morgans generally range from 14.1 to 15.2 hands. They tend to be compact with a strong back and legs so they can safely carry riders of most sizes.
Color: Any color and white markings are allowed, but most are solid bay, chestnut, liver chestnut, or black.
Appearance: Morgans are known for having shapely, expressive faces with small ears and prominent eyes that give them an alert and friendly expression. They typically have high-set necks and long, thick manes and tails.
Use: Morgans compete in every show and sport discipline, including saddle seat, western, hunter/jumper, dressage, and reining. They excel at carriage driving and are sure-footed and dependable on trails.
Learn more at www.morganhorse.com