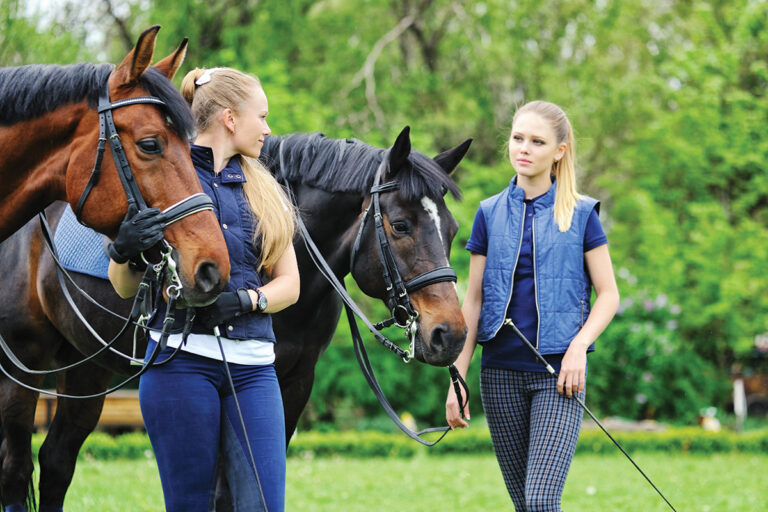 One of the best parts of riding horses is the friends we make at the barn. But what can you do if you start to feel pressured into jumping a jump that's too big, or going on a trail that's too steep before you and your horse feel ready? Peer pressure exists in all parts of life, even as an equestrian, so it's important to learn how to handle it.
Ashley Anderson, Ph.D., grew up riding horses with her friends, and she currently events and does dressage with her horse, Obi. She's learned both in her own riding and through her focus in clinical psychology that riding is way more fun when you go at your own pace and keep your own goals at the forefront of your mind instead of worrying about what everyone else is doing.
Ashley has six tips to help you "stay in your lane" to learn and grow as an equestrian at your own rate so that you can overcome peer pressure.
1. Positive Self-Talk
Pay attention to what you are saying to yourself inside your own head. Try to reframe any anxious thoughts into a more positive perspective. Instead of thinking, "My friends are all moving up a level, but I'm stuck here," try, "I'm still building my skills so I can move up safely when the time is right."
Every horse and every rider learns at their own pace, and it's better to take the time to solidify what you're learning so that you set yourself up for success when the time comes to advance.
2. Visualization
Imagine the outcome you want. Picture yourself riding a round 20-meter circle or walking calmly down the trail. Focus on how you want the ride to go. You can even try this when you aren't on your horse.
Take a moment before tacking up to picture how you want your ride to go or imagine yourself wandering happily down the trails or cantering around your course while sitting on the school bus or before you fall asleep.
3. Setting Goals
Thinking about what you want to happen—rather than what you don't want to happen—will move you closer to your goals. Instead of setting a goal of "I don't want anyone to laugh at me," frame your goal as "I want to focus on me and my horse."
It's normal to worry about other people watching you ride, but your main teammate is your horse. Therefore setting positive goals with him in mind instead of worrying what people around you might think will get you on the right track.
4. Take Deep Breaths
When in doubt, take a deep, slow breath. Not only will this calm the jitters by slowing down your heart rate, but it can also help ease the worries by slowing down any racing thoughts.
Take a moment before picking up the trot or starting your jump course and remember to breathe. It's worth taking the extra few seconds to slow down and take a breath to make your next move the best it can be.
Don't worry if people are watching you take a pause—you're focusing on you and your horse and taking a moment to re-center, and that matters most!
5. Stay in the Moment
Anxiety is future-focused. When you notice those "what if?" worries, bring your attention to the present.
Think about one thing at a time. Patting your horse, taking a deep breath, repeating a mantra, or practicing visualization can help keep you grounded and focused. Don't worry about the people watching you practice—just stay present with your horse.
It's a lot easier said than done, but you can practice this when you're riding alone so that you'll be able to stay focused when the pressure is on with your friends around or at a show. Worrying about picking up the wrong lead in your canter? Take a pause, refocus on creating a good steady and balanced trot, and then give it a go. Who cares if people are watching?
Staying in the moment instead of rushing into what is next will give you a much better shot of getting things right. And if you don't get it right? It simply means that you have a second chance to try again.
6. Smile!
Like taking a deep breath, smiling tells the body to relax. Think about something funny or how much you love your horse. It's hard to laugh and be tense.
Remember, you're riding for YOU to have fun, not for anyone else! Smiling will help you remember that, and in turn remind your horse that you are here to have fun. This will lead to both of you relaxing and doing your best for yourselves, which will lead to more smiles.
Thinking about these helpful tips will help you and your horse stay focused on what matters—your own goals—and less about everyone else's opinions of where you are in your riding journey.
The sport would be boring if we were all perfect riders from day one, so enjoy the process of learning, and stay focused on your own path.
This article about overcoming peer pressure as an equestrian appeared in the September/October 2022 issue of Young Rider magazine. Click here to subscribe!