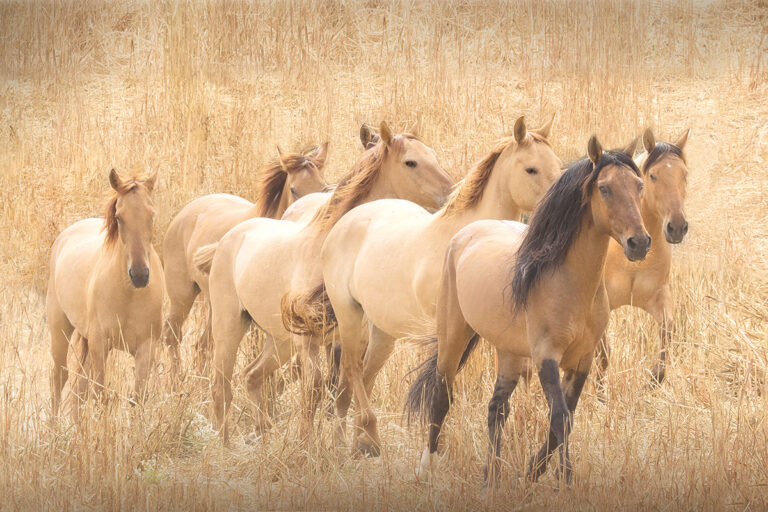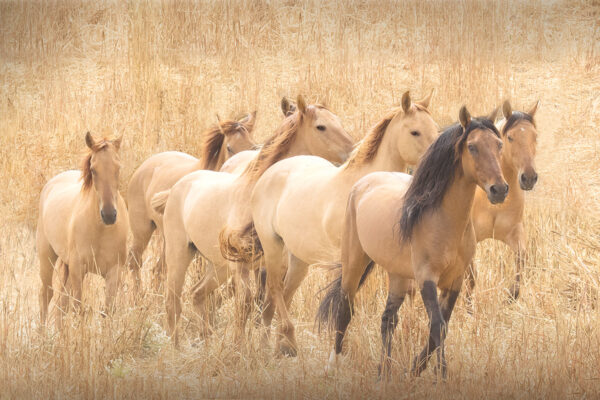 On the central coast of California, a special sanctuary for wild horses is nestled among the rolling hills and native oak trees. It's a place where both horses and burros find refuge, where the grass grows high in the pastures in spring and the sun shines warmly nearly all year-round.
This place is called Return to Freedom's American Wild Horse Sanctuary, and it's a sanctuary for horses and burros who once lived wild on the range. It's also a place where rare breeds of Colonial Spanish Horses are being preserved and promoted.
The Return to Freedom headquarters sanctuary is located in the community of Lompoc, just 150 miles from Los Angeles. The organization also has a satellite sanctuary in nearby San Luis Obispo as well as a third location in Northern California. Altogether, Return to Freedom cares for more than 450 wild horses and burros at its three locations.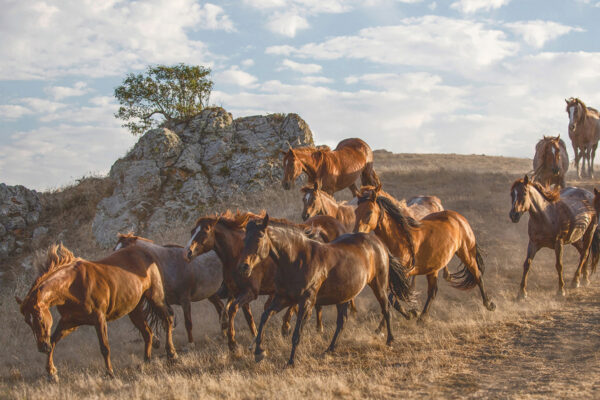 Saving Wild Ones
Each year, the Bureau of Land Management (BLM)—the government agency responsible for managing wild horses and burros on our public lands—rounds up thousands of wild equines and places them in holding pens for adoption. Not all of the captured horses and burros are able to find homes, leaving them stranded for years in government corrals.
Even as Return to Freedom works to change how wild horses and burros are managed to keep them free on the range, the sanctuary is able to provide a home for some horses and burros in need, including many horses that have endured difficult challenges.
One such story is that of the Calico herd. In 2010, almost 2,000 wild horses were chased down with helicopters and captured by the BLM in the Calico Mountain Complex in Nevada. During the roundup and immediately afterward, nearly 140 horses died. Return to Freedom took in 20 stallions and 74 mares who survived the roundup and gave them a place to live out the rest of their lives, reuniting some of the bonded families that were separated during capture.
As often as it can, Return to Freedom steps in to help wild horses stay with their family bands and herd groups. Being separated from the horses they've been with for their entire lives is traumatic, and keeping families of wild horses together is an important goal of the sanctuary.
In the year 2000, Return to Freedom collaborated with the U.S. Fish & Wildlife Service to show that wild horses from the Sheldon National Wildlife Refuge in Nevada could be relocated together to the sanctuary. The horses are descendants of draft horses that worked to develop ranchos in Nevada's Great Basin, as well as cavalry horses raised in that region during the 1920s and 1930s.
By adopting the entire herd that the Fish & Wildlife Service planned to remove from their home range, Return to Freedom allowed these horses to stay in their natural family bands, and live semi-wild, as closely as possible to the way they had for their entire lives.
In 2021, with the help of photographers who could identify individual horses, Return to Freedom was able to find nearly every member of two wild horse families separated during a 2020 roundup in Wyoming. All 19 horses are now together and safe at Return to Freedom's sanctuary.
The Sanctuary's Most Famous Wild Horse: Spirit
The most famous resident of the Return to Freedom sanctuary is Spirit, the Kiger Mustang stallion who was the artists' muse and model for the 2002 DreamWorks animated feature film Spirit: Stallion of the Cimmaron. The story by screenwriter John Fusco is about a wild Mustang and features both hand-drawn and state-of-the-art computer animation. The original movie inspired the Neflix series Spirit: Riding Free and the movie Spirit: Untamed.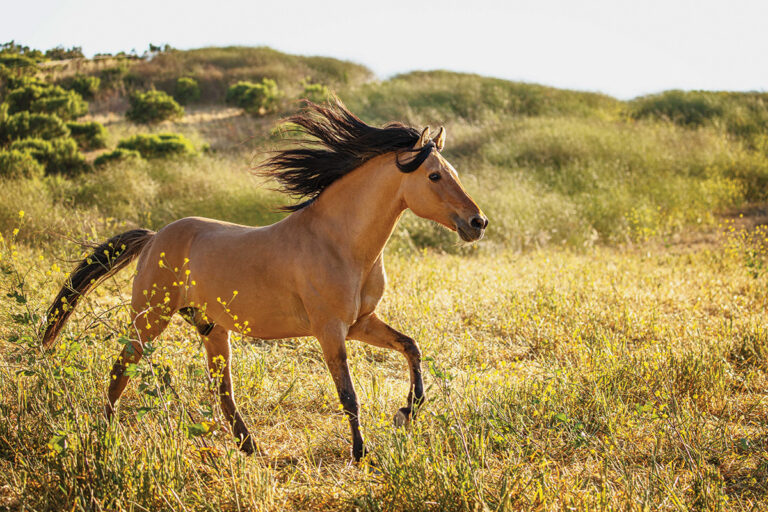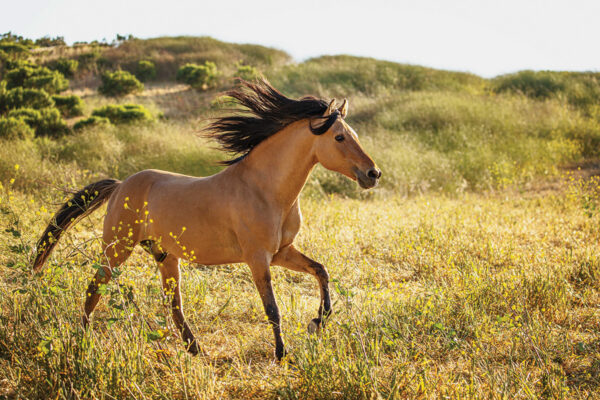 After the movie production was finished, DreamWorks selected Return to Freedom's sanctuary to be Spirit's home. Now 28 years young, Spirit has lived at the sanctuary for 20 years, and spends his days exploring large pastures at the sanctuary. He stays close to fellow Mustangs Isadora-Cruce and her sister Ines-Cruce, and loves meeting new friends.
Spirit was named to the Horse Stars Hall of Fame for his significant role in educating people about America's Mustangs and burros.
Education, Preservation
Along with providing a home for wild horses and burros, Return to Freedom also helps educate the public about the origins of the horse in North America and America's wild horses and the issues affecting them. Return to Freedom has used fertility control programs in its herds to help demonstrate how this method—not roundups—is the best and most humane way to manage the numbers of wild horses on the range.
By teaching people about this and other methods of minimally intrusive wild horse and burro management, the sanctuary hopes to provide alternatives to the current practice of roundups, capture and holding corrals.
While most of the wild horses currently occupying public lands are of mixed breeding, several unique strains of Colonial Spanish Horses developed in the wild over previous centuries. Descended from horses brought to the Americas by the Spaniards in the 1500s, many of these special Mustangs were gathered up from remote parts of the West and are part of private conservation efforts by people hoping to preserve these rare bloodlines. Return to Freedom is home to some of these horses, including members of the Cerbat, Choctaw, Sulphur and Wilbur-Cruce Mission strains.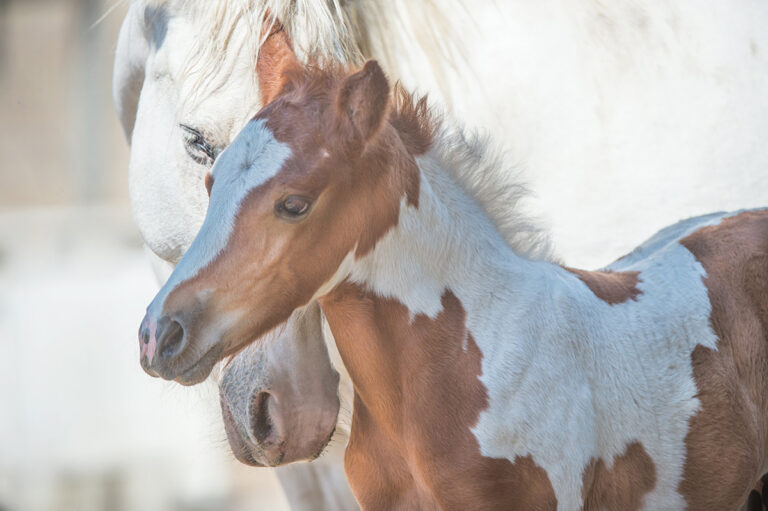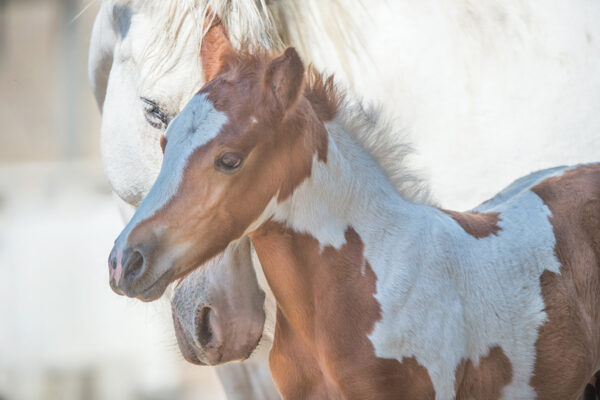 Return to Freedom welcomes visitors by appointment, and provides educational opportunities such as herd observation, living history tours and wild horse photo safaris. For more information, visit returntofreedom.org/visit.
This article about appeared in the September/October 2022 issue of Young Rider magazine. Click here to subscribe!