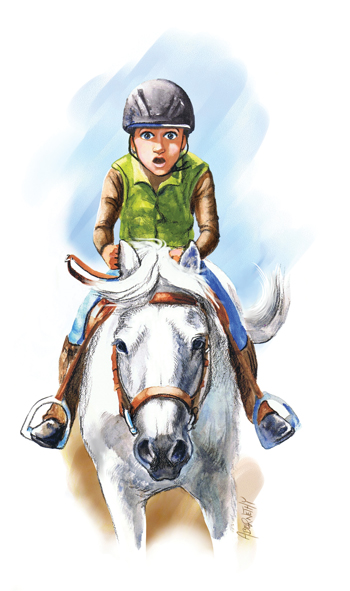 In this short story, a young rider discovers what she is afraid of and then conquers her fear.
Ava smiled as her pony, Fine Diamond ("Didi"), jumped in flawless form out of a tricky five-stride line. Ava guided Didi around the corner and got a smooth lead change at exactly the right spot. The young rider was elated as she conquered the line without any fear or trepidation.
Gosh, I hope Mom is videoing this, Ava thought to herself as she rounded out the corner and focused in on the long approach to an oxer on the diagonal. Didi held her perfect pace. They were 12 strides away.
Wow, that looks a little bit bigger than the rest of the jumps. Ava nervously shortened her reins half an inch as the oxer loomed 10 strides away.
A lot bigger than the rest of the jumps! She shortened the reins again and Didi's ears flicked back, confused at the new command just five strides from the jump.
Way too biggg! Ava pulled hard, but Didi was right at the base of the jump. The pony knew she was not supposed to stop, and did her best to leap over the oxer from nearly a standstill as Ava became unseated and tumbled through the air.
She thudded to the dirt as Didi landed on the other side and stopped beside her owner. Ava's eyes began welling up with tears; she wasn't hurt, but was completely embarrassed. Her trainer, Miss Kim, calmly made her way over and began asking Ava if she could feel her fingers, toes, and if she knew what day it was.
After the Fall
Ava composed herself, reassuring Miss Kim that she was not hurt and felt fine as she blinked back her tears.
How stupid can I be?! Ava screamed to herself in her head. The course was going perfectly! She gathered up Didi's reins and patted her faithful pony.
"Let's get you back on and try that again," Miss Kim instructed, legging her back up into the saddle.
"Go ahead and take a circle to get your canter, then let's head back to the diagonal oxer," she said, and Ava squeezed Didi forward. She got her back into the correct rhythm and once again made her way to the oxer. As she turned the corner, however, the fear started creeping back in. Ava turned away and asked Didi to make a circle.
"Come on, Ava! Keep that same pace, eyes up—you got this!" Miss Kim urged her on, but discreetly lowered the oxer. Ava took a deep breath as she once again came around and her anxiety lessened as she realized Miss Kim had dropped the height. This time she kept her pace, and she and Didi jumped over the oxer beautifully.
"That's it! Good girl, let her walk," Miss Kim praised her, knowing to end the lesson on a high note. Ava slowed Didi to a walk and gave the little gray pony a big pat.
Ava was still beating herself up as she retreated back to the barn.
"Oh Didi, what if we can never get over that oxer?" She whispered to her pony as she ran a curry comb across her shiny dapples.
Ava wanted so badly to move up to the medium pony hunter division that summer with Didi. She knew Didi would be able to tackle the harder division with ease, but after today's spill, she was losing confidence in herself.
"At least I know you will always be perfect." Ava kissed Didi's nose and offered the pony a peppermint before leading her back to her stall.
Jealousy & Doubt Creep In
The next day, after a sleepless night of worrying about the oxer, Ava returned to the barn. She was just supposed to hack Didi after the big jumping lesson yesterday, but she wanted to watch her biggest rival Kacie's lesson. Kacie and her pony, Splash, were also aiming to move up to the medium pony hunter division that summer.
Ava slipped into the viewing room after a smooth and easy hack on Didi. Kacie had just begun jumping in her lesson. Ava watched politely as Kacie and her pony glided over their warm up fences and then settled down for their walk break as Miss Kim began adjusting their course.
Ava slid toward the edge of her stool as Miss Kim headed to the oxer. She propped up the back rail and raised the jump two holes. It was now set exactly as it had been yesterday.
"So the course is as follows…" Ava listened as Miss Kim directed the same course as she had yesterday. She saw Kacie nod, gather up her reins, and then ask her chestnut pony to step forward into a canter.
Kacie's first quarter line jump was nice. Miss Kim mentioned it was a little bit under pace, so Kacie stepped it up as she headed down the tricky outside line that Ava had mastered yesterday. Ava swallowed as she watched Kacie come around the long approach to the diagonal oxer. Twelve strides away, Kacie held a great pace.
Five, four, three, two, one...Ava counted the strides down in her head as Kacie and Splash rocked back and flew over the jump.
"Beautiful!" Miss Kim called out. Ava buried her head in her hands with a groan, jealousy creeping in.
What if I never make it over that stupid oxer? Ava left the viewing room with a sigh. She went in to Didi's stall to cuddle her pony until she received a text from her mom saying it was time to go.
Try Again
Ava wasn't able to go to the stables for the next two days because she had a big math test that took up much of her time, but on Saturday she returned for another jumping lesson. Ava rider felt extra jittery as she tacked up Didi, feeling the anxiety over the oxer creeping back in. The young rider knew confidence conquers fear.
"How did that test go?" Miss Kim called to her with a smile as Ava led Didi into the ring.
"I think I got an A!" Ava exclaimed back excitedly.
"That's my girl!" Miss Kim smiled back proudly, and Ava mounted up. Despite Ava's anxiety, she had a lovely flat portion of her lesson and Miss Kim was satisfied enough to begin having her jump.
"You're going to warm up over this cross-rail a couple times, remembering three key things: rhythm, pace and track," Miss Kim instructed.
Ava picked up her canter, made a circle to try get those three key things, and then headed to the cross-rail. She cantered over it comfortably twice each way, and Miss Kim called for her to walk.
"Do you remember the course from the other day?" Miss Kim asked. Ava nodded, feeling the familiar pit of worry in her stomach.
"OK, let's see it! Remember rhythm, pace, and track to EVERY fence!"
Ava trotted a neat circle and then asked Didi to canter. Her first jump was fine. She was still distracted by thoughts of the diagonal oxer, however. She barely made it down the tricky five-stride line with Didi stretching to her limit to make it out of the line. Ava tried to regroup herself in the corner, but she was consumed by nerves as she headed down to the oxer.
Would she be a young rider who conquers her fear?
I can't do it. Ava circled away and pulled Didi down to a walk.
"Miss Kim, I don't think I can jump that high," Ava admitted, a little choked up. Miss Kim remained her usual calm self as she cleared her throat.
"Ava, if I didn't think you could jump that high, I wouldn't have asked you to. You and Didi are ready for that height, just like you will be ready for the pony hunters this summer. You just need to believe in yourself, your pony, and your rhythm, pace and track!" Miss Kim encouraged.
Ava trusted Miss Kim more than anyone else in the world, and she realized Miss Kim was right. She wouldn't ask Ava and Didi to do anything they weren't ready to do. Ava really just needed to have faith in herself. She and Didi were ready for that oxer, just like they'd be ready to move up to the bigger division come summertime.
"Go ahead and start from the beginning," Miss Kim called out.
Ava asked Didi to canter with brand new determination. She could do this! Together, they found the perfect distance to the first jump and floated down the five-stride line easily. Ava asked Didi for a lead change in the corner and she responded instantly.
It was time for the long approach diagonal oxer. Didi's ears pricked forward as they set their sights on it and Ava pushed her heels down and focused on her rhythm.
Ten strides out…
Six strides…
Three strides….
ONE! Ava and Didi soared over the oxer, and Ava's face exploded into a huge grin.
"We did it!" Ava exclaimed to Didi. "We nailed that no good, very bad oxer!"
Miss Kim was calling her praise as Ava brought Didi down to a walk, smiling away. She realized that with her perfect pony, rhythm, pace and track—and most importantly, self-confidence—there was nothing she and Didi couldn't do, oxers included!
This short story about a young rider who conquers her fear originally appeared in the March/April 2019 issue of Young Rider magazine. Click here to subscribe!