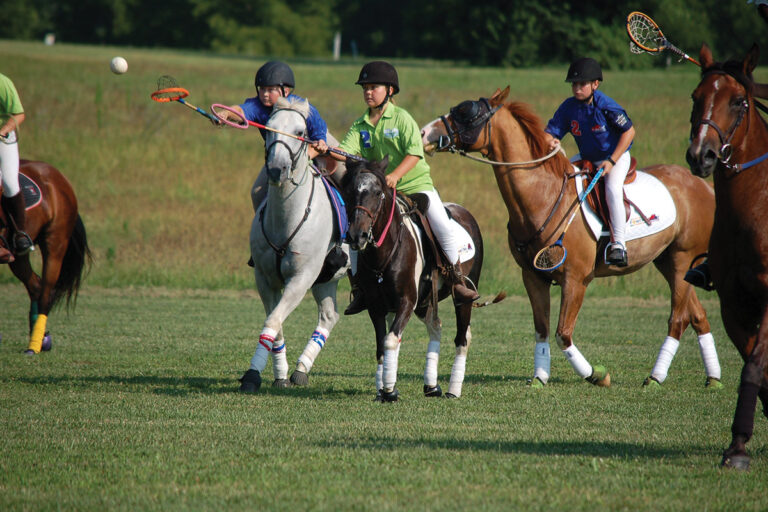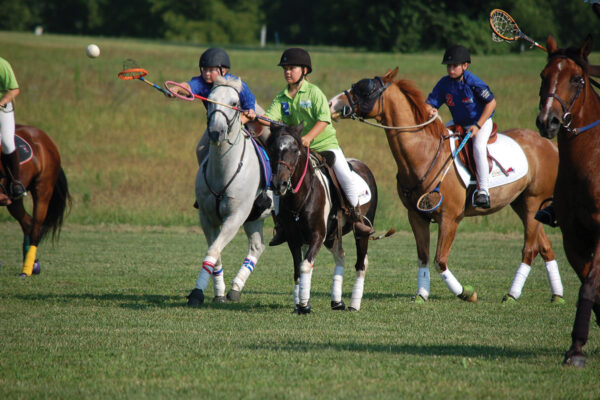 The horses thunder across the smooth grass field, leg wraps flashing. Six riders in bright jerseys expertly wheel and maneuver their mounts as they try to gain possession of the ball, their long-handled rackets and nets raised, ready and reaching. In the blink of an eye, one rider scoops the ball up and breaks away from the pack, heading down the field toward the goal posts. Polocrosse is a mounted sport that combines the excitement and fast pace of polo with the skill of lacrosse. The sport of polocrosse developed in Australia and is now played worldwide.
The American Polocrosse Association (APA) is the official polocrosse organization in North America, with 44 local clubs. Polocrosse is also a competitive discipline played in the United States Pony Clubs (USPC) and Pony Clubs around the world.
"All ages and abilities can play," says Jennifer Carpenter, APA membership development chairperson and certified coach. "New riders that can hold a racket and steer a pony independently in the arena can play. You don't need a team to get in the game."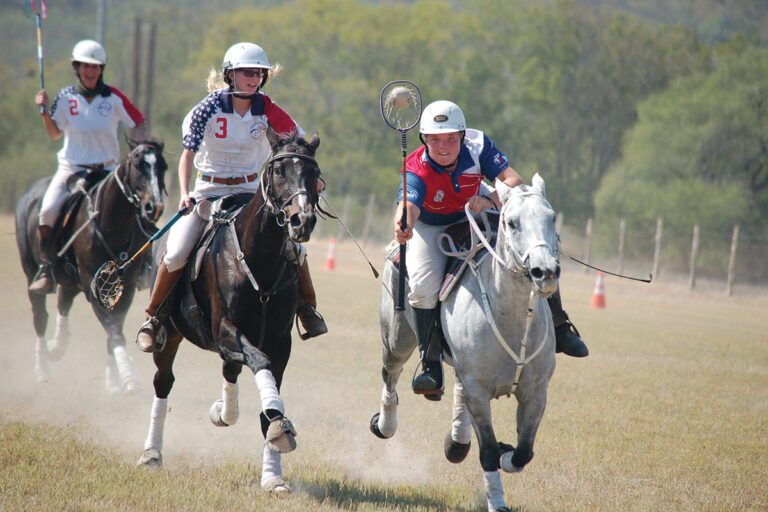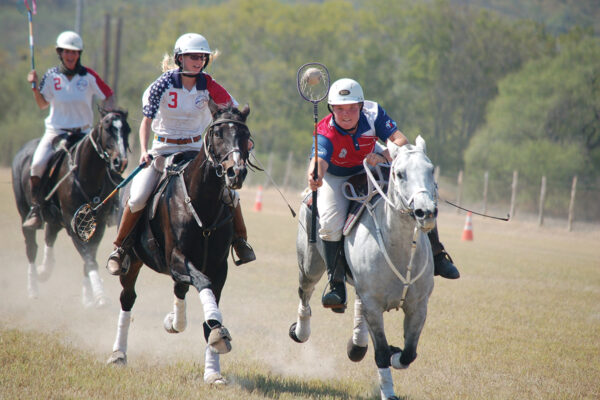 Jennifer and her kids were introduced to polocrosse through Pony Club and have played ever since. Many families play polocrosse together! Now Jennifer loves to introduce more people to the sport and teaches lessons through the Heartland Polocrosse Club. Brother and sister duos Mena & Hugo and Alex & Margarita are all having a great time learning to play with the Heartland Polocrosse Club.
"I like that it's a game on horseback played with other riders," says 7-year-old Margarita. Mena, age 8, agrees and loves playing in games, as does 12-year-old Alex.
"My favorite part about polocrosse is definitely the excitement of the game and the pressure every time you pass, catch or pick up the ball," he says.
Being part of a team is a big part of the fun in polocrosse.
"What I like best about polocrosse is the feeling you get when you take off down the field with the ball and have to either avoid the other team, or are looking for your teammate," says Hugo, 11. "In jumping or eventing, you don't have the same feeling."
How to Play
Polocrosse is played on a grass or dirt field 160 yards long and 60 yards wide. Using a long, flexible racket with a net, riders pick up, pass, catch, carry and throw the ball. Teams score by throwing the ball through the opposing team's goal posts.
The game consists of 6- or 8-minute periods (like polo, they're called "chukkers"), with matches of two or three chukkers. The chukker begins with the riders lined up head to tail in the middle of the field. The ball is thrown in, and riders all go after it.
Teams have three players on the field, and each player has a specific role and places they can be. Player No. 1 plays offense and attempts to score goals from inside a 30-yard area, throwing the ball from outside an 11-yard semicircle in front of the goal. No. 2 plays both offense and defense in the middle of the field to get possession of the ball and pass it to the No. 1 to score a goal. The No. 3 player's main job is defense and to protect their goal.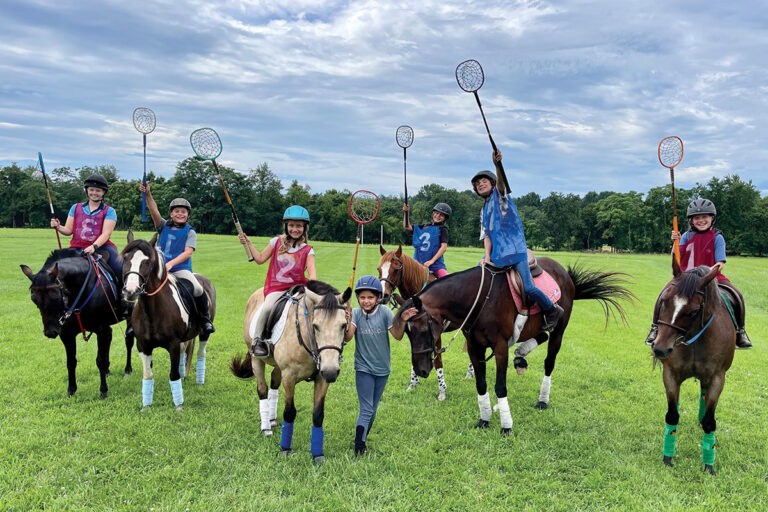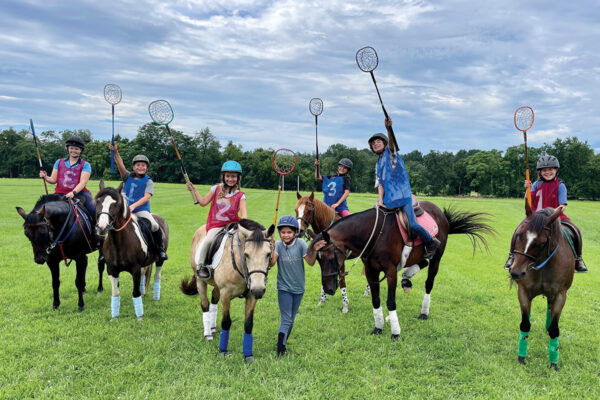 "I like to play the No. 2 position because I like being supportive," says Mena.
"I'm well-rounded when playing positions, but I really like playing the No. 1 position," says Hugo. "I like the feeling of scoring a goal after a hard battle with the No. 3, especially when he or she is older than you!"
Only the No. 1 can score, and only the No. 3 can defend in the 30-yard area in front of the goal. So only those two positions can enter the goal-scoring area. In the midfield, everyone can play, and everyone can try to gain possession.
"You're trying to get the ball to your No. 1 so they can get it into the area to score," explains Jennifer.
Polocrosse Rules
Here a few rules to note when playing polocrosse:
◆ The ball can't be carried into the goal scoring area; the No. 1 has to receive a pass from another player in the midfield, or they can also pass it to themselves by bouncing it on the ground and catching it.
◆ You cannot switch racket hands during the game. You also cannot cross the racket over the centerline of the horse when you're holding the ball.
◆ It's perfectly legal to try to gain possession of the ball from another player by knocking the ball out of their racket, known as "giving wood." But you always have to strike upward; you can't strike downward.
◆ There are rules in place about safe riding: You can't cross the line of the ball or another player. If a group is riding down the field at speed, it would be dangerous to cross in front of them.
Equipment
Unlike polo, players need only one horse for polocrosse. Just about any breed, size or type of horse can play.
"Any horse or pony appropriate for the rider's size and ability that they can ride safely, with control in the open, can play polocrosse," says Jennifer. "At higher competitive levels, the Australian Stock Horse, off-the-track Thoroughbreds, and Quarter Horses trained to be handy, forward movers are commonly successful."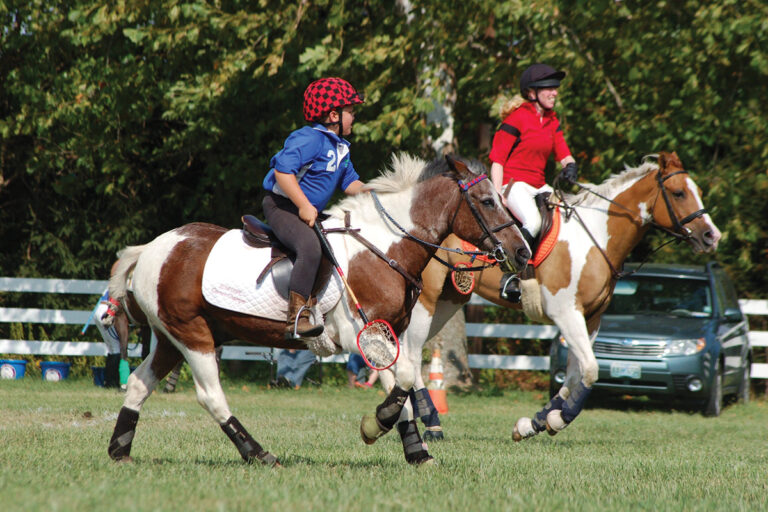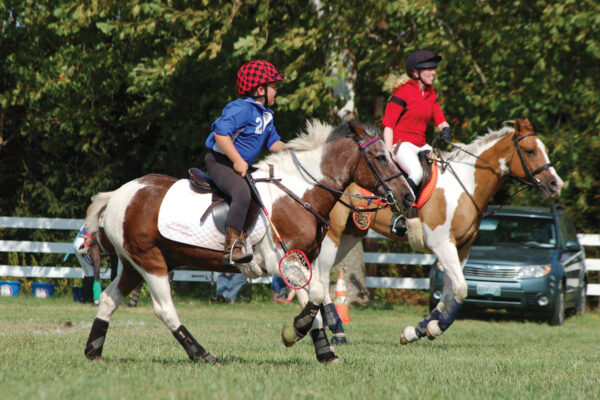 Australian stock saddles are popular for polocrosse, along with all-purpose English saddles. Any saddle without a horn is permitted. A breastplate is required equipment to help keep the saddle securely in place, and horses wear wraps and bell boots on all four legs for protection.
Riders need a helmet, boots and polocrosse racket to get started. In tournaments, players usually wear white pants or breeches with a numbered team jersey.
New Players
Learning to play polocrosse starts on the ground. You learn and practice racket-handling skills off the horse, and then on horseback in an enclosed arena.
"This includes how to hold the racket, picking up, tossing underhand, and catching the ball," Jennifer explains. "These skills are practiced and then incorporated into drill games to start." Once you gain confidence riding in the open, you can join club practices and play in tournaments. She says even beginning riders can play chukkers at a slower pace.
Building on basic skills, players also practice the bounce pass, goal shooting, and the 10-yard throw, which is used for penalties. There are lots of ways to break the game down into simple practice strategies, drills and games.
"It seems hard at the start, like picking up the ball off the ground, but with lots of practice it gets easier and more fun," says Margarita.
Benefits
Polocrosse teaches balanced, effective riding by focusing on playing the game and teamwork, explains Jennifer. Playing polocrosse is a fun way to improve your riding and build confidence. There's a purpose to your riding when you're going after the ball and maneuvering your horse to get where you need to go.
"I've had to learn how to really use both of my legs at different times and think about different things all at once," says Mena.
"Controlling your horse is an important part for clear reasons," says Alex. "For example, in the lineup, you need to get your horse straight and fast." A lot of lateral (sideways) movement is required, with good yielding to the rider's leg, as well as dressage-based moves like turns on the haunches. These keep the horse's weight on his hindquarters for correct movement and quick response.
Polocrosse also teaches a lot of horse care skills, like taking care of your horse's legs, managing between-chukker cooldowns, and proper fitness and conditioning to prepare for polocrosse season.
If you love team sports and horses, polocrosse could be the perfect sport for you.
To get started, visit americanpolocrosse.org to find a club near you. Attend a clinic or practice and learn how to get in the game. To learn more about polocrosse opportunities with the United States Pony Clubs, visit ponyclub.org.
This article about polocrosse appeared in the November/December 2022 issue of Young Rider magazine. Click here to subscribe!