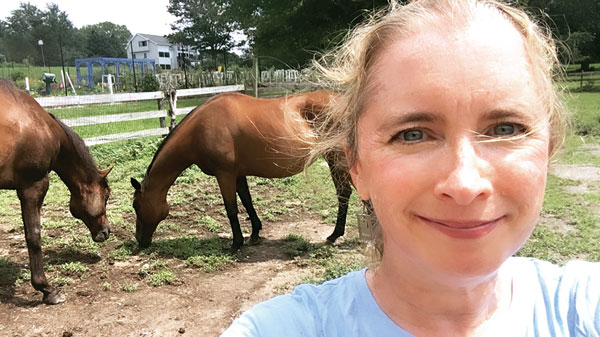 Horse fiction writer and lifelong horse lover Catherine Hapka has written many books including for the Horse Diaries and Pony Scouts series. If it feels like you can never get your hands on enough horse books, then you've probably already fallen in love with one or both of these awesome equine-themed series.
The Horse Diaries novels offer a unique spin on historical fiction. Each book is written from the perspective of the horse, and each one takes place in a different location and time period—perfect for horse-crazy readers! Catherine says the publisher first came up with the overall concept, but the authors had the exciting opportunity to develop their own ideas and details for each individual book. Several writers have contributed to the series, and Catherine is proud to be among them.
"I enjoyed researching and learning more about the different breeds and time periods featured in the various books and found all of them exciting in different ways," she says. "It was a lot of fun to write for such a wonderful series!"
Growing Up Horsey
Writing books for young readers is a dream come true for Catherine, especially when she gets to write about horses, since she grew up a horse-crazy kid herself. As an adult, she has three horses of her own.

Like many young horse lovers, Catherine didn't have her own horse as a kid. "I rode every chance I got growing up, which unfortunately wasn't much," she recalls. "I had to make do with occasional vacation trail rides or rides on friends' horses, and—once—a glorious two weeks of summer riding camp."
To make up for a lack of riding opportunities, Catherine read as much about horses as she could.
"Among my favorites were The Sweet Running Filly by Barbara Van Tuyl and Pat Johnson, and the Black Stallion series," she says.
As a young adult, Catherine started taking riding lessons and never looked back! When she isn't busy penning another book, she still squeezes in lessons whenever she can.
"I love trying all different types of horses (and ponies!) of many different breeds and mixes," she says.
However, she admits to having a soft spot for Appaloosas and drafts. But her all-time favorite breed is the Thoroughbred.
"All three of my current horses are Thoroughbreds," says Catherine. "One is a former racehorse, one is a 'failed' racehorse, and one is an ex-polo pony."
Inspiring Horses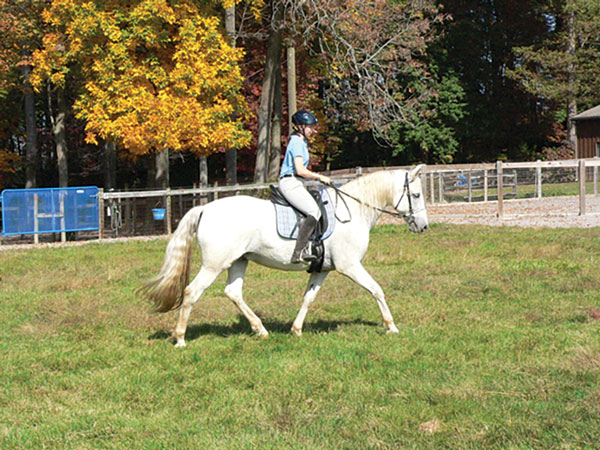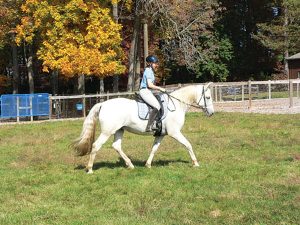 As a horse fiction writer, Catherine has been inspired by countless equine friends throughout her career. "I'm lucky to have had lots of special horses in my life," she says. "Each of them is inspiring to me in different ways—mostly good, and occasionally not so good!"
Like many equestrians, there is one extra-special horse she will always remember.
"If I had to choose just one (shh, don't tell the others!), it would be my dearly departed old Thoroughbred, Ben. He was one of a kind, and I still miss him. He was a true gentleman who helped teach me to ride, and I was honored to own him for the last few years of his long, varied life." Ben lived to age 31!
When Catherine isn't enjoying a ride with one of her equine buddies, she loves the variety of being an author. "I've written a lot of books about horses, but I've also written about many other topics," she says. Catherine has written about friendship, dogs and cats, starting school, high school romance, outer space, American history, mysteries, Disney princesses, and even tween zombies!
"Young readers are fun to write for, because they're so enthusiastic and open-minded about the books they read," she explains.
How to Get Started
What steps should Young Rider readers take who dream of someday being a horse fiction writer? Catherine says there is one important thing any aspiring writer can do.
"READ! Reading this magazine is a good start," she notes. "But don't stop there. Read as much as you can. Read books about horses and ponies, read anything else that interests you, read stuff you're not sure you'll like, and stuff you know you'll love."
Honing your craft by writing is important, too. "It doesn't hurt to develop the habit of writing regularly, whether it's by creating stories to share with your friends, keeping a journal, or just doing your best on every writing assignment at school," she says. "Reading what other people have written, if you do it enough, will teach you more than anything else possibly can about how to write."
Now who's ready for another creative, adventure-filled Horse Diaries book?
This article about horse fiction writer Catherine Hapka appeared in the Winter 2021 issue of Young Rider magazine. Click here to subscribe!