There are all sorts of training aids designed to help keep a horse's head in place. Most of them are not permitted in the show ring. The main exception is the martingale. Here's a look at the two most popular styles, and tips on using a martingale correctly.
Standing Martingale
Hunter classes are based on the history of foxhunting, where standing martingales were a safety item. As a horse galloped across uneven hunt fields, he might toss his head. Using this piece of tack kept the rider from being accidentally smacked in the face. Standing martingales remain popular on today's show hunters.
If you use a standing martingale, it must fit properly. Stand your horse in a natural position so he's holding his head about how it looks when he's working. With your left hand, hold the end of the standing martingale strap to your horse's noseband. With your right hand, lift the strap toward your horse's throatlatch so it makes an upside down "V." There should be about 4 inches between the point of the "V" and your horse's throatlatch.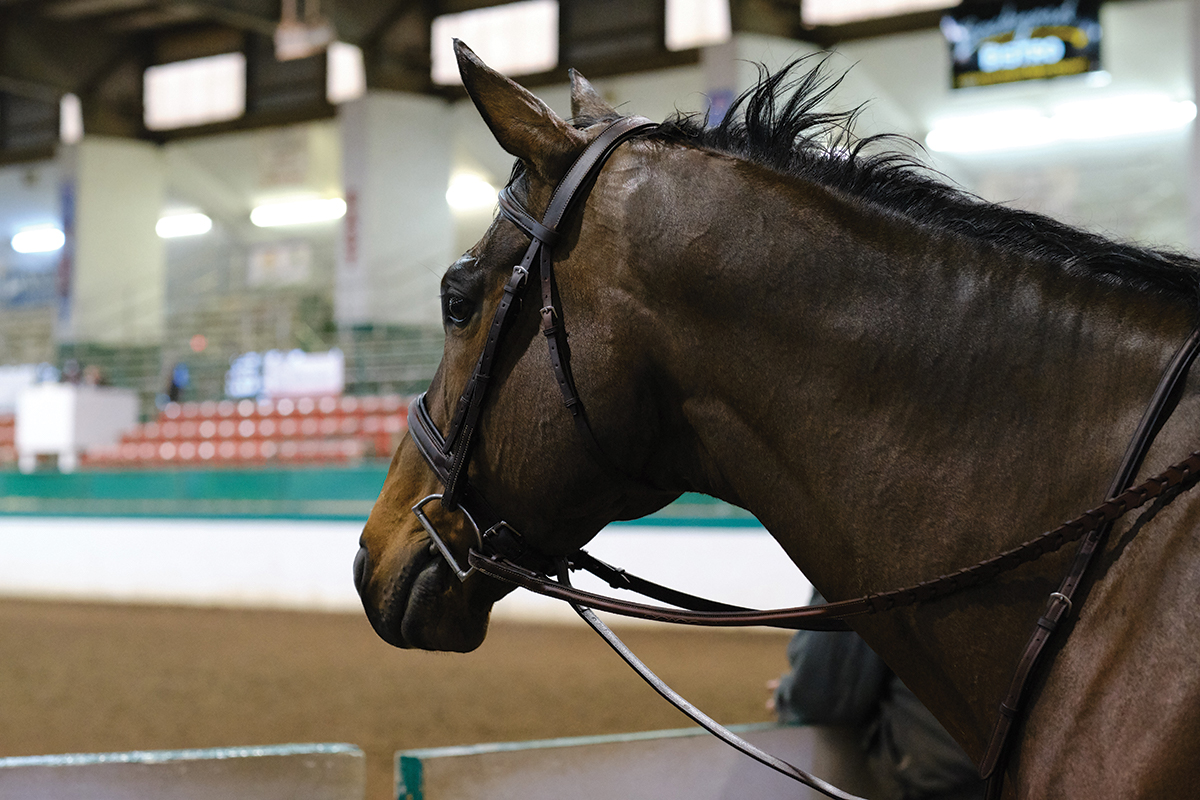 A standing martingale that's too long is useless. If it's too short, your horse's head will be pulled down constantly, and that can ruin his jumping style. He could also develop the bad habit of leaning on the martingale for balance.
Once you're sure of the length, slide the loop onto the noseband. The standing martingale applies pressure to the noseband when your horse raises his head beyond the reach of the strap. To escape the pressure, your horse must drop his head. Over time, your horse should learn to keep his head low enough to avoid being bumped by the martingale.
Running Martingale
While standing martingales are primarily found on hunters, running martingales are used on horses that compete in jumpers and eventing. The design of this style allows the horse more freedom to jump large obstacles.
Instead of a single strap, a running martingale splits into two straps, with a metal ring at each end. The reins pass through these rings, and the horse doesn't feel their effect as long as he keeps his head in a natural position.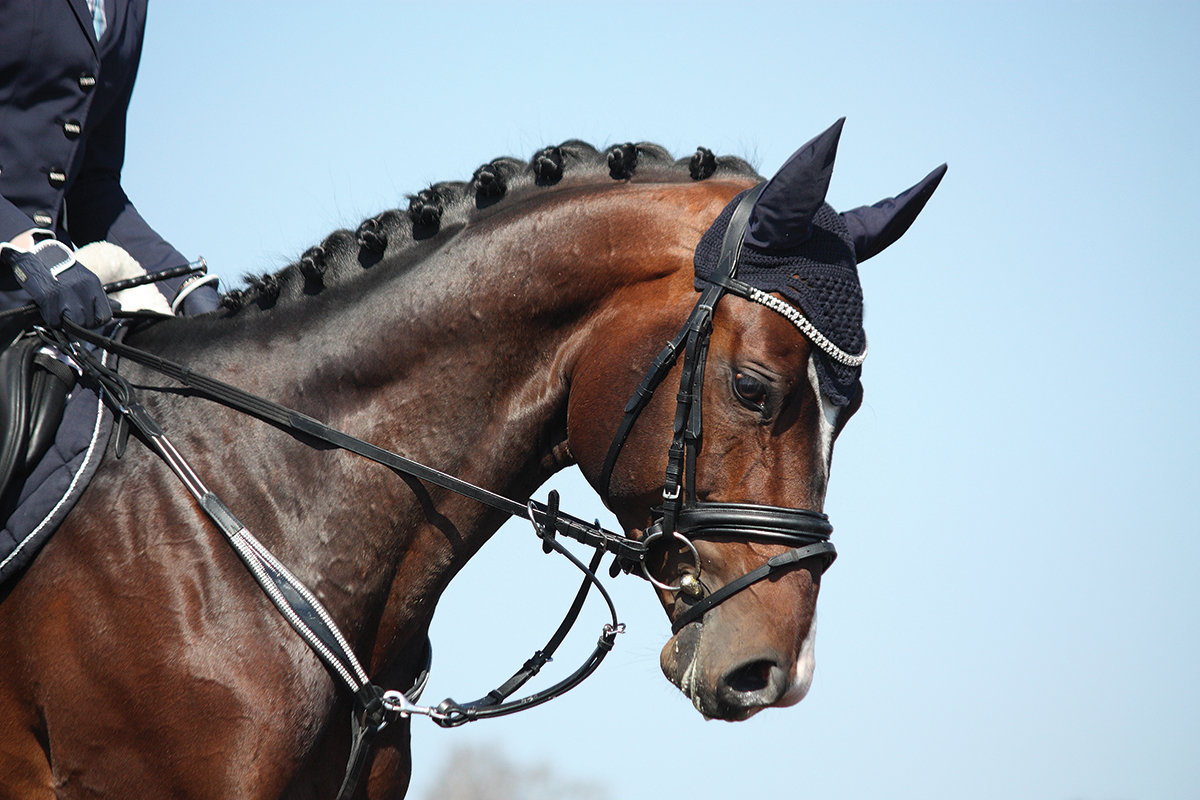 Be sure your running martingale is adjusted correctly. Bridle your horse in a snaffle (running martingales shouldn't be used on curb or leverage bits) and have him stand in a comfortable position. Adjust the running martingale so that when you lift the rings upward, they're about even with your horse's withers. Then unbuckle your reins and slide them through the ring on either side of your horse's neck. Re-buckle them and mount. Test the length again. Pick up your reins and hold your hands so there's a straight line from the bit through the reins to your elbow. If the rings create an upside down "V," then the martingale is too short. Yet if your horse can flip his nose and raise his head enough to escape contact with the bit, it's too long.
The running martingale applies pressure on the reins when your horse raises his head above the reach of the rings. He feels this pressure on the bars of his mouth (that's his lower jaw where the bit sits). Your horse must bend at the poll, bring his nose in toward his chest, and lower his head to relieve this pressure.
Running martingales require rein stops to keep the rings from sliding down your reins and getting stuck next to the bit, which could make your horse panic from the intense pressure. Many reins come with stops already installed. If your reins don't have stops, they are easy to add to any bridle. Simply unbuckle your reins and slide them on. They should sit about 4 to 6 inches from your bit.
Rubber Donuts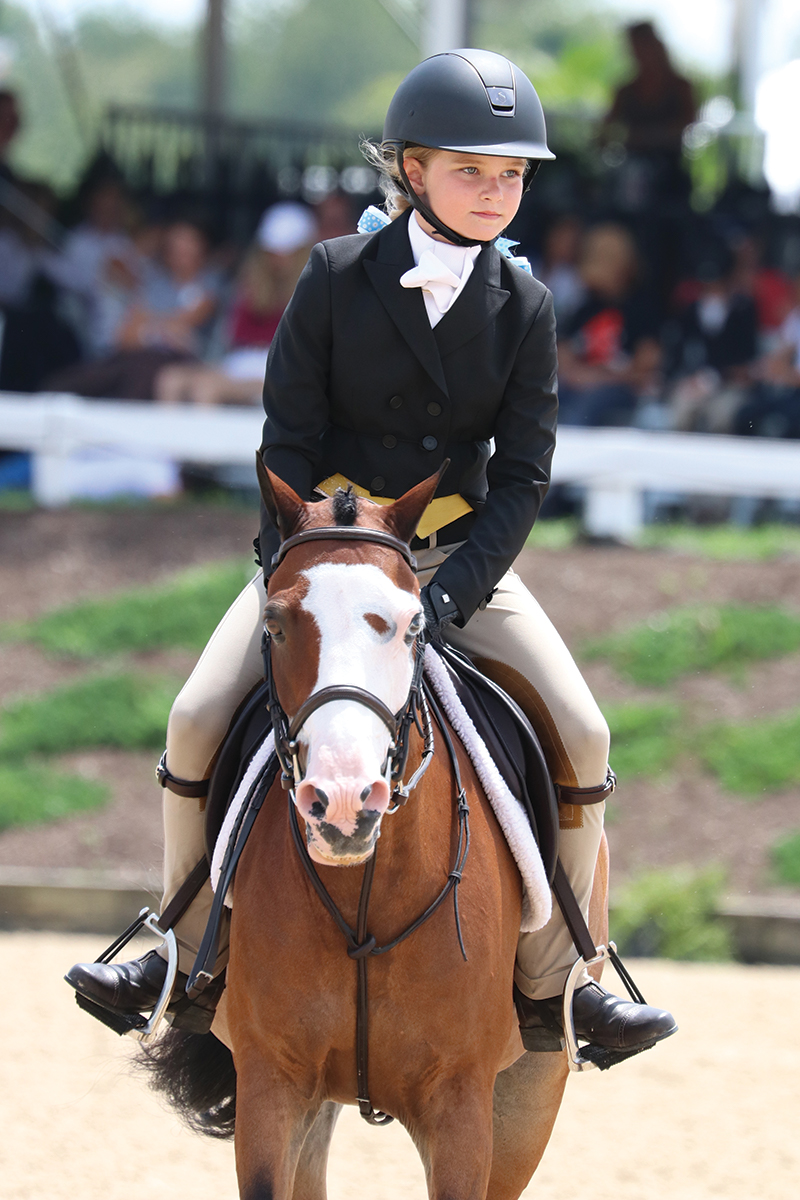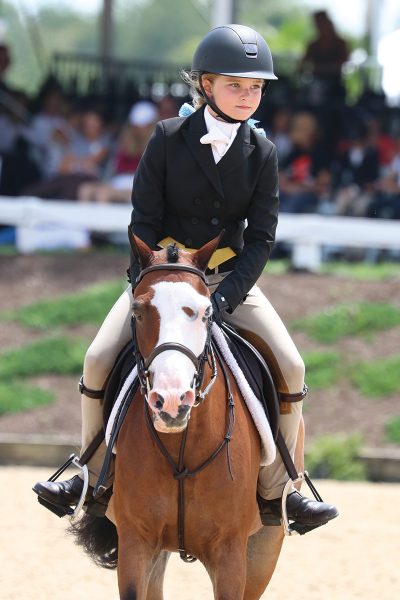 Both standing and running martingales need a rubber stopper (unless they are a clip-on attachment to a breastplate ring). It looks like a little oval donut. The stopper keeps the martingale from sliding through the neck strap and dangling between your horse's front legs.
Slide the donut on to the strap until it sits above the opening in the neck strap. Some riders like to go a step further. They also slip one side of the neck strap through the donut. That takes some effort. A clean hoof pick can help to pull it through. When finished, the donut lays diagonally across the center of the neck strap.
Things to Remember
Introduce your horse to this new piece of tack slowly. Start with it looser than ideal and give your horse time to figure out how to respond to the new pressure. Then you can tighten it to the proper length.
Know the rules. For example, martingales cannot be used in flat classes. You'll need to remove it after your jumping round. Another option is to use a breastplate with a martingale attachment that snaps on and off.
Remember that a martingale won't magically train your horse. A martingale is only a gentle reminder of what you've already taught your horse.
This article originally appeared in the Spring 2021 issue of Young Rider magazine. Click here to subscribe!