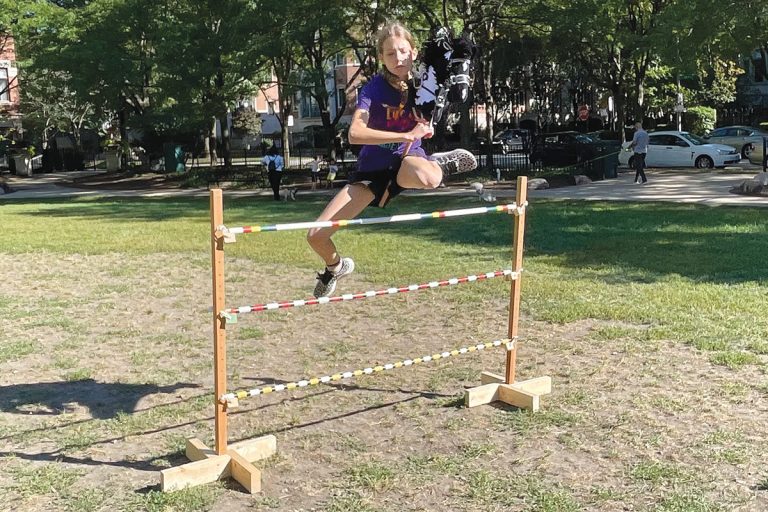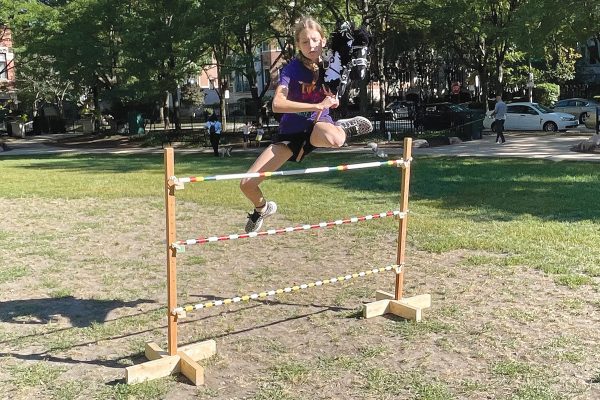 My name is Mica and I'm a 15-year-old from Chicago, Ill. I love horses and take riding lessons twice a week. Unfortunately, living in the city makes it hard to own a horse because of the long commute to the barn. Fortunately, I discovered hobby horsing!
What Is Hobby Horsing?
A hobby horse is a more sophisticated version of the stick horse toy made for children. It is a stuffed horse head made of fabric, yarn, and cotton stuffing. They differ from stick horses because they're always handmade. For me, the hobby horse sport means community, both in-person and on social media platforms. I feel that hobby horsing brings people together because of creativity and, of course, a love for horses!
The hobby horse sport originated in Finland, where kids and teens compete with their hobby horses in a variety of disciplines. Hobby horsing is slowly starting to make its way into the U.S., and I try to find ways to get kids and teens excited about riding. I sometimes will bring a demonstration hobby horse to the park and teach kids how to ride it!
Even though the most common competition disciplines on a hobby horse are dressage and show jumping, hobby horsing can be anything you make it. I focus a lot on show jumping and hunter jumping, but I also practice in dressage, cross-country, western riding, and trail riding with my hobby horses.
How I Got Started
A couple years ago, my mom told me about the teens that ride stick horses in Finland, but it wasn't until I saw girls riding hobby horses that I really took this to heart. I was so enamored by the beautiful artistry of their hobby horses and the graceful way they were riding that I immediately wanted to make my own.
I had done some sewing in the past, but nothing as complicated as making a hobby horse—the 3D shape of the horse head was very challenging. After studying the elements of the hobby horse, I created my first one. It looked alright, but was much too big—I wasn't satisfied. I took what I learned from my first attempt and continued to sew more and more until the house was filling up with these handmade horse creations!
The Stable
Some of my favorite hobby horses include my American Paint Horse stallion, FH Tangerine ("Tango"); FH Voittaja ("Wynn"), a liver chestnut mare; a beautiful dapple gray Dutch Warmblood named FH Supernova ("Nova"); and my newest hobby horse, a Friesian/Paint cross named FH Finnegan ("Fin").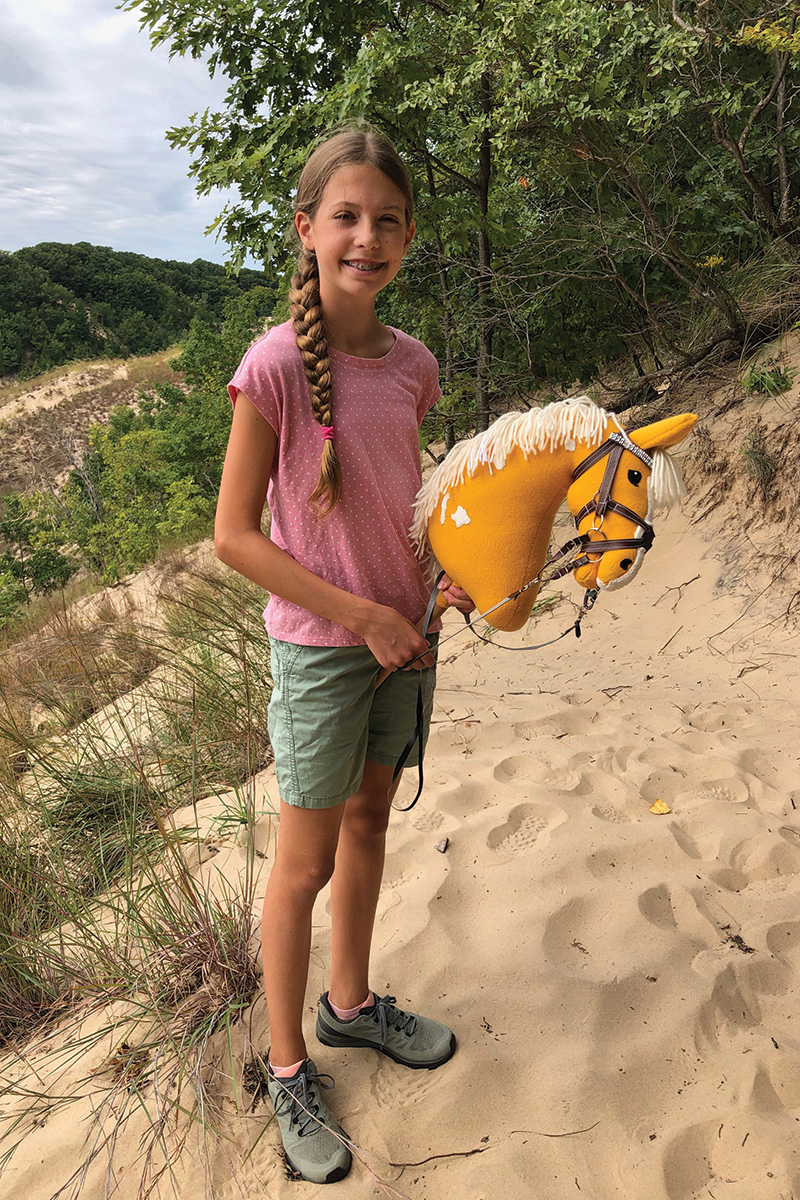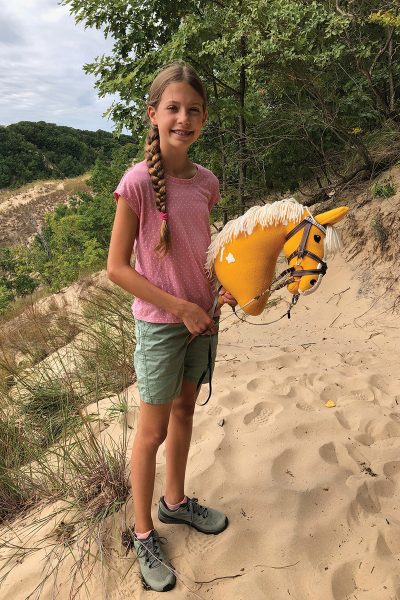 I made Tango at the beginning of 2020 and use him in cross-country and show jumping, and we have also done many endurance rides together. I created Nova at the end of 2020, and I ride her in dressage. Wynn is used for jumping, trail riding and dressage. Fin is my new "project horse" that I practice with in everything jumping. All of these hobby horses are extremely special to me. When I ride any of my horses and take care of them, I feel as if I own my own horse!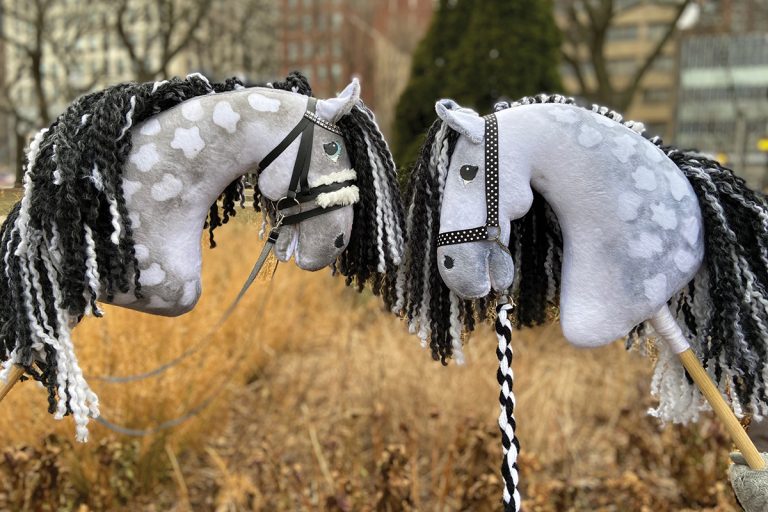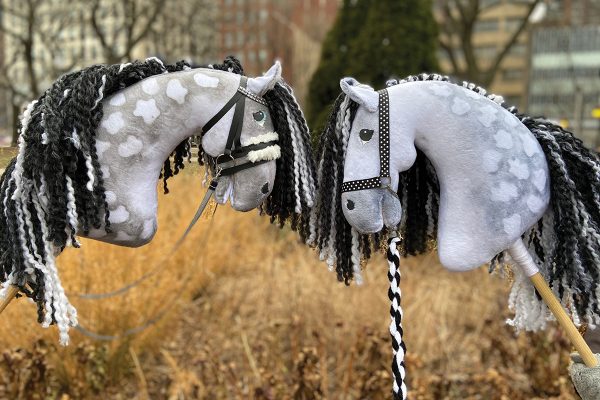 Becoming a Business
As time went on and I started to have too many hobby horses to store, I decided that I wanted to spread the joy I have when riding a hobby horse with everyone! I launched my business Flying High Hobby Horse on Etsy in the summer of 2020.
Some of the challenges I've had making hobby horses have left me stressed and frustrated, but what I've learned from those challenges is to push through and you will almost always learn something! Along with challenges, I have also had some incredible experiences because of hobby horses. I have gotten to host hobby horse competitions, participate in BreyerFest as a vendor, and am now honored to have an article in Young Rider, the magazine I have been reading for years.
In the future, I hope to spread love and respect for the hobby horse sport, create a larger hobby horse community, and be an inspiration to those who don't own their own horse by letting them know that you should fly high for your dreams—they can come true in ways you least expect!
Be sure to check out Mica's Etsy shop.
This article about hobby horsing appeared in the March/April 2022 issue of Young Rider magazine. Click here to subscribe!