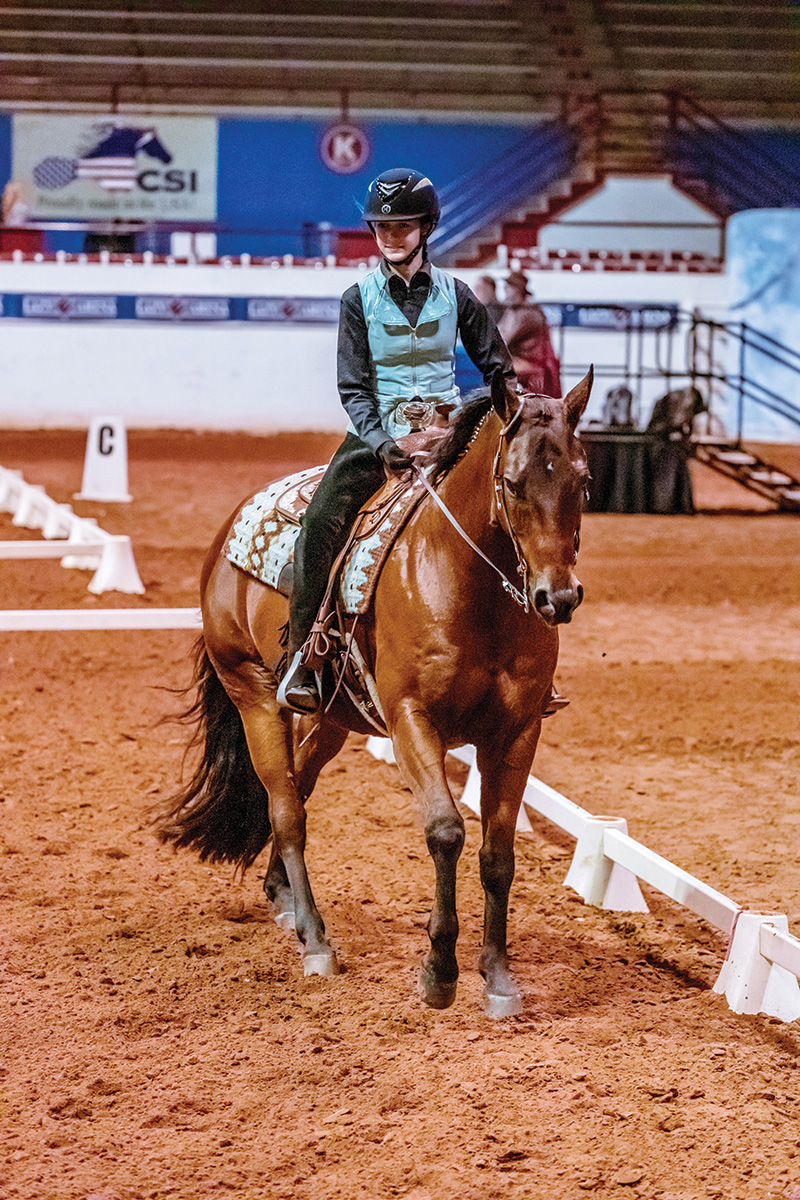 You may have heard of a growing new equestrian sport that has a place for every horse and every rider: western dressage. It blends western horses and traditions with dressage principles, and it's really no surprise to see these two come together. Both western riding and dressage are based on solid horsemanship and timeless riding.
The Basics of Western Dressage
"Western dressage is a sport that follows a method of training the horse," explains U.S. Equestrian Federation 'R' western dressage judge Joanne Coy. "The horse learns the fundamentals of how to be athletic. With the harmonious relationship that develops, you can ride and show your horse."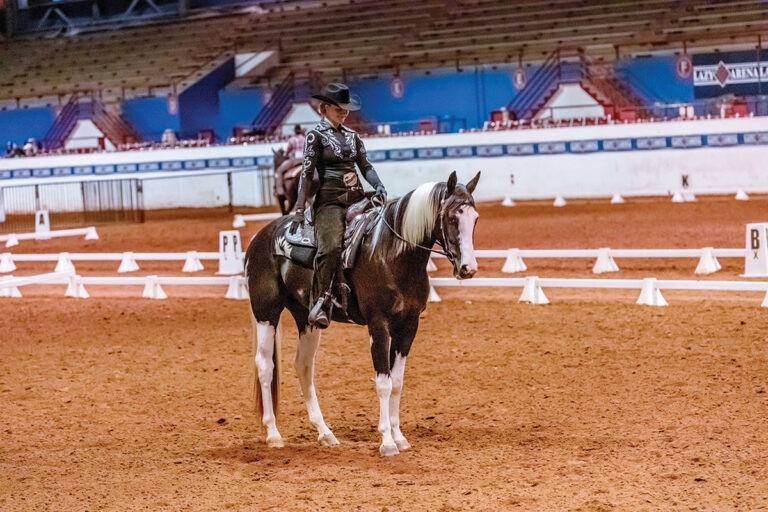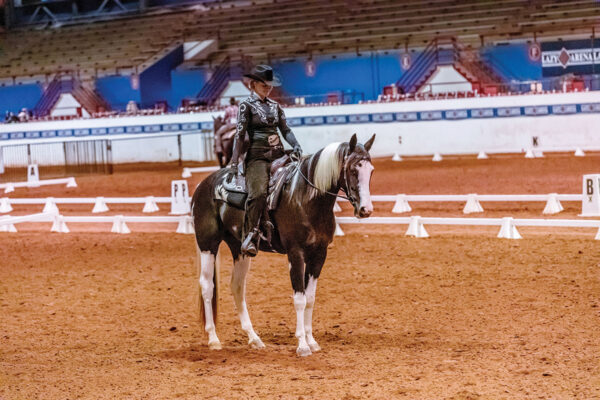 Western dressage is training for the western horse—from the very basics up through the highest level.
"No one invented dressage—it's a French word that means 'to train,'" says Coy. "Like English dressage, western dressage trains the horse using the fundamentals of relaxation, suppleness, balance, and so on."
In traditional dressage, the development of the horse's abilities is represented by a pyramid-shaped training scale. In western dressage, that training scale is depicted on a wheel, demonstrating the equal and inter-dependent components of correct training (see diagram). Here, you'll see concepts like the rider's position and seat, the horse's impulsion and connection, all leading to the ultimate goal of harmonious lightness and throughness.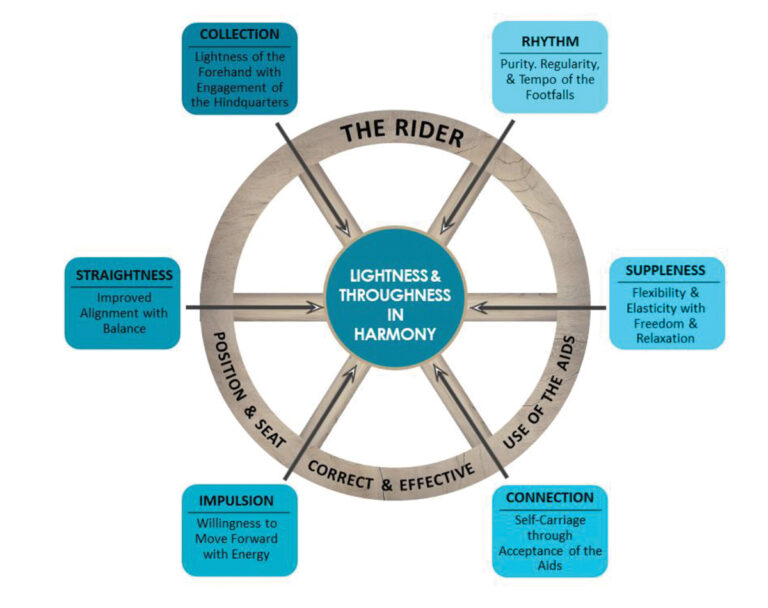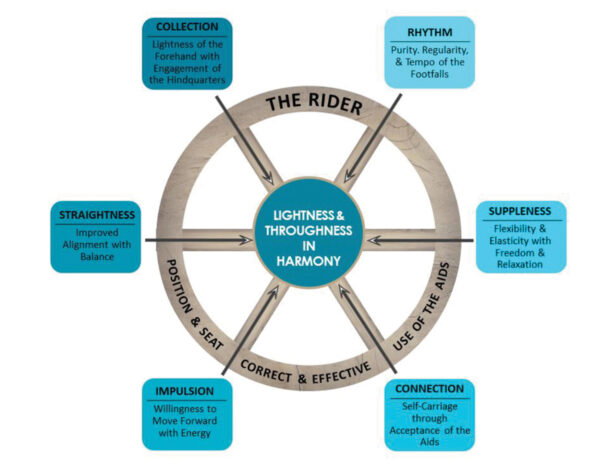 Western dressage is ridden in western clothing—whether fancy, such as fringed chaps, or simple, like a pair of blue jeans. Horses go in a western saddle and bridle. There are many options, such as different types of headstalls and bits, which are clearly shown in the western dressage rule book.
All Are Welcome
Sounds like fun, right? You're in luck: There is a community for both you and your horse.
"Western dressage is a welcoming sport for all horses and all people—it doesn't matter the breed of horse or the age of the rider," says Coy. "It's a supportive group of fellow riders helping and rooting for one another. Judges are trained to be kind with their test comments."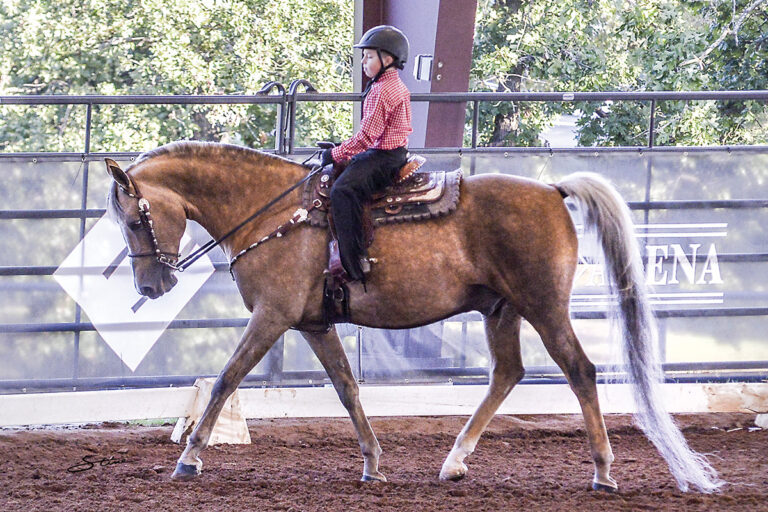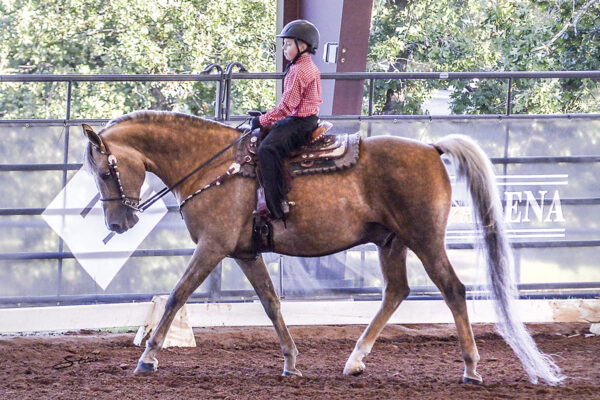 Whether you have a Quarter Horse, an off-track Thoroughbred, a Haflinger pony, or anything in between, the discipline welcomes you. In fact, 42 different breeds were represented at last year's Western Dressage Association of America's (WDAA) World Championship Show in Guthrie, Okla. According to Coy, the World Show is fun for a full week long!
Getting Started in Western Dressage
Having a look at the WDAA webpage is a great place to get a sense of what the sport is all about. There you'll find videos, tests, and articles, says Coy. You can also access links to your own state's western dressage affiliate organization, where you can search for events, clinics, and instructors in your area.
You can even find online competitions on the WDAA's website, including the Western Dressage Association of America Online International Show.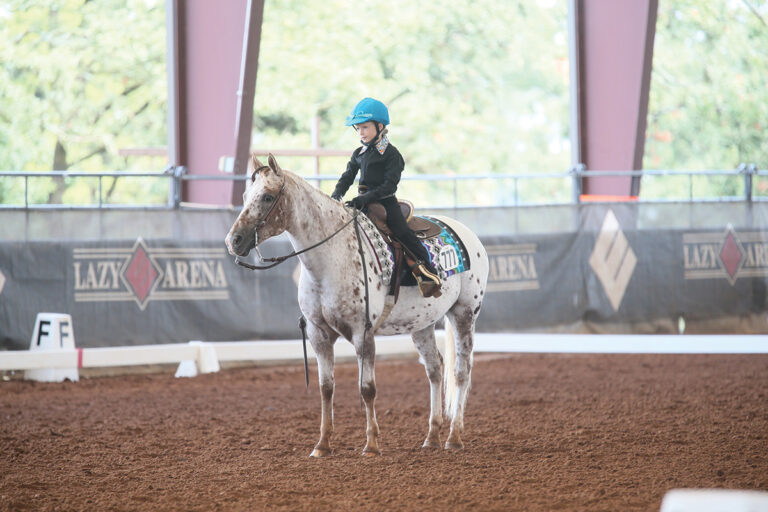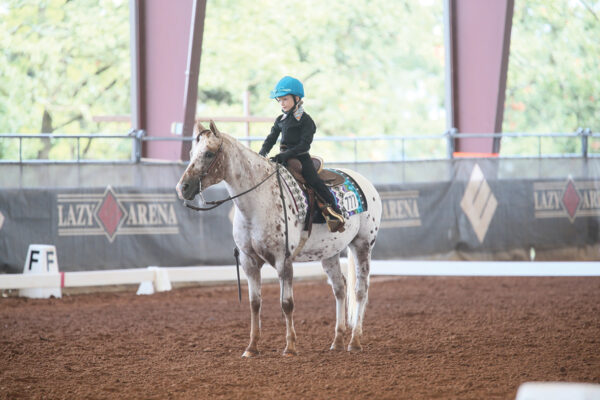 "This is a really fun one anyone can do," says Coy. "You submit a video of yourself performing a test. You don't need a special arena—it can even be in the grass with poles. You just need the correct measurements and visible letters."
Not only do opportunities like this make the show world accessible to everyone, they bring everyone together.
"I've judged online shows with kids from all over the world," says Coy.
Test Time
From arena dimensions to test sheet layout, western dressage looks a lot like traditional dressage. For example, the levels of both sports follow similar steps designed to progressively develop the horse, and tests are scored on the same 0-10 scale for each movement.
A western dressage test sheet is a trove of information. The "Purpose" explained on the sheet details the expectation of the test and level. The "New Requirements" box fills you in on the new skills from the previous test. The "Directives" for each movement help explain what the judge is looking for. As with dressage, the "Collective Marks" take the big picture of both horse and rider into consideration.
Warm Up from Ground to Saddle
Warming up your horse and yourself effectively is one of the most important things you can do before a session. In this video from Ridely, western dressage trainer and clinician Kristen Whittaker takes you through the first part of her usual warm up.
Kristen starts with groundwork in order to check in with the horse both physically and mentally. This helps her get an idea of how the horse is feeling and teaches the horse to have an awareness of the rider before she gets in the saddle.
This is also super important for safety. Once you feel safe on the ground with the horse and you feel mentally ready, you can get into the saddle for the second part of the warm up. Register for Ridely PRO to access 450+ other useful training videos.
Learn More
◆ Visit the Western Dressage Association of America's page for everything from newsletters to trainer directories to show information.
◆ Find your state's Western Dressage Association of America affiliate group for activities and resources in your area.
◆ Access the United States Equestrian Federation's Western Dressage page for rule books, glossary, guidelines, tests, and more:
◆ Look for additional opportunities in your area through the United States Dressage Federation's local traditional dressage clubs, called Group Member Organizations.
Honoring the horse and celebrating the American West, western dressage brings together the best of both worlds: the fundamentals of classical dressage to systematically develop the horse's athletic abilities, along with the traditions of western working horses, all to further the partnership between horse and rider.
This article appeared in the January/February 2023 issue of Young Rider magazine. Click here to subscribe!